After Setbacks and Struggles, a Graduate Degree
---
Posted on July 28, 2017
Joy Washington
---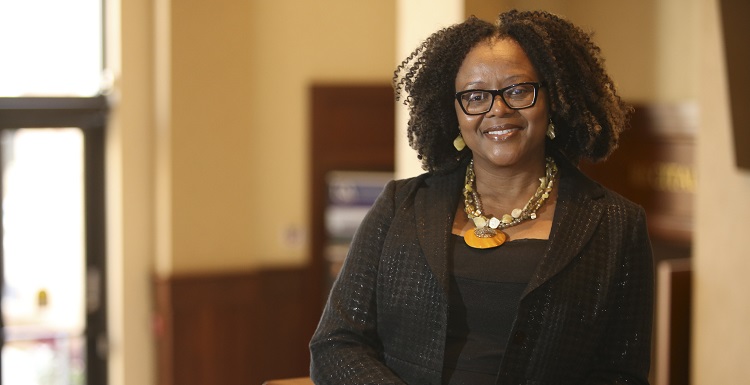 Lana Henfield-Johnson earned her master's of nursing degree in informatics from the College of Nursing at the University of South Alabama. She also was inducted into the Zeta Gamma Chapter of Sigma Theta Tau International Honor Society, Inc.
---
When Lana Henfield-Johnson, an ICU trauma registered nurse, decided she was going to college, she planned on studying accounting. But one of her cousins, who was a nurse, said, "If you get your certified nursing assistant license, I will help you get a job in health care."
Henfield-Johnson, a native of Freeport, Grand Bahama Island, who now lives in Gainesville, Fla., took her cousin's advice, earned her CNA license and started working in health care. At the same time, she fell in love with nursing.
She worked and earned her licensed practical nurse and bachelor of nursing degrees. And, she recently completed her online master's of nursing degree in nursing informatics from the College of Nursing at the University of South Alabama.
"Lana was a very hard-working student who excelled in course work and never complained," said Dr. Tracey Taylor, the college's assistant dean for clinical affairs. "Despite many personal challenges, she overcame and was a high achievement scholar. The academic rigor, perseverance and dedication were apparent. She was an outstanding student and is an excellent nurse."
Henfield-Johnson, one of 15 siblings and a first-generation college graduate, has faced many obstacles while earning her graduate degree. Her father, an older sister, grandmother and nephew passed away. Her mother became ill, but she is better now. And, during the time she started South's online graduate program, her younger sister, who had been ill since birth, was in the hospital for three months. Her co-workers told Henfield-Johnson to delay graduate school.
"I told my co-workers, 'No. What will I do when the next trouble comes,'" she expressed. "But, little did I know, my younger sister would die on Sept. 27, 2015. My husband and family understood my struggles trying to work fulltime and take care of my sister prior to her death. I would visit her in the hospital before work and after my 12-hour shift. And, once I was home, I had to study and complete my assignments. And then she passed away. It was tough. But, in memory of my sister, I had to finish."
And, in October of 2016, her family was affected by Hurricane Matthew. They lost some of their material things but, most importantly, they survived. But for days, Henfield-Johnson didn't know if her family was alive.
"There was so much damage and devastation, and then my mom's home almost burned to the ground," she said. "My instructors were very understanding and supportive. I was working on a group project and told them what was happening to my family after the hurricane. One of my partners on the project, Rebecca Scalzo, was kind and gathered new shoes and toys for the children and mailed the boxes for shipment to the Bahamas."
Dr. Todd Harlan, chair and associate professor of community mental health and coordinator of the nursing informatics program, said as faculty their role is to make the graduate school process a manageable task and give support when needed, in addition to providing instruction.
"In the midst of keeping the quality of the program at a high standard, we must understand when human challenges of life affect our students. That means we will work with our students when they let us know they are going through difficult times. Lana was hard working and dedicated as all of our students are, and we were there to support her when she needed it the most."
Having a degree in nursing informatics affords Henfield-Johnson the opportunity to expand her professional skills. South's nursing informatics program prepares graduates to use a variety of methods to enhance the quality of patient care and outcomes with the use of technology. South admits 30-35 graduate students in the program three times a year. When South's program started in 2010, it was funded by a three-year Health Resources and Services Administration grant. It's now a self-sustaining academic program.
"Several of my colleagues and friends in the nursing profession recommended that I apply to South Alabama's online nursing graduate program," Henfield-Johnson noted. "There was no doubt that I would study nursing informatics, and I made a great choice earning this degree at South. I had a lot of support from faculty."
Henfield-Johnson recently participated with other graduating students at the summer nursing convocation. She was also inducted into the Zeta Gamma Chapter of Sigma Theta Tau International Honor Society, Inc. This honor society provides leadership and scholarship to nurses in practice, education and research. And, she was presented with the Outstanding New Inductee Award for outstanding achievement.
"I am so blessed to be where I am right now," Henfield-Johnson said. "Because of my understanding and supportive husband, family, friends, colleagues, my mentor Joanne McNeil, and my manager Peggy Marker, I am being honored, and I have earned my MSN in nursing informatics this summer. I am overjoyed."
She has spent 23 years of her nursing career working as a trauma nurse in the intensive care unit at the University of Florida Health Shands Trauma Center in Gainesville. Now that she has completed her graduate degree from South, she will move from working a 12-hour shift to a new position where she will work from 7:30 a.m. to 4 p.m. weekly in the nursing informatics department at the same hospital.
And, when asked what advice Henfield-Johnson would share with other nursing students who are studying to complete their degrees?
"Failure is not an option," she said. "You have to be determined because life will bring you challenges. It will be hard. But, if you are dedicated and have a strong support system, you will make it. Whatever you do, don't give up."
---