Whiddon College of Medicine Welcomes Largest Class
---
Posted on July 29, 2022
Marcomm
---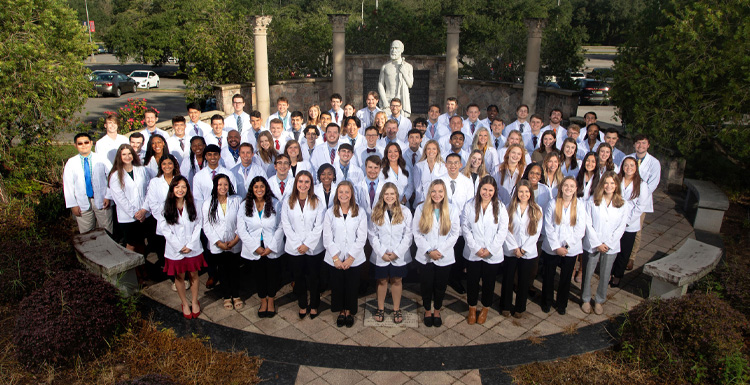 The 80-member Class of 2026 is the largest matriculating medical school class in the history of the Frederick P. Whiddon College of Medicine, which welcomed its charter class in 1973.
---
The Frederick P. Whiddon College of Medicine at the University of South Alabama welcomed its largest-ever incoming class, 80 members of the Class of 2026, with a week of orientation activities ranging from informative to interactive to social.
Following a welcome on Monday by John Marymont, M.D., M.B.A., dean of the College of Medicine and vice president of medical affairs, the students heard from faculty in the offices of Student Affairs, Diversity and Inclusion, and Medical Education.
"It's always exciting to welcome new members to our College of Medicine family, and we are thrilled the Class of 2026 is here," said Kelly Roveda, M.D., associate dean for student affairs.
During the week, the students trained in basic life support, attended a club fair and toured campus facilities. They were treated to a dean's dinner at B-B-Quing With My Honey and an ice cream social featuring Cammie's Old Dutch.
The week culminated in a wellness house sorting in which students were assigned to five groups named for the five rivers that feed into Mobile Bay. They will continue with the wellness houses, made up of students from all four classes, throughout their medical school years. "It's so wonderful that we get to come back and do things in person such as the wellness-house sorting this year," said Becky Smith, Ph.D., L.P.C., N.C.C., counselor for the Whiddon College of Medicine, referring to previous years when activities were held virtually because of COVID restrictions. "We are looking forward to doing even more wellness events in person this year."
Roveda said that more than 20 second-year medical students were involved in planning, organizing and implementing the orientation events. The orientation team was led by Yulong Huang and Naden Kreitz, both members of the Class of 2025. "The enthusiasm expressed by the orientation team was felt by all participants, as members of the team were present for all scheduled days just to be accessible to the incoming class," she said. "Students such as those on the team are a big reason why our College of Medicine is so successful."
---