USA Students Earn Gilman Scholarships
---
Posted on July 30, 2020
Lance Crawford
---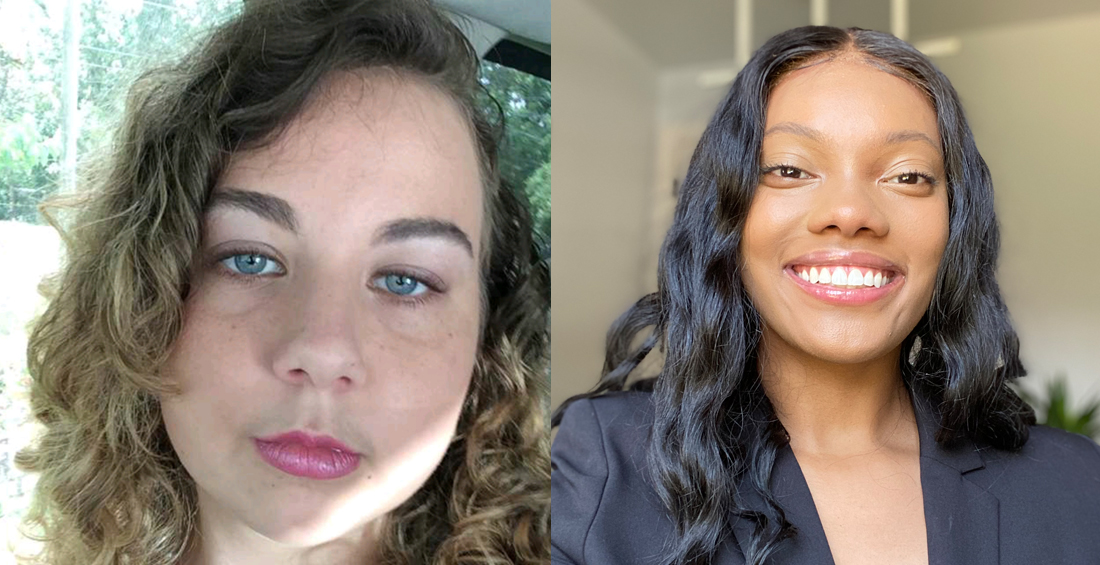 Kayla Smith, left, and Syliah Neely earned Gilman scholarships to help fund study abroad opportunities.
---
Three South Alabama international education students have received Benjamin A. Gilman International Scholarships. Kayla Smith was awarded $3,000, while Syliah Neely received a $4,000 scholarship. The third student has yet to be announced.
Gilman applicants must be undergraduate students in good standing at an accredited institution of higher education in the United States receiving a federal Pell Grant. Typically, they must be studying or interning abroad for credit for at least three weeks, but because of the Covid-19 pandemic, flexibility has been given to this cycle's recipients to engage in virtual study or intern abroad opportunities.
"You could imagine my excitement when I received the congratulatory email," Neely said. "I didn't think it was real, and I'm pretty sure I reread it three times before running around the house screaming."
"I could not be prouder of our students for receiving these nationally competitive scholarships, especially during these challenging times. Our students' perseverance and dedication to achieving their dreams simply blows me away," Bri Ard, director of international education and study abroad said. "I am also incredibly thankful for the hard-working individuals in our office, Jan Santos and Shawn Dillard, who work closely with Gilman applicants throughout the application process."
As is the case for most people around the globe, the coronavirus has interrupted plans, but South students are still getting international perspective through virtual study and internships abroad. These virtual opportunities may become permanent, offering affordable ways for students to gain new perspectives, expand their networks, and perhaps for some, motivate them to take the next step and travel abroad in the future.
"Study abroad is still very much in my future plans," Neely said. "I'm planning on traveling to Dijon, France in the summer of 2021. Even if I cannot, I'll always be proud to say that I am a Gilman Scholar."
"I was supposed to go in the fall because it would be easier to graduate," Smith said. "I was forced to move it to spring semester."
Global engagement has been a part of the University's strategic plan since 2014. Since then, study abroad participation has grown by more than 400%.
"We live in a very interconnected world where global citizenry is essential," Ard explained. "USA's dedication to gaining global perspectives will help our students thrive for years to come."
Studying abroad can be intimidating for some students, who often believe that their finances, curricular challenges, and language barriers are too much to overcome.
"Our goal is to let students know that we can work with them to overcome these challenges and make study abroad a reality," Ard said.
"I was definitely a bit apprehensive, I still am," Smith said. "It's a little scary, but what's life worth if we don't face what scares us sometimes."
---