Prime Office Location for South Grad: In the Field
---
Posted on August 2, 2022
Thomas Becnel
---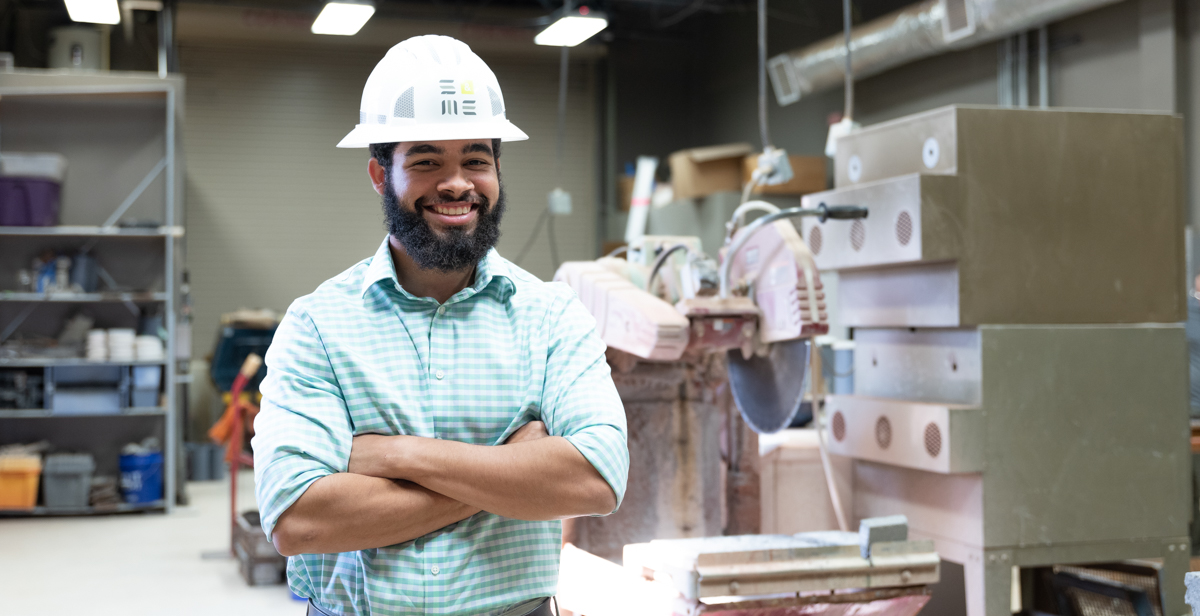 Chris Willhite, a University of South Alabama civil engineering graduate, moved to Huntsville, Alabama, to accept a job with S&ME, an engineering and construction services company.
---
#MyFirstJob is a series focused on University of South Alabama graduates who are beginning their careers.
Chris Willhite keeps a field bag in his car, so he's always ready to ride over to a soil test or construction site.
Hard hat, safety vest and steel-toed boots.
Have gear, will travel.
The opportunity to work outside the office is one of the reasons he studied civil engineering at the University of South Alabama. The chance to get his hands dirty is one of the reasons he accepted a job with S&ME, an engineering and construction services company.
In June, Willhite moved to Huntsville, Alabama, and a job in an office park west of downtown.
"I spend most of my time out in the field, anyway," he said shortly after landing the job. "So far, I've gone out on two separate projects. We're digging test pits and doing preliminary studies on subsurface conditions, helping clients decide if they want to buy and develop properties."
Willhite wasn't too nervous when he interviewed for a position in Huntsville. The manager who wound up hiring him turned out to be fellow Jaguar.
"He went to South, too, so he had the same geotech professor I did, Dr. Eric Stewart," he said. "I'm pretty sure he talked to him about me. I think that's why I got the job, if I'm being honest."
ROTC and Scholars Bowl
Willhite grew up in Mobile. His family moved to Atlanta, then returned to South Alabama. He was always an advanced reader and honors student.
"You like to do what you're good at, right?" he said. "In middle school, I started focusing on math and science."
At Baker High School, Willhite joined the Environmental Club. He competed in the Alabama Scholars Bowl. He also was active in the Jr. ROTC program.
His mother, who works in the business office at a Lowe's hardware store, thought it would be good for him to get out of his comfort zone.
After graduation, he thought about joining the military, but decided to study engineering in Mobile.
"I think I was too scared to move far from home," he said, laughing. "I wasn't prepared for that."
It took awhile for him to feel at home as an engineering student.
"When I first started, I didn't know if it was for me," he said. "I wanted something that was more hands-on. But I decided to stick with it."
He joined the American Society of Civil Engineers and Society for Sustainable Engineering. He did an internship with the Public Works Department at the City of Daphne.
Real-world experience was completely different than academic training.
"That's what my internship taught me," he said. "School is where you learn how to learn things, but it's not necessarily what you're going to be using on the job."
In May, Willhite graduated from University of South Alabama.
At first, he wasn't going to attend Commencement ceremonies. Friends and family changed his mind.
"When I walked across the stage, I was glad I did it," he said. "Just the culmination of everything I'd done at South."
Heading to Huntsville
Willhite had job offers near Mobile. He thought about staying closer to home. A professor told him to weigh the pros and cons of each position.
"I flip-flopped so much," he said. "If you asked me one day, it was one thing, and the next day it would change."
In the end, he chose S&ME in Huntsville. It offered the best opportunity to learn new things. It's just a little outside his comfort zone.
Willhite calls Mobile nearly every day. He stays in touch with family and friends. He plans to return on long weekends.
"It's only a 5-hour drive," he said.
In his free time, he's starting to explore north Alabama. He visited Mount Sano State Park. People have talked to him about kayaking the Flint River.
Huntsville is smaller than the Mobile metro area, but it's a high-tech hub that draws hundreds of young engineers and scientists.
"It's weird," he said. "You'll be driving around and see signs for 'Missile Defense' or 'Aeronautical Engineering.' That's crazy to me."
At work, Willhite enjoys problem-solving and applying what he learned at South. He jokes that geotechnical engineering is just "playing in the dirt," but his company offers services in everything from surveying to land development and environmental engineering.
S&ME is an employee-owned firm that encourages engineers to network and build relationships. Sometimes his job is shaking hands. Less field work and more marketing and public relations.
Willhite has been introducing himself to business leaders at meetings of the ABC and AGC – Associated Builders and Contractors Inc. and Associated General Contractors of America.
"I'm not bad at talking to people, so long as I know what I'm talking about," he said. "The more I get to know our field, the easier it'll be for me."
---