South Alum Receives $800K NIH Grant
---
Posted on August 3, 2017
Nichelle Smith
---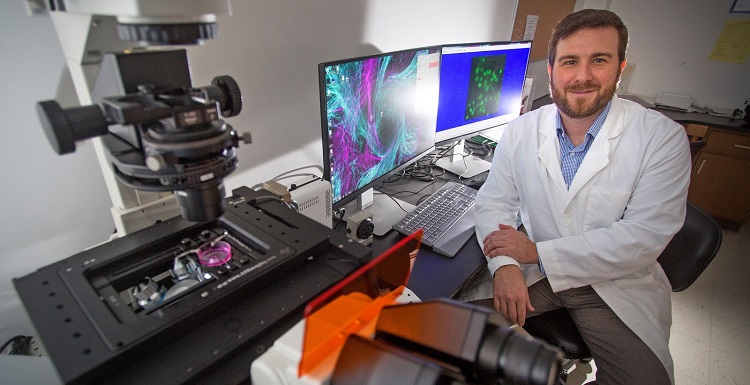 Dr. Michael Francis earned his Ph.D. in 2013 from the USA College of Medicine and completed his postdoctoral training at the University's Center for Lung Biology.
---
University of South Alabama College of Medicine alum Dr. Michael Francis has been awarded a $797,740 federal grant that will allow him to use his background in biophysics to better understand the progression of a rare and deadly vascular disease.
Along with National Institutes of Health award, Francis received an appointment as an assistant professor of physiology and cell biology at South.
"Michael brings expertise in mathematics, biophysics and modeling of physiological processes to our faculty," said Dr. Troy Stevens, director of the USA Center for Lung Biology and Lenoir Louise Locke Chair of Physiology and Cell Biology at the USA College of Medicine. "He is recently funded by the NIH to study how vascular remodeling in the lung circulation impacts blood flow patterning, and beyond his own work, Michael is a terrific collaborator for the College of Medicine faculty."
The NIH Mentored Quantitative Research Career Development Award, or K25 grant, provides support to investigators with quantitative scientific and engineering backgrounds who have made a commitment to focus their research endeavors on behavioral and biomedical research.
"The recent K25 grant has enabled me to investigate the progression of the rare and deadly vascular disease, pulmonary arterial hypertension (PAH), with the aim of understanding how critical determinants of the disease interact with blood flow," Francis said.
Francis earned his Ph.D. in 2013 from the USA College of Medicine and completed his postdoctoral training at the University's Center for Lung Biology.
"The basic medical sciences program offered me a formalized setting to learn the skills of statistical hypothesis testing, oral presentation and scientific writing. That knowledge is helping me advance my research today," Francis said. "My education at South, along with the graduate and post-graduate mentorship I received, has been invaluable to my professional development."
Francis's research aims to explain the link between TRPC4-dependent endothelial calcium signaling and survival in PAH, which is characterized by chronically elevated pulmonary arterial pressure.
According to Francis, there is currently no cure for PAH and the high morbidity and mortality rate provides an impetus to determine the mechanisms that underlie the disease's progression. His work has aided in the discovery that rodent models genetically lacking TRPC4, a calcium-permeable channel, exhibit a survival benefit in PAH.
"This work will lead to new diagnostic and therapeutic protocols for PAH, which will be integrated into our current clinical knowledge," Francis said. "Additionally, this grant will fund the development of new computational tools for the analysis of biological data that are unique to the USA College of Medicine."
Francis said the grant is important because it will fund a collaborative investigation into PAH for the next five years, which will answer key questions about the molecular drivers for the disease and could lead to new therapeutic breakthroughs. "It also enables my lab to develop new computational technologies for cell signal analysis, vascular imaging, mathematical modeling and genomics analysis," he said.
---