Mentoring the Next Generation of Jags
---
Posted on August 4, 2017
Libi Jacobs
---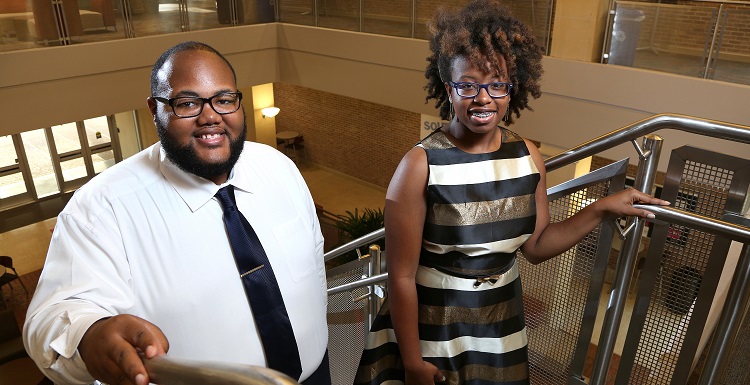 USA student Broderick Morrissette is a mentor to Vigor High School student Carrington Bush, a participant in South's Upward Bound program, which recently received a $1.2 million dollar grant to continue for the next five years.
---
The Upward Bound program at the University of South Alabama helps first-generation college students from low-income families build lasting friendships, discover new cultures and develop the valuable skills needed to academically succeed at the university level.
The program encourages current South students to become resident advisors for participating high school students before they arrive on campus. The goal is to improve academic and test-taking skills, promote personal growth and responsibility, expose students to a diverse culture through educational activities and to assist students in making realistic career decisions. The services offered include tutoring, ACT-preparation classes, exposure to cultural activities, college tours and a six-week summer residential program on the USA campus.
Resident advisor Broderick Morrissette, a junior, said he shares tips for success and his personal experiences from his time with both Upward Bound and his own college experience.
"Upward Bound relieved the anxiety I felt before coming to college. I didn't know what to expect. They gave me a lot of advice and helped me understand more about the college dynamic," Morrissette said. "I found so many opportunities through the program, and I hope to help other students find their path, too."
Vigor High School senior Carrington Bush is one of the students mentored by Morrissette. She's been involved with Upward Bound since her freshman year and built a close friendship with Morrissette. Bush also attended the same high school as Morrissette.
"Broderick graduated from our high school during my freshman year, so I didn't get to know him until I got involved with Upward Bound at South. He is a good people person, and he's always there whenever I need help or just need a friend," Bush said.
Dr. Rochelle Johnson, coordinator of Upward Bound, recently received a continuation grant from the U.S. Department of Education for $1.2 million to fund the program for the next five years.
"I've worked with Upward Bound at USA for seven years. Every year it amazes me to see the growth in the students. Watching them blossom from a scared 14-year-old to a confident college student is the most rewarding part of my job," Johnson said. "I was a first-generation college student, and I understand the unique needs of this population."
Upward Bound is federally funded by the U.S. Department of Education's Federal TRIO Programs. Active at South since 1999, it serves 50 students annually who attend Blount, Vigor and Williamson high schools in Mobile County. Students who enroll in the Upward Bound program must be a first generation college student (neither parent has a four-year college degree) or meet income eligible guidelines or have a disability.
For more information about Upward Bound, contact Johnson at (251) 460-7322, rwjohnson@southalabama.edu or visit the Upward Bound website.
---