New Year, New Season for Theatre USA
---
Posted on August 9, 2016
Alice Jackson
---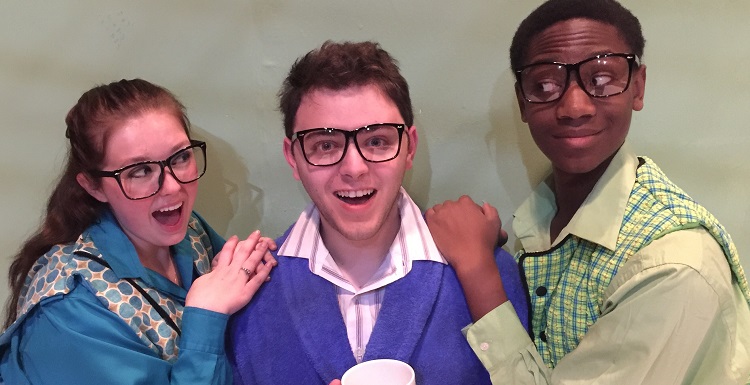 Meghan Zuhowski, Blake Waters and Jeremiah Sims starred in last season's musical, 'Schoolhouse Rock Live!,' at the Laidlaw Performing Arts Center.
---
Plans for Theatre USA's upcoming season are as hot as summer temperatures with productions to include a musical, a thriller, a fable and a comedy.
Dr. Lars Tatom, chair of theatre and dance, said the four diverse offerings — two each semester — should please all age groups, both on campus and in the community.
The season will open Sept. 23-Oct. 1 with "Heathers, the Musical," based on the 1988 movie that starred Winona Ryder. It's the darkly delicious story of Veronica Sawyer and her efforts to join her high school's most ruthless clique, The Heathers. Add a fledgling love affair with a dangerous new kid, J.D., and the result is an exciting night of entertainment. Tatom will direct this production.
"This upcoming season is an exciting blend of periods and styles, providing both acting and technical challenges for our students, while offering a variety of offerings for our audiences," Tatom said. "There's a little something for everyone — from the darkly comic musical "Heathers" to the gritty realism of "Red Ryder," and from the family fun of "Fable Factory" to the rollicking farce of "Flea."
"When You Comin' Back, Red Ryder?" to be directed by Assistant Professor Paul Hurley, will run Nov. 11-19. This thriller, set in a New Mexico diner in the 1960s, sweeps customers and staff into a maelstrom of violence, both physical and emotional, to put the audience on the edge of their seats.
Spring semester 2017 will open with "The Fabulous Fable Factory," a children's musical for the entire family. When Monroe wanders into a quiet factory, he discovers that the fables aren't being made because the part that makes "the morals" is broken.
The season will end April 14-22 with "A Flea in Her Ear," the granddaddy of all farces. The exaggerated, extravagant and slightly improbable comic romp follows a group of aristocrats and servants through physical hijinks, chaos and mistaken identities. Tatom will direct this production.
All performances will be held in the Laidlaw Performing Arts Center on USA's main campus. Season tickets will be available at the box office. For information, call (251) 460-6306.
---