All in a Day's Work: Flying into Hurricanes
---
Posted on October 8, 2018
Bob Lowry
---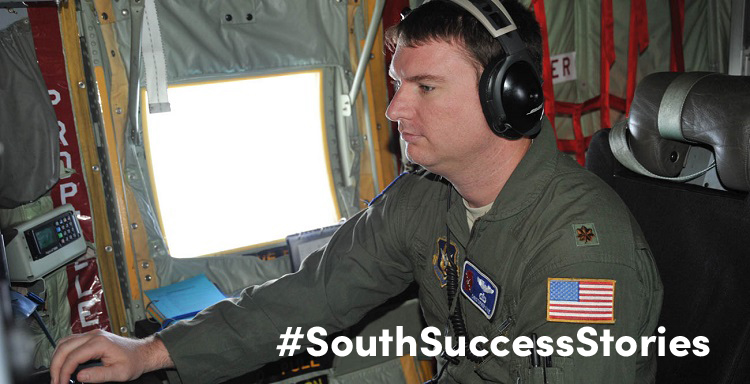 Maj. Christopher Dyke, USA alumnus and an aerial weather reconnaissance officer for the 53rd Weather Reconnaissance Squadron "Hurricane Hunters," reviews weather data collected during a storm flight. The Hurricane Hunters fall under command of the 403rd Wing at Keesler Air Force Base, Mississippi. Photo courtesy of the U.S. Air Force/Maj. Marnee A.C. Losurdo
---
#SouthSuccessStories is an ongoing series featuring University of South Alabama alumni who are life-savers, innovators, game-changers, music-makers and creative-thinkers, successful in their careers and supportive of their communities.
Chris Dyke is a Hurricane Hunter. You hear about them every hurricane season. When there's something cooking in the tropics — such as this week with Hurricane Michael — the Hurricane Hunters fly out to meet the tropical cyclone, face-to-face.
"Just as each tropical cyclone has its own name, it also has its own personality. I've flown through some storms and had a relatively smooth flight and I've flown through others that have certainly been pretty rough rides," said Dyke, who graduated from the University of South Alabama in 2005 with a degree in meteorology and serves as an aerial reconnaissance weather officer out of Keesler Air Force Base in Mississippi, where he is a major with the 403rd Wing.
"For a typical storm, as we get closer to the center we observe wind speeds (both at flight level and the surface) gradually increase until we reach the eye wall."
It's at this point that's it's a good idea to make sure your seat belt is securely fastened.
"I've actually been lifted off my seat many times during eyewall penetrations," Dyke said. "On our trip inbound we will traverse through bands of thunderstorms and clear areas that allow us to see the ocean surface. If there is turbulence, we will experience it at its peak in the eyewall, where we can experience it up to severe levels."
"I've actually been lifted off my seat many times during eyewall penetrations."
You've heard about the calm before the storm. This is the storm before the calm.
"Once we break through into the eye, the ride gets extremely smooth and if it's a well-developed system, as the case was this year with Florence, we will see what's referred to as a 'stadium effect' in which clouds will surround us as if we were in a large stadium. We will most likely have clear enough visibility to see both blue sky above and blue water below."
The tranquility doesn't last, however. Once Dyke and the crew find the cyclone's center, they head right back into the eyewall, and repeat the pattern for approximately six hours on each mission flown. That's six hours of stomach-churning, seat-lifting flying that's critical to accurate hurricane forecasting.
"In our post-mission processing of data and problem solving, we work with a variety of professionals throughout the meteorological community to tweak our equipment and techniques to get as much value out of the data from the flights as we can get," Dyke said. "Each time we go into the storm, the ARWO (Aerial Reconnaissance Weather Officer), as the mission director, must clearly communicate to the rest of the crew and to the National Hurricane Center what they are looking for and seeing. As each flight throws some curveballs, the ARWO also has to be able to figure out what is going on in order to achieve the objective they were sent to accomplish."
For Dyke, his career objective brought him to South from Tate High School in nearby Cantonment, Fla. He actually was accepted to attend an in-state university noted for its meteorology program, but USA offered something more than a reputation.
"What attracted me to South was the smaller class sizes providing more individualized instruction and the meteorology program's focus on not just the mathematics and research aspects of the field, but also the focus on operational meteorology and teaching students how to forecast," Dyke said, who discovered that he was ahead of his peers when he joined the Air Force.
"The link that South's curriculum makes between research and operational meteorology was vital in my early success in the Air Force. It gave me a solid foundation that allowed me to focus on learning and refining new skills. While many of my peers were just beginning to apply principles they learned in the classroom, I was teaching others how to apply them."
"The link that South's curriculum makes between research and operational meteorology was vital in my early success in the Air Force."
Of course, those meteorological skills are applicable to more than just tropical cyclones. And that's handy, because Dyke and his Hurricane Hunters do more than just hunt for hurricanes.
"At the end of hurricane season, we transition to supporting the National Winter Storm Operations Plan," Dyke said. "Our support for this includes the ability to fly in advance of storms along the East Coast, Gulf Coast and West Coast that could pose a threat for significant winter weather to U.S. interests. We will also work with other governmental agencies in conducting research and other weather operations along with traditional C-130 missions of airlift and aeromedical support." And that's not all.
"In the spring we work with the Department of State to improve international relations with countries in Central and South America that are hurricane prone, through the Caribbean Hurricane Awareness Tour and then we're right back into hurricane season," Dyke said.
With family and friends nearby, Dyke acknowledges a heightened sense of responsibility for the work he's doing to protect all of us from the dangers of tropical systems and other severe storms.
"Growing up on the coast and being impacted by hurricanes, I certainly have an appreciation for the significance of the work we do as well as the storms that approach," he said. "This does lead to a heightened sense of responsibility, empathy and sympathy for what is unfolding."
---