The Science of Diversity and Inclusion
---
Posted on August 10, 2020
Lance Crawford
---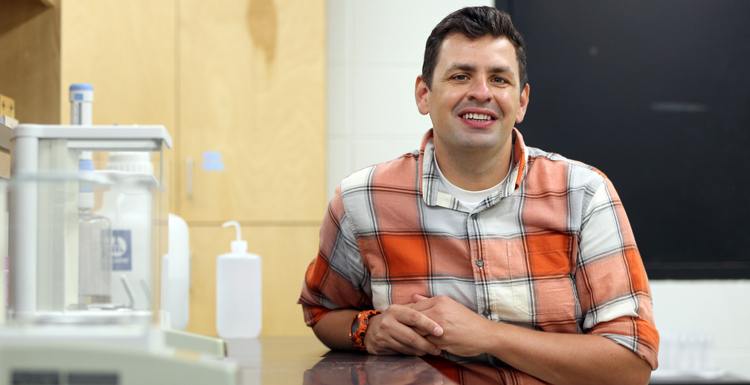 Dr. Jeremiah Henning, an assistant professor of biology, has secured a two-year, $348,000 grant from the National Science Foundation.
---
As a graduate student teacher at the University of Tennessee, Jeremiah Henning remembers vividly the first time he struggled to understand the complexities of his students. One of them was transgender, still exploring his gender identity, and while he meant no harm, Henning admits he lacked the tools to effectively interact with the student.
"I wish I could go back and change so many interactions I had with that student," he said. "I failed so many of the how to, or how to not interact with students during that course. I just never want to make this mistake again."
That experience motivated Henning, an assistant professor of biology at South, to educate himself on diverse identities, learning vocabulary and language to engage students with wide-ranging backgrounds and be a more inclusive researcher and educator.
"No two students are the same, they all have come from different places, had different family upbringings, and had different life experiences," he said. "Student experiences, and the world they have lived through, are going to be very different what we faculty have lived through."
Acting as the lead researcher, Henning recently received a $348,000 grant through the National Science Foundation after submitting a proposal titled, "Understanding How Students' Identities Shape STEM Retention."
"I was in absolute shock. This is the first grant that I submitted by myself, 100-percent my ideas. It felt like my 'made it' moment," Henning said. "As the first person in my family to go to college, I have always felt like an academic outsider, like I never really fit in. So, landing this grant I feel like I am officially an academic."
Henning plans to collect mountains of data from South's STEM — science, technology, engineering, and math — students. Everything from in-class interactions with peers and instructors, to confidence in courses, to long term goals for their STEM careers. Ultimately, he hopes to design and implement faculty training workshops to better equip educators to connect and engage with all students.
"The goal is improving cultural competency of our faculty and staff that will hopefully improve day-to-day interactions for marginalized students," he said.
"Jeremiah personifies a true scholar," said Dr. Raj Chaudhury, executive director of USA's Innovation in Learning Center. "He can combine disciplinary scholarship with investigations into other, socially relevant aspects of becoming a scientist — questions of identity. That sets him apart from many others in the field."
Henning believes in discipline-based education research, not only possessing knowledge of a STEM discipline, but knowing how our brains work, motivation, and new ways to teach complex topics within those disciplines.
"I think it is critical for faculty to connect with our students at a deeper level. By really understanding them, or at least making fewer assumptions about them, we can be better mentors or guides as they navigate South," he said.
---