Life is a Beach
---
Posted on August 13, 2020
Lance Crawford
---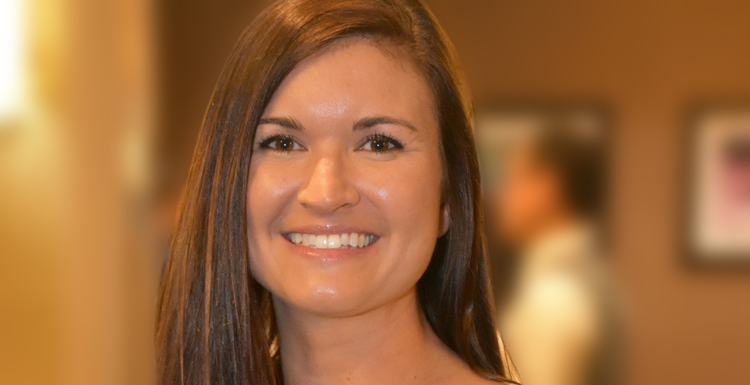 Dr. Stephanie Smallegan, assistant professor, coastal and civil engineering earns a 2020 fellowship from the National Academies of Sciences, Engineering and Medicine.
---
Growing up in Savannah, Georgia, Stephanie Smallegan loved going to the beach. Then, it was all about the sun and the fun, and while it is still fun, it is now her career.
"I was drawn to coastal engineering because of undergraduate research I conducted at Georgia Tech," said Smallegan, an assistant professor at South. "I surveyed the Tybee Island, Georgia beach for a few years after the beach was nourished and calculated how much sediment had been lost immediately after the sand was placed on the beach.
Earlier this month, Smallegan was named a recipient of the 2020 Gulf Research Project early-career fellowship. It is awarded to emerging scientific leaders who work at the intersections of environmental health, community health and resilience, and offshore energy system safety in the Gulf of Mexico and other U.S. coastal regions.
"The early years of a researcher's career are a critical time. This program gives fellows the independence and flexibility to explore untested ideas and develop lasting collaborations," said Lauren Alexander Augustine, executive director of the Gulf Research Program.
The two-year fellowship comes with a $76,000 financial award that does not have to be designated for any specific project, but Smallegan already has plans for the money with most of it going to graduate student stipends and tuition.
"I feel my students and I have a mutual respect where we celebrate each other's success. I will celebrate this success with my students to build their careers and establish them as coastal engineers," she said.
The fellowship also has a strong collaborative and mentoring focus. Because of the pandemic, an orientation for this year's winners will be virtual, but Smallegan expects to meet the other fellows and expand her network of colleagues.
"Working on the Gulf Coast has been a learning curve," she said. I'm a native East Coaster, but the people I've met here, including at South and other institutions have been critical in advancing my career."
In addition to teaching and her research at South, Smallegan is working with other engineers developing curriculum that will be used in Alabama and Mississippi high schools.
"The curriculum exposes more students to coastal science, engineering and extension" she said. "Many of our incoming students at South have never heard of coastal engineering. The curriculum provides that opportunity for students who are interested in coastal issues to find which field fits them best."
With her passion for the beach and educating others, Smallegan has found a perfect home at South and on the Gulf Coast.
---