South Joins '15 to Finish' Campaign
---
Posted on August 14, 2018
Bob Lowry
---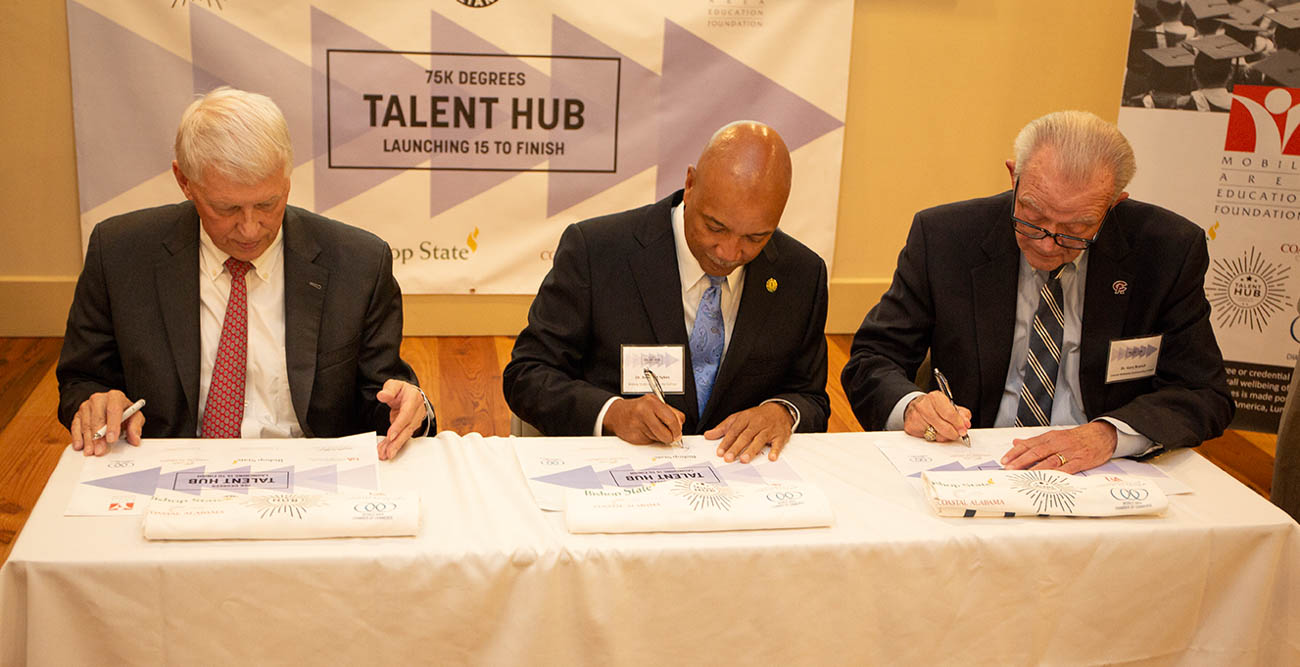 University of South Alabama President Tony Waldrop, left, joins Bishop State Community College President Reginald Sykes, center, and Coastal Alabama Community College President Gary Branch to formally launch the "15 to Finish" campaign, encouraging students to take 15 credit hours each fall and spring semester, and enhance their chances to graduate on time. The three institutions are partnering with the Mobile Area Education Foundation, which has a goal of 75,000 degrees or credentials in the Mobile community by 2030.
---
The University of South Alabama today announced a partnership with the Mobile Area Education Foundation and nearby community colleges to enhance enrollment, retention and completion rates. The initiative is called "15 to Finish" and is supported by Bishop State Community College, Central Alabama Community College and Complete College America.
The 15 to Finish campaign encourages students to take 15 credit hours each fall and spring semester or 30 credit hours a year to ensure on-time graduation. By taking more than the historic 12 credit hours each fall and spring, students will ultimately spend less on their education and will graduate on time.
"We represent different institutions, but we have a unified mission: To elevate education in Mobile County and along the Gulf Coast and to do what we can so that our students graduate, begin careers and are productive members of society," said Dr. Tony Waldrop, University of South Alabama president. "When we work together, we move the needle."
MAEF has established a goal for Mobile to realize 75,000 degrees or credentials within the community by 2030, with a particular focus on 18-to-24 year olds, and especially low-income and African-American students. The 15 to Finish initiative is the first strategy in Complete College America's Momentum Pathways model, a sequence of strategies leading to greater student momentum and success through increased early credit accumulation, gateway course completion and completion of credits in a program of study.
"The launching of the 15 to Finish campaign across three college campuses is a significant act for our region's higher education leaders as members of the Talent Hub," said Chandra Scott, MAEF director of strategic outcomes. "This student-centered partnership is not only vital to helping us achieve the overall goal of the 75,000 Degrees Initiative, but is the catalyst to bridging resources and talents that are essential to the success of our students."
Mobile is one of 24 cities to receive the Talent Hubs designation from the Lumina Foundation. According to MAEF, obtaining a post-secondary degree or credential is a leading contributor to improving the overall well-being of Mobile County citizens. The work of 75,000 Degrees and 15 to Finish is made possible by MAEF's partnership with Complete College America and Lumina Foundation.
---