Solar Eclipse: What You Need to Know
---
Posted on August 17, 2017
Joy Washington
---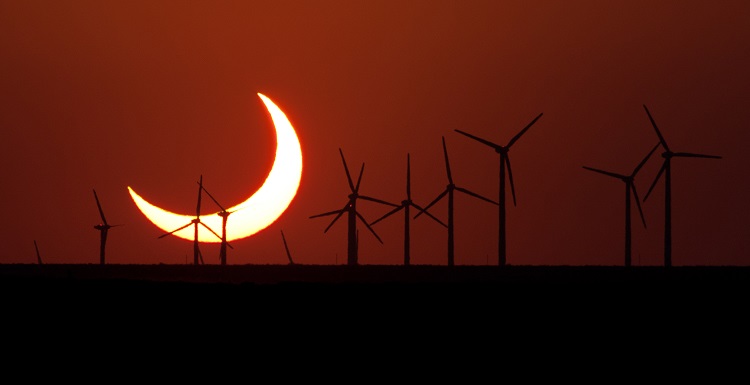 During Monday's eclipse, the entire North American continent will be in the moon's shadow. However, the darkest part of the shadow, where the sun is completely blocked out by the moon, will occur only along a 70-mile wide band stretching from Oregon to South Carolina. On May 20, 2012, the sun set while in deep partial eclipse as seen from the U.S. Southwest. This scene was captured from the San Juan Mesa Wind Farm off Highway 70 in Elinda, New Mexico. Photo credit: Evan Zucker
---
For those of you feeling adventurous, you are probably planning on viewing the Monday, Aug. 21, solar eclipse. It's considered a once-in-a-lifetime opportunity by many and called the "Great American Eclipse of 2017." Dr. Albert Gapud, associate professor of physics in the College of Arts and Sciences at the University of South Alabama, said this is what you should know about the Aug. 21 solar eclipse:
The eclipse is when the moon casts a shadow on the Earth. The Earth is too big to be fully inside the moon's shadow, so the phenomenon is normally visible to a limited population. Normally the darkest part of the shadow is only about 100 miles across.
The entire North American continent will be in the moon's shadow. However, the darkest part of the shadow, where the sun is completely blocked out by the moon, will occur only along a 70-milewide band stretching from Oregon to South Carolina. This is where you would experience "total" eclipse. There are several websites that help you find the closest location where you could watch this. Everywhere else, it will be a "partial" eclipse.
Mobilians will be able to witness an 84 percent partial eclipse – but probably won't notice much of a difference. From 12 p.m. until 3 p.m., the moon will move across the face of the sun, reaching a maximum of 84 percent coverage at 1:33 p.m. Unlike in a total eclipse, the dimming is so subtle that your eyes will likely adapt and you wouldn't notice any effects. You would have to be really looking for it.
There will be telescopes behind ILB (the Instructional Laboratory Building) which will allow Jags to observe the event. By the use of projection and filtering, it is possible to actually watch the moon move across the sun, with clarity and high resolution. Faculty members and students of the department of physics will set up a few telescopes for the campus community to drop in. The best time would be at maximum, at 1:33 p.m.
NEVER try to look at the sun directly, even with regular shades, even during an eclipse. It could cause permanent blindness. There are special "eclipse glasses" now available for purchase in local retail stores (for no more than $2 each), and even then you must still double-check that they meet the minimum ISO requirements. These glasses will allow you to observe the partial eclipse. I still would not recommend you watch too long.
For many, it's a once-in-a-lifetime event. The last time that such an event was visible to a majority of Americans was in 1918 (99 years ago), and nothing like it will occur again until 2045 (28 years from now).
It's a rare opportunity for astronomers and physicists. The moon will block out the brightest outer layer of the sun (the photosphere), which normally prevents us from seeing many phenomena; phenomena which could therefore be observed only during a total solar eclipse, such as the other outer layers of the sun like the white and wispy corona and the pinkish chromosphere (where you could see prominences, which are surface eruptions), and even the planet Mercury which, being the closest to the sun, is usually invisible in the sun's glare.
It's a testament to our mastery of the motion of celestial objects. Like many major astronomical events, eclipses are predicted centuries ahead of time, and with great precision. We are able to do this because we have understood the physics of their motion since the 1600s, and every decade since our understanding has reached an incredible degree of precision. This is the same mastery that allows us to put GPS and broadcast satellites in stable orbits, and send automated robotic probes to planets and heavenly bodies that are millions, even hundreds of millions, of miles away.
Here are some additional facts:
During the eclipse, the shadow of the moon will travel across mainland USA from the northwest (Oregon) to the southeast (South Carolina) in 93 minutes. That's an average speed of Mach 2!
Everyone in mainland USA will see at least a partial eclipse; most will be less than an eight-hour drive from locations where one can experience a total eclipse for at least 2.5 minutes.
There are unique phenomena in the path of totality – stars come out, temperatures drop, ambient light has exotic optical effects – and it is the only time anyone could view features of the sun which are otherwise invisible; e.g., its extensive halo (corona) and surface eruptions (prominences).
Some locations in the path of totality, closest to Mobile:
Sweetwater, Tenn., a 6.7 hour drive. Total eclipse duration of 2.5 minutes, starting at 2:32 p.m., ET
Gallatin, Tenn., a seven-hour drive. Total eclipse duration of 2.7 minutes, starting at 1:27 p.m., CT
Nashville, Tenn., a 6.3 hour drive. Total eclipse duration of two minutes, starting at 1:27 p.m., CT
Cookeville, Tenn., a 7.2 hour drive. Total eclipse duration of 2.5 minutes, starting at 1:29 p.m., CT
Partial eclipse in Mobile: 12 – 3 p.m., 84 percent max at 1:33 p.m.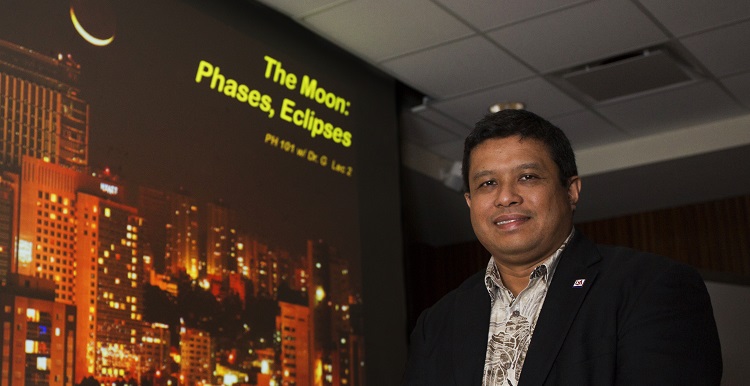 Dr. Abert Gapud is an associate professor of physics in South's College of Arts and Sciences, whose research focuses on superconductivity and nanoscience. He has written and secured numerous research grants, which have been funded by the National Science Foundation, the Research Corporation for the Advancement of Science and other organizations. He serves on a committee that hosts Tuesday Evening Physics for high school students and the annual Student/Teacher Workshop held in February of each year.
---