Nurse Practitioner Residency Debuts
---
Posted on August 22, 2019
Joy Washington
---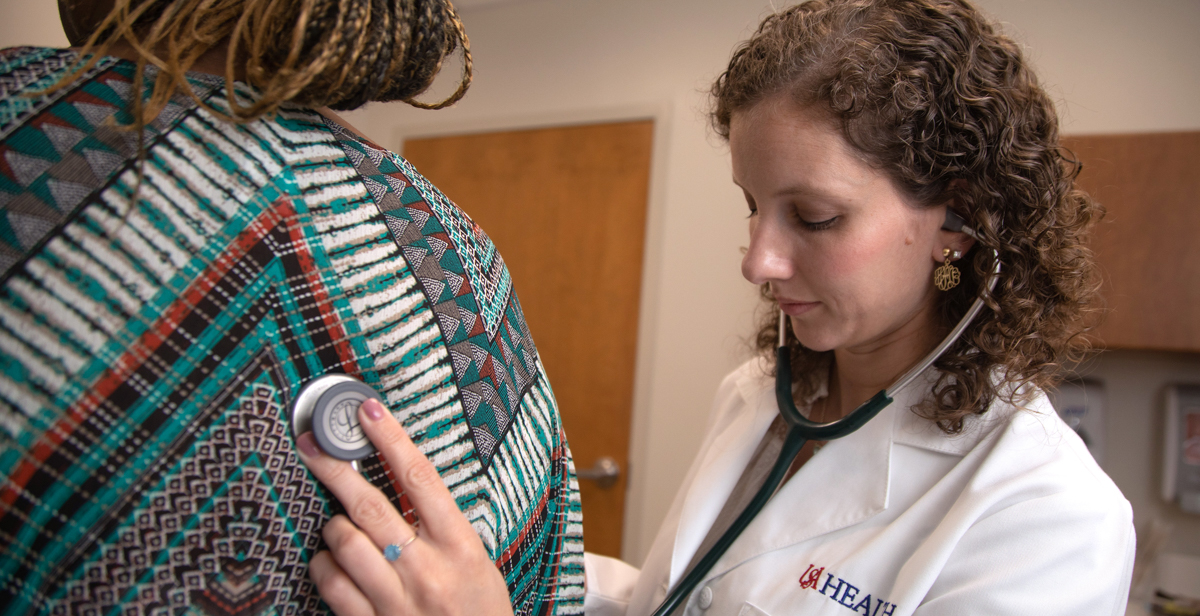 The College of Nursing at the University of South Alabama has been awarded a $2.6 million federal grant to create a Family Nurse Practitioner Residency Program. The program will be supported through an interdisciplinary effort that includes USA Health Family Medicine and Franklin Primary Health Center.
---
With a national shortage of primary care physicians, the University of South Alabama College of Nursing is adding a residency component to its Family Nurse Practitioner program to better meet the needs as expert primary care providers in rural and urban underserved communities.
"We are proud to have the opportunity to initiate the first nurse practitioner residency program in the College of Nursing," said Dr. Heather R. Hall, dean and professor of nursing at South Alabama. "It is outstanding to be able to fund training for primary care nurse practitioners in community-based settings to support the placement of residents in rural and underserved communities."
South's College of Nursing was recently awarded a more than $2.6 million federal grant from the Health Resources & Services Administration through an interdisciplinary effort that includes the USA Health Family Medicine Center and Franklin Primary Health Center, South's community-based clinical partner. Both of the nursing college's clinical partners serve underserved populations in rural and urban areas. The grant will be funded for four years.
"Having this interdisciplinary team to collaborate, which includes our nursing, medical faculty and community partners, who also helped write the grant, makes this unique for Mobile and possibly the Gulf Coast area," explained Dr. Kathy Bydalek, associate dean, associate professor, and project director and principal investigator for the grant. "This opportunity will allow us to develop the residency program in one year and launch the first cohort of professionals in July 2020. As we develop this program, it's going to be a very exciting time for us."
Dr. Allen Perkins, professor and chair of family medicine for the College of Medicine and the USA Health Family Medicine Center, is serving as a clinical partner expert for the FNP residency program.
"I am pleased to assist my nursing colleagues in preparing the next class of FNPs through South's new residency program, which will be an extension of the medical residency program at South," Perkins said. "The FNPs will do their clinical residency with USA Family Medicine."
This 12-month residency program is dedicated to supporting nurses with advanced degrees by providing them with the training and tools needed to provide high-quality patient care, and better prepare new FNPs in primary care for practice in community-based settings through a clinical and academic program. The FNP residency program will focus on the following:
Combating the Opioid Crisis and Mental Health
Value-Based Care Delivery and Quality Improvement
Transforming the Workforce-Clinical Preparation
Telehealth
Childhood Obesity
Maternal Mortality
The FNP residents will also focus on population-based concerns including diabetes, hypertension, renal failure, heart disease, dyslipidemia, and obesity-related illnesses such as joint pain and sleep apnea.
Franklin Primary Health Center, one of the community partners for the residency program, is managed by Charles White, chief executive officer. He is pleased to be serving on this team to provide clinical sites for the residents.
"We have had 25-30 nurse practitioners at our health centers. They are worth their weight in gold. They are awesome and serve as excellent providers. They care for the patients in the clinic and provide educational and health prevention information as well. We look forward to serving in this capacity and partnering with South Alabama.
Additional team members for the new FNP Residency Program are:
Dr. Casey Elkins, Health Education Coordinator;
Dr. Shanda Scott, Health Education Specialist;
Dr. Candice Selwyn, Evaluation Coordinator;
Dr. Kelly Stauter, Health Information Technology Coordinator; and
Dr. Natalie Fox, Clinical Liaison Lead
As a nurse practitioner for more than 20 years, Bydalek values the profession. Nurse practitioners can perform most services that physicians provide.
"We bring a comprehensive perspective and a personal touch to healthcare," she said. "The goal of this residency program is to develop a program for FNPs in community-based settings. We will track the data during the residency and after to showcase the success or any challenges of the residency program."
A stipend will be offered to qualified applicants who have graduated within the past 18 months. They must have their license and board certification as family nurse practitioners. "Also, as a team, we will work with the National Association of Community Health Centers. It will serve as our consulting firm as we develop and manage the residency program," Bydalek said.
---