Lime Bikes Roll at South
---
Posted on August 23, 2018
Joy Washington
---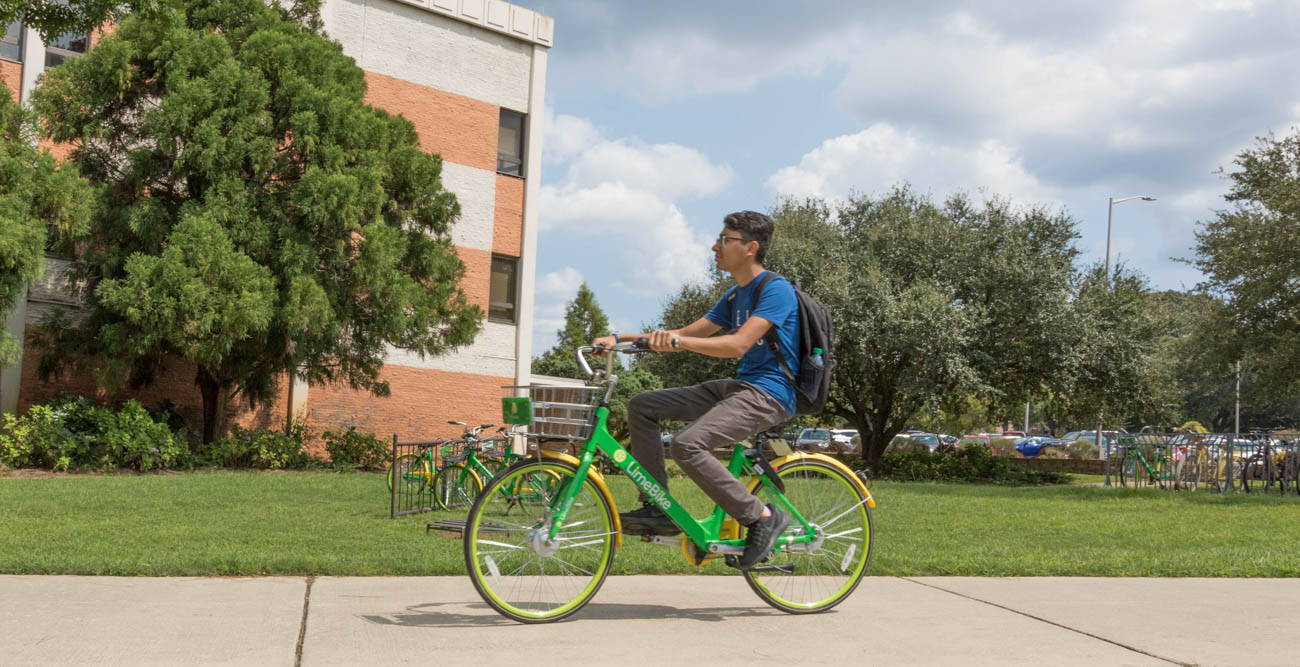 Lime bikes start at fifty cents a ride for South students and employees and can be accessed using the Lime app. The bikes are in downtown Mobile in addition to on campus.
---
It's the first week of class and students at the University of South Alabama now have a different way to get around campus with 200 new, affordable, dock-free, green and yellow Lime bikes.
"The students are excited about having a new, convenient bike share program on campus," said Student Government Association President Grace Newcombe. "I am thrilled that South and the city of Mobile have partnered together to make our community more active and eco-friendly. I have already seen students riding the bikes across campus, and they will be a big hit this year."
The bikes are located across campus and in downtown Mobile. They are GPS and 3G-enabled, which allows riders to find nearby bikes using the Lime bike smartphone app. Each Lime bike uses a dock-free network that gives flexibility in picking up bikes where they are available and leaving them when the ride ends. The GPS locators have batteries powered by solar panels, which means the bikes will need sunlight.
To use a bike for the first time free, riders will need to download the free Lime bike app onto their smart phones by using a designated promo code, LIMEMOBILEUSA, for individuals with a southalabama.edu email address. Then, the riders will use the map on the app to locate a bike. Users can walk to the nearest bike and then use a QR code reader on their telephone to scan the license plate on the bike, which unlocks it. Students, faculty and staff will be able to ride bikes for the discounted rate of 50 cents per 30-minute ride. For other residents of Mobile, a Lime bike ride is one dollar.
Once riders are done, they can leave the bike at or near a bike rack or building for someone else to pick up and ride. After the first free ride, South Lime bike users will pay for the ride via use of credit card.
"This is a great way for students to ride a bike and have access to sustainable, low-cost transportation," said Dr. James Bridgeforth, chair of South Alabama's Sustainability Committee and director of University housing. "If students don't want to use the JagTran, walk or drive, the Lime bike is a great option. This is a wonderful partnership with the city, and students will be able to ride to University Commons and downtown Mobile."
The low maintenance mode of transportation features foam-filled tires that can't go flat, generator-powered lights and an adjustable seat. Riders will be encouraged to be considerate by not leaving bikes where they could block pedestrian and wheelchair crossings, driveways, crosswalks, etc. Lime will help South guarantee bike availability and manage maintenance daily.
"It's nice to see this great partnership between Mobile and South come together with the bike share service," said Dr. Krista Harrell, associate dean of students and Title IX coordinator, and former sustainability chair. "It's been a great process and partnership. We saw a need in Mobile and on South's campus. We also want South riders to be considerate and think safety when riding."
Faculty and staff are also encouraged to jump on a Lime bike to go across campus. Also, South plans to offer the Lime-S Electric Scooter and Lime-E Electric Assist Bike when they are available.
Lime is active at more than 20 universities and Mobile is the first city in Alabama to offer Lime's bike sharing service.
---