South Grad, Opera Star ... Pro Truck Racer?
---
Posted on August 25, 2017
Alice Jackson
---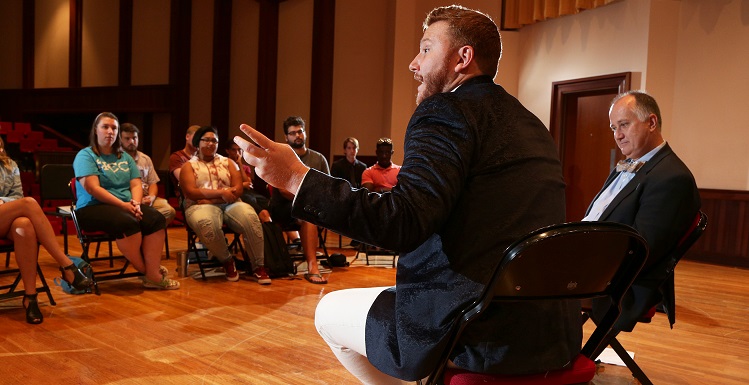 Nicholas Brownlee, front, met with music students during a visit to South, where he was taught as a student by Dr. Thomas Rowell, right, director of the USA Opera Theatre.
---
Music performance major Megan Zuhowski came to the University of South Alabama because of one of its outstanding graduates – rising international opera star Nicholas Brownlee.
On Thursday afternoon, soprano Zuhowski sang on the stage of the Laidlaw Performing Arts Center's Recital Hall under the watchful eyes and ears of Brownlee, who critiqued her performance of "Care selve" from George Frideric Handel's "Atalanta" as about 20 students and faculty members watched.
"Watch the vowels. Repeat them the same way each time," Brownlee advised Zuhowski, a junior. Patiently, he led her repeatedly through each part of the song until he was satisfied.
"Beautiful! That was really beautiful," the 28-year-old Brownlee declared.
The bass baritone, who has performed at the Metropolitan Opera and other world-famous opera houses, returned to USA for a one-time concert tonight, Friday, Aug. 25, to benefit the University's Opera Theatre program. The program will begin at 7:30 p.m. with all tickets sold at the door. General admission will be $15 and $10 for faculty, staff, students, youths under age 18 and senior citizens. Seating will be limited.
Brownlee, a Theodore native, conducted the class for Dr. Thomas Rowell, area coordinator of vocal studies and director of the USA Opera Theatre. It was Rowell who discovered Brownlee's natural talent during his freshman year and convinced him to pursue a career in opera rather than a major in music education and a career as a choral director.
After the master class with Brownlee, Zuhowski called the experience "a beautiful mixture of bliss and terror." Like many of her fellow students, the junior hopes for a professional opera career after graduation.
"I really did come to USA because of him. I wanted to be taught by the same people who taught him," said Zuhowski, who is from Glouchester, Va. "When I first read about him on the USA website, I printed the story and taped it to the wall of my room. I wanted to study with the professors he'd studied with here."
Prior to the master class, Brownlee and Rowell visited with another class where the former student shared behind-the-scene stories of the opera world and the professor told how he convinced a freshman football player from Theodore that he was destined for the world's biggest opera stages.
"I knew the first time I heard him sing that he had a gift," Rowell said. "But convincing him of that took a semester. Still, we had some fun times trying to get him to accept it."
Brownlee described how a Mobile Opera Guild performance of Giuseppe Verdi's "La Traviata" changed his life, saying "I was drawn to the sheer power of it."
He added, "I knew that whatever I had to do to get on that stage with people doing this art, I had to do it. Now, my life is so great, I'm living my dreams. I have a beautiful wife, and our daughter is amazing."
Rowell interjected, "Can you imagine the voice this child will have with these two as her parents? By the way, I have dibs on teaching her voice lessons."
The pair has remained close friends, which is why Brownlee said he was happy to spend an afternoon with students and to perform again at his alma mater.
"I'm so glad I'm in this hall again and with you students again," said the 2012 graduate. "It's good to be home with you."
Brownlee's circle of friends now extends to such opera legends as Placido Domingo, and his voice no longer hints of his southern Alabama roots. However, while visiting his parents along with his wife, mezzo soprano Jennifer Feinstein, and their 3-month-old daughter, Madeline Rose, he divulged a secret to a local television station. Brownlee is a lifelong fan of pro truck racing, and sometimes he takes the wheel on the track at the Mobile International Speedway in Irvington.
"I've tried to keep the two worlds apart, but I grew up sharing the racing with my dad, and I love it for the same reason I love opera. I get the same adrenaline from both," Brownlee said. "And, I really enjoy performing here at home because my racing friends and my opera friends are in the audience together."
Soon, Brownlee and his young family will move from Los Angeles to Germany for at least two years as both he and his wife continue to pursue their individual careers. He admits one of them is almost always on the road, but they make the most of the time they have together.
"You make it work," Brownlee said. "The reason people get into opera is because they love it, and I love working with the people, and Jen feels the same way."
Finally, his mentor asks one final question. "If you could change anything about your career up to this point, what would it be?"
Without hesitating, Brownlee responded, "I would change my initial resistance to opera. I know now that whatever set this in motion, whatever you believe in, I was intended to do this. Other than that, I wouldn't change a thing."
---