17 Years After Hurricane Rita, Meteorology Graduate Starts Weather Service Career
---
Posted on August 29, 2022
Thomas Becnel
---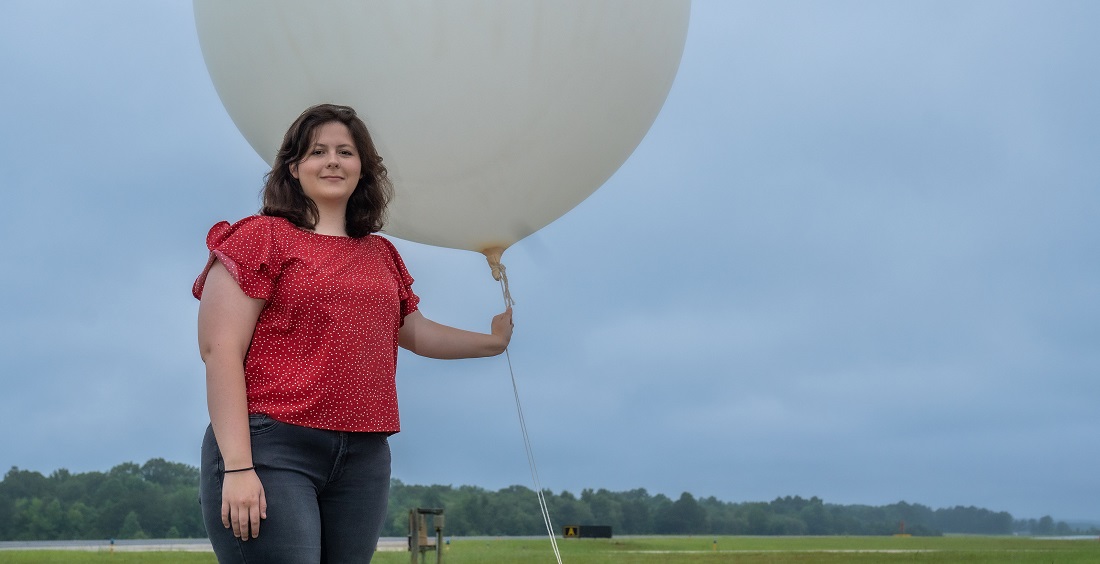 As part of her job at the National Weather Service outside Atlanta, University of South Alabama graduate Carmen Hernandez launches weather balloons into the air to measure readings including temperature, air pressure and humidity.
---
#MyFirstJob is a series focused on University of South Alabama graduates who are beginning their careers.
As a new meteorologist at the Atlanta bureau of the National Weather Service, Carmen Hernandez works weekends and balloon shifts.
Those shifts aren't long hours or inflated stays — she's actually launching weather balloons.
At 7 a.m. or 7 p.m. every day, depending on her schedule, the University of South Alabama graduate fills a 6-foot-wide balloon with hydrogen and releases it into the air. Each balloon carries an instrument called a radiosonde that measures things such as temperature, air pressure and humidity.
This task is more hands-on than high-tech, but it helps produce information crucial to National Weather Service forecasts.
"I love doing it," said Hernandez, a 22-year-old from Shreveport, Louisiana. "You get to get out of the office and actually do something. A balloon isn't humongous, but I'd say it's bigger than a person. It goes far above the atmosphere. It goes up to the stratosphere, 100,000 feet, which is about 20 miles."
At the Atlanta office of the National Weather Service, which is actually in the suburb of Peachtree City, Hernandez enjoys working with a lot of female meteorologists.
"It's still a male-dominated field, but half of the staff here are female, which is great," said Hernandez, "There are a lot of young managers who are hiring more diverse people."
She sometimes works with Jordan West, a TV meteorologist in Macon, Georgia, who was one of her classmates at the University of South Alabama. Meteorology can be a small world.
"The weather community is something," Hernandez said, laughing. "There's even weather Twitter – a lot of drama on there."
Experience at South
Hernandez decided to become a meteorologist when she was 6 years old.
"Hurricane Rita," she explained. "It wasn't as strong as it was down south, but it still effected the Shreveport area. I remember my mom taking me out to see when the eye was over us. You could see all the clouds and the hurricane bands. I was enthralled. And I just kept going from there."
Her mother bought her books on science and weather. After a storm, they would go out to survey the damage.
In meteorology, she's drawn to forecasting rather than broadcasting. She's more comfortable behind the scenes.
"I did one practice broadcast at the station in Shreveport," Hernandez said. "That helped me realize I never wanted to do that."
Math was one of her favorite subjects and she was always good at solving problems and doing puzzles. She also played trumpet in the marching band.
After enrolling at South to study meteorology, with a minor in mathematics, she joined the Jaguar Marching Band.
"I loved the music, but it was also the friends you make," she said. "You make lifelong friends in the band."
Hernandez was a member of the Meteorology Club at South. She did field work and gained practical experience as an intern for the South Alabama Mesonet, which operates 26 automated weather stations along the Gulf Coast.
"Most weekends, we were going out to do manual labor, mowing the grass and replacing instruments," she said. "Our farthest stations were in Ashford and Geneva, Alabama, so we were traveling up to 3 hours each way."
She also worked part-time for the Alabama Power USA Coastal Weather Research Center, where her responsibilities included severe weather warnings.
"I ended up working four or five days a week by the end of it," she said. "We would monitor the weather, and if winds were above 30 miles an hour we'd have to issue a warning to the power companies."
Through a Pathways Program at the National Weather Service, Hernandez spent a summer working at an office in Shreveport. She got to live at home and save money on rent.
Weather Service Career
When Hernandez landed her forecasting job in Atlanta, her mother helped her move.
She's still settling into life in Georgia. In her spare time, she likes to get outdoors and go hiking. At home, she binge-watches her favorite TV programs.
Hernandez wants to build a career in the United States with the National Weather Service. Her goals include becoming a lead forecaster and then a meteorologist in charge of a regional office.
"If there was the right opportunity, I would move, but I grew up in the Southeast," she said. "And the weather here is really interesting, with all the tornados and hurricanes that effect the region."
Hernandez hasn't lost any of her enthusiasm for meteorology. Like so many people, in and out of field, she remains fascinated by severe weather systems.
"Normal, everyday weather is important," she said, "but it's not as exciting."
---