Jaguar Athletics Makes the Grade
---
Posted on August 27, 2020
Lance Crawford
---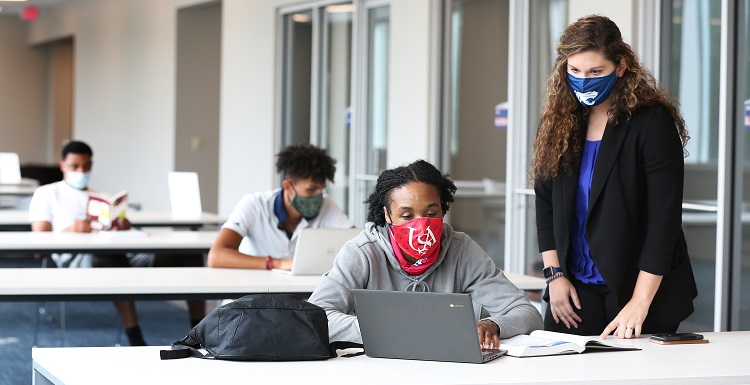 Kristin Maas-Bangston, University of South Alabama associate director for student-athlete academic services, tutors Jaguar basketball player Tyreke Locure at the new Mobile County Center for Academic Success at Hancock Whitney Stadium.
---
As an undergraduate, Jason Kelly thought he would end up in sports medicine. A couple of decades later, he oversees student-athletes' academic health at South.
As Senior Associate Athletic Director, Internal Operations, Kelly and his staff are responsible for the academic needs of roughly 375 athletes, monitoring their NCAA academic eligibility and progress toward graduation.
"To be successful in the classroom you have to make sure your priorities are in the right order, so our student-athletes must, at the same time they are practicing and competing, make academic work their priority," Kelly said.
South's student-athlete academic services department must be doing something right. It received the NCAA Public Recognition Award, given to teams with an Academic Progress Rate (APR) in the top 10-percent of all squads in their respective sports.
In May, the NCAA national office released its most recent multi-year APR, a period from 2015-2019. South's score of 986 ranked first in the Sun Belt Conference.
Four Jaguar teams, men's and women's golf, men's tennis and women's cross country have a perfect 1,000 APR over the same period.
The University's most recent single year score for the 2018-19 academic year is slightly better at 987, with nine teams posting perfect 1,000 scores.
"This does not happen without the commitment from our student-athletes, their coaches and proper support from our academic services professionals under the leadership of Jason Kelly," said USA Athletics Director Dr. Joel Erdmann.
The NCAA implemented the APR in 2003 as an annual scorecard of academic achievement that measures eligibility, graduation and retention each semester or academic term, providing a clear picture of the academic performance for each team in every sport.
Competing at the highest level of college athletics puts extra pressure on student-athletes as they deal with practice, preparation and travel to and from competitions while juggling their academic requirements.
"Time management is one of the most difficult and most important tasks to master as a student-athlete," said Kristin Maas-Bangston, associate director of student-athlete academic services. "Winning in the classroom takes that same grit and dedication as winning on the field or court."
To help acquire the tools necessary to be a successful, PE158—Life Skills is required for all freshman student-athletes.
"The course covers topics as learning strategies, study skills, time management and expectations, as well as developing proficiency in academic and athletic excellence," Kelly said.
Prior to coming to South in 2012, Kelly spent a decade at Ohio University, rising from intern to associate athletic director. He received his undergraduate degree from Mississippi State and worked in their compliance department, so he has been around, but believes no one is doing it any better than they are here at South.
"We have a wonderful faculty, who are genuinely focused on the success of our students," he said. "If a student comes to this University with the intention of earning a degree and is willing to put in the work and commit to academic success, that student will earn a degree."
---