The Aftermath of Naming Storms
---
Posted on September 1, 2016
Alice Jackson
---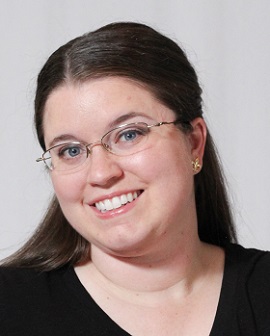 Lindsey Vazquez
---
What's in a name? Is a male-named storm really more frightening that one with a female moniker? Lindsey Vazquez doesn't think so.
Vazquez, a Louisiana native who graduated from South with a master's degree in communication, was skeptical of a 2014 study that suggested people are less likely to evacuate from hurricanes with feminine names. The joint study by researchers at the University of Illinois at Urbana-Champaign and Arizona State University made national news headlines for its revelation of "implicit sexism."
But Vazquez couldn't remember ever hearing of anyone deciding against evacuation and riding out an approaching hurricane because it had a woman's name. So she decided to investigate for her master's thesis.
"I was a sophomore when Katrina hit in 2005," Vazquez recalled. "My parents suddenly showed up at my apartment here in Mobile and 'kidnapped' me from USA, making me evacuate north with them."
Vazquez knew her parents' reaction had nothing to do with the name – it was Katrina's massive circumference and its dangerous winds as it spun toward the northern Gulf of Mexico.
"While the 2014 study got huge media attention, it was also soundly criticized for using research participants from the Midwest, because they aren't faced with hurricane evacuation," Vazquez said. "That made me wonder about doing similar research, using Gulf Coast residents who actually deal with evacuations. I wanted to see if that one variable would change the results from the 2014 study."
With direction from Dr. Steve Rockwell, associate professor and graduate adviser in communication, and Dr. Sytske Kimball, professor of meteorology and chair of earth sciences, Vazquez learned all she could about the 2014 study, as well as similar research pertaining to hurricane names.
"Initially, storms were named for the saint on whose feast day the storm made landfall, or the place most directly hit by the storm, but by the end of the 19th century, scientists assigned females names," Vazquez wrote in her thesis. In the 1950s, the American press began to use the female names in news stories. In 1971, the National Organization of Women began protesting the female-only naming system. Change finally came in 1979 when Secretary of Commerce Juanita Kreps ordered the current naming system, which alternates male and female names on a revolving list.
In Spring 2016, Vazquez surveyed 300 participants, all students at least age 19 and older. Returned questionnaires totaled 276. Of that number, 36.5 percent were female, 63.5 percent were male, and 60.5 percent had previously evacuated for a hurricane.
When Vazquez analyzed the results, her findings were contrary to previous research studies, which had indicated that people tend to evacuate for hurricanes with strong male names because they perceived them as more dangerous. She had been correct about how using Gulf Coast residents could build on and improve the 2014 study.
"My research, using Gulf Coast residents, showed no significant difference between the male- and female-named storms when it came to a perception of risk. Male names versus female names maybe isn't as much of an impact as choosing to name the storm in the first place," Vazquez said. "The data showed that if people were given an evacuation order, they would follow it, regardless."
Vazquez was selected to present her thesis, "Gender in Risk Communication: The Effect of Gendered Storm Names on Communicating Hurricane Risk," at the USA's 23rd Annual Graduate Research Forum and 3MT® (Three Minute Thesis) in March. The forum highlights the outstanding graduate research for the academic year.
After receiving her master of arts in communication at spring commencement, Vazquez moved to St. Louis where her husband, Javier, a USA graduate with a degree in meteorology, is a data analyst. Besides sharing a passion for meteorology — Lindsey earned a minor in meteorology — the couple have a 4-year-old son, Henri. She's also searching for a job in communications, and thinking about possible future studies building on her thesis.
"The important thing is, there really is a lack of research about this particular type of weather communication, and I'd like to do more," Vazquez said. "Perhaps if future studies focused on Gulf Coast residents who actually face evacuations, asking them their experiences and biases, maybe we could learn something about unconscious bias in the naming of storms."
---