South Launches Speakers Bureau With Online Directory
---
Posted on September 18, 2017
Joy Washington
---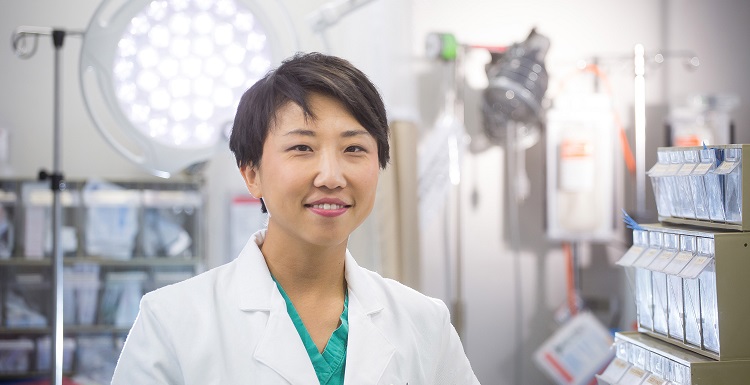 Dr. Linda Ding, an assistant professor of surgery in the College of Medicine, is one of the featured speakers listed in the USA Speakers Bureau. The topics she is available to speak on include trauma, surgical critical care and firearm violence/injury prevention.
---
More than 50 faculty, staff, alumni and student leaders from an array of academic fields and departments have signed up to speak for free to local non-profits, civic and service organizations, churches, professional groups, and at conventions. They are now listed in the new online University of South Alabama Speakers Bureau/Experts Directory.
Dr. Sam Fisher, associate professor of political science and criminal justice, was one of the first faculty members to sign up as a speaker/expert.
"I have been teaching at South Alabama for nearly 30 years," Fisher said. "I see it as part of my responsibility as a faculty member to talk to the community about government and politics. It's important for professors and staff to share their knowledge, because we have unique perspectives and different areas of expertise."
The speakers bureau is maintained by the Office of Marketing and Communications. This new online process will make it easier for those who are looking for speakers or for those who want to sign up and become a speaker.
Melva Jones, director of University Special Events, looks forward to sharing her knowledge with others at workshops and conferences. She was the first staff member to sign up as a speaker/expert.
"This is a great opportunity for me to share best practices, tools and resources in the field of special events," Jones expressed. "This platform also allows for a diverse voice of South student leaders, professionals and alumni leaders who are ready to contribute and give back."
The speaking areas are:
Arts and Music
Business and Entrepreneurship
Health, Wellness and Personal Development
Higher Education and University Programs
History
Math, Science, Technology and Engineering
Politics, Public Policy and Criminal Justice
Social Issues and Diversity
If you need to schedule a speaker for an upcoming event or register to become a speaker, please visit the speakers bureau website or call (251) 460-6638.
---