Sound Investment: Plans Announced for Jaguar Marching Band Complex
---
Posted on September 1, 2023
---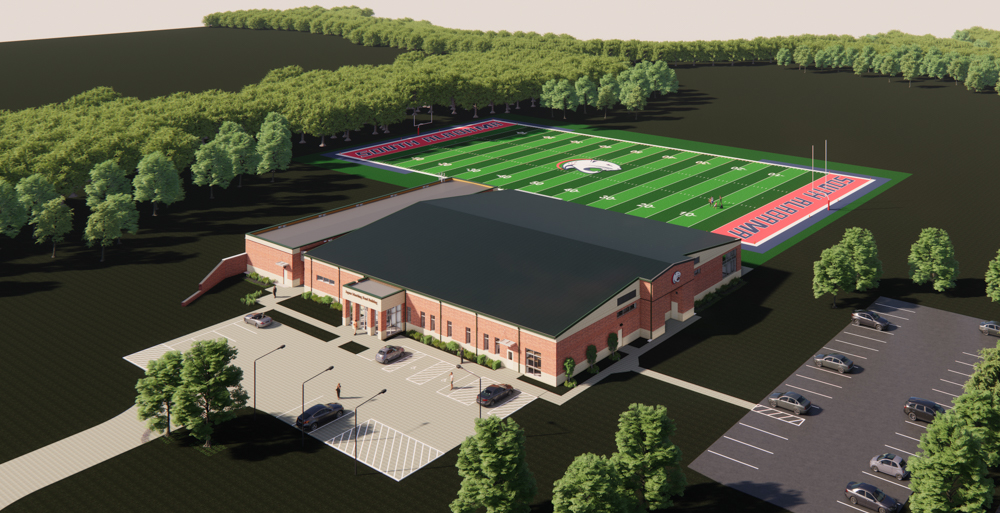 The new Jaguar Marching Band complex, shown in this rendering, will be constructed on the south side of Hancock Whitney Stadium.
---
The University of South Alabama has announced plans for the construction of an indoor and outdoor band complex that will provide a permanent home for the Jaguar Marching Band.
"We are committed to giving our students the very best at the University of South Alabama," said USA President Jo Bonner. "The Jaguar Marching Band provides the soundtrack for our University. This new home will boost recruitment and scholarships as we move forward as the Flagship of the Gulf Coast."
The complex will replace the transportation services building on the south side of Hancock Whitney Stadium and will encompass 24,700 square feet of space. It will house a full ensemble rehearsal hall, drumline rehearsal studio, color guard rehearsal studio, dressing rooms, offices, a music library and essential storage space for uniforms, instruments, props and gear. In addition, the complex will include a full-size lighted practice field identical to Abraham A. Mitchell Field at Hancock Whitney Stadium.
A reception was held Thursday to announce plans for the facility.
"This will be a game-changer for the Jaguar Marching Band and our University band program," said Dr. Will Petersen, USA Director of Bands. "The ability to have a dedicated facility where we can rehearse outside or inside is a dream come true. We'll no longer have to worry about having our operations spread across campus and figuring out how to make it work."
The facility will be able to house all the Jaguar Marching Band's instructional space, equipment, instruments, and uniforms under one roof for the first time in its 15-year history.
"We will be able to increase our band and music course offerings, recruit more high school students across our state and the Southeast, create outreach and recruitment events to get talented music students on our campus, and offer scholarship opportunities to grow the band to 300 members and beyond," Petersen said.
Construction will be completed by 2026 at an expected cost of $10 million, including $5.9 million from the state, commitments from the Jaguar Marching Band, and donations from alumni and friends. Supporters can invest in the Jaguar Marching Band and help shape the future of the program with a gift of support.
President Emeritus V. Gordon Moulton, South's second president, was instrumental in creating the Jaguar Marching Band in fall 2009 with 140 members. Following a successful inaugural season, membership grew to 170 in 2010 and 190 in 2011. Today, the band is 250 members strong and performs at a wide variety of events on campus, in the Mobile community and throughout the Gulf Coast region.
---