Win, Win and Win — Jags Pick Up Landmark Victories
---
Posted on September 6, 2016
Bob Lowry
---
The University of South Alabama Jaguars scored landmark victories in several sports this past weekend, marking one of the most exciting stretches of South wins in recent memory.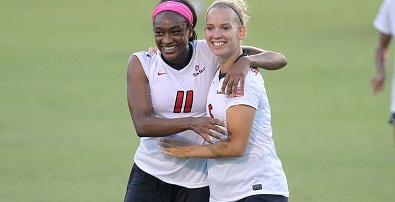 South Alabama's Charde Hannah, left, and Jana Loeber at Monday's win over top-ranked Florida State.
---
The USA football team scored the University's first football victory over a Southeastern Conference school with a thrilling, 21-20 nail-biter Saturday at Mississippi State. The Jaguars were four-touchdown underdogs in the season opener, and actually trailed 17-0 at halftime, but came roaring back in the final quarter to secure the historic win. USA's next game is the home opener at 6 p.m. Saturday against Sun Belt Conference powerhouse Georgia Southern.
Not to be outdone by the football team, the USA women's soccer team on Monday beat the top-ranked team in the country, Florida State, by a score of 1-0. The win is the Jags' first over a ranked soccer opponent, and was marked by an incredible defensive effort, as South turned away 28 shots in the shutout triumph. The Jaguars, now 3-2-1, hit the road next with games at Austin Peay on Friday and Ole Miss on Saturday.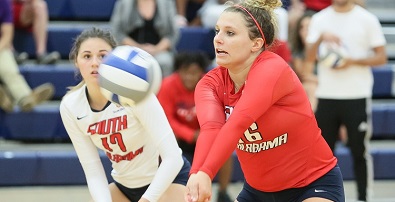 Iva Durdanovic, left, and Abby Baker at the Jaguar Invitational.
---
Finally, the women's volleyball team is off to a strong 5-1 start on the season after winning the Jaguar Invitational at the Jag Gym this weekend. The Jaguars, off to their best start since 1980, hope to keep the momentum going tonight when Southern Mississippi comes to the Jag Gym for a 6 p.m. match.
"This past weekend was filled with great accomplishments and memories," said Dr. Joel Erdmann, USA director of athletics. "This is a direct result of the commitment to excellence by our student-athletes, coaches and loyal fans. Nothing of importance is ever accomplished alone — this is truly a team effort from all angles."
---