Returning South Leads to More Career Success
---
Posted on June 9, 2017
Alice Jackson
---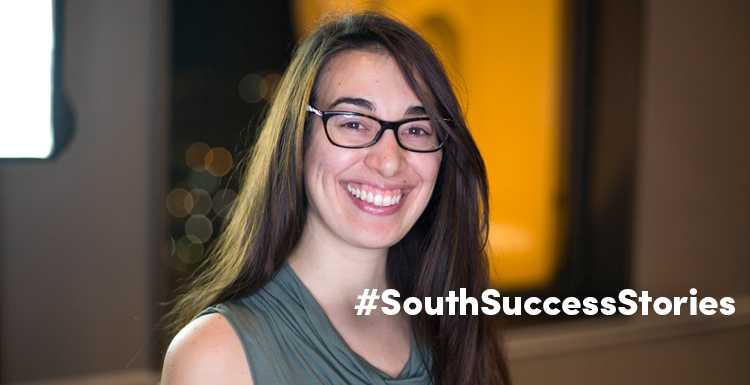 ---
#SouthSuccessStories is an ongoing series featuring University of South Alabama alumni who are life-savers, innovators, game-changers, music-makers and creative-thinkers, successful in their careers and supportive of their communities.
In 2011, the ink on Monica Whatley's diploma from South was barely dry before the math and statistics major packed up and moved to Washington, D.C.
"That was not my original plan, and it was a surprise that I got a job at the U.S. Census Bureau so quickly," the Mobile native said. "I always encourage people to apply for jobs at USAjobs.gov because it worked for me. They hired 20 of us from all over the country at the same time."
Surprising changes have guided Whatley throughout her young career as they led her away from home, then returned her to work at the Southern Poverty Law Center -- the renowned non-profit in Montgomery that monitors the activities of hate groups and other extremists -- where she's found a combined base for her career and passion for positive change as a data marketing analyst.
Whatley admits she enjoyed moving to and living in one of the world's most interesting cities, even though her first year on her own "was a bit challenging" as she learned to support herself financially and commute a long distance to work. She left briefly to earn a master's degree in applied demographics before returning to the nation's capital, where she was a summer intern at the Migration Policy Institute. Then, she landed a job at the Association of American Colleges and Universities. Before long, she was feeling the pull of home.
"It was a hard decision with very mixed emotions because I loved D.C. I had good friends, and the job opportunities are great there," Whatley explained. "But, I missed my family, and I was having to use up all my vacation time every year to go home and see them. Plus, I also wanted to serve my home state to make positive changes."
After living in Montgomery and working at the Southern Poverty Law Center for a year, Whatley knows she made the right decision.
"I'm much closer to my office. In fact, I could walk or bike, if I wanted. I've rented a house with a pool, which is very different from the basement apartment I was living in when I left D.C.," she said. "I have a roommate, and I'm thinking about getting a cat."
She feels she's doing important work, and she's learning much more than she anticipated.
"Being in Alabama, race is always tied to any issue, so having studied race extensively through a public policy or sociology lens has helped me tremendously. The SPLC has been around since 1971, and (SPLC founder) Morris Dees is still here."
Dees, a civil rights legend, was the principal architect of an innovative legal strategy that used civil lawsuits to obtain court judgments against hate organizations for wrongful acts. In 1981, Dees successfully obtained a $7 million judgment against the United Klans of America for the mother of Michael Donald, a black lynching victim in Mobile. Payment of the judgment bankrupted the group.
"He's still coming in to the office, and I'm just blown away when I see him walking around, or he comes to my desk and asks me what I'm doing," Whatley said. "He's so sharp, and he keeps all of us on our toes."
Whatley said living in Montgomery, the heartland of the civil rights movement, and working at the SPLC "has energized me." She volunteers for a variety of events targeting social issues, such as social justice, human rights, the environment and animal welfare.
"I try to get involved in the community as much as I can, and I don't have an awful lot of free time, but I'm very into the gym, and you can find me on a trail or in a state park at least once a month," she said.
She visits her family often, where the talk sometimes turns to South. Like her, two of her three brothers also graduated from South.
"When I graduated from high school, I didn't have a long list of places where I wanted to go to college. Hands down, it was South's Honors Program that made up my mind as well as being named a Presidential Scholar. The monetary benefits were amazing," she said.
She worked part-time as a waitress, and "didn't have my hands in everything because I mostly did the academic stuff."
All that work has obviously paid off.
"I'm so proud to be back in Alabama and to be able to offer something back," she said. "There are opportunities here, so I'm really glad I made this decision to come back home."
---