Hall Named College of Nursing Dean
---
Posted on September 6, 2018
Joy Washington
---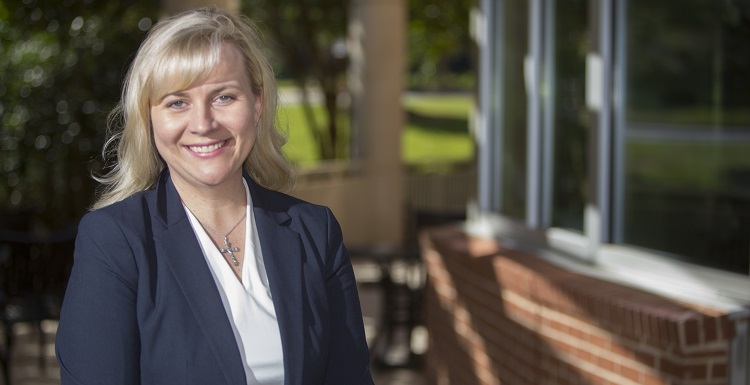 Dr. Heather Hall served as interim dean of South's College of Nursing before being named dean.
---
Dr. Heather Hall, a University of South Alabama alumna, has been named dean of the University's College of Nursing. Hall earned her bachelor's and master's degrees in nursing from South and her Ph.D. from the University of Tennessee Health Science Center.
"Dr. Hall has served as interim dean for the College of Nursing for the past year, and she has provided outstanding leadership during that time," said Dr. G. David Johnson, USA provost and senior vice president for academic affairs. "I am very excited that she has agreed to accept the position of dean and continue to serve in a leadership role. She is very talented, and I expect to see the College prosper in the years ahead with Dr. Hall as dean."
Hall succeeds Dr. Debra Davis, who served as dean of the College for 36 years before her retirement.
"I am honored to be appointed dean of the University of South Alabama College of Nursing," Hall said. "The College and the University are well known for excellence. I look forward to the opportunity to serve as dean, assisting the College to advance research, teaching and community engagement, while continuing to produce outstanding graduates," Hall said.
Hall has served as the interim chair of the maternal child nursing department and coordinator of the neonatal nurse practitioner program. She is also a board certified neonatal nurse practitioner and has worked in the Level III Hollis J. Wiseman Neonatal Intensive Care Unit at USA Children's & Women's Hospital.
Hall's research and scholarship are in the areas of families of children with developmental disabilities, including autism, Down syndrome, cerebral palsy and sickle cell disease. She has also conducted research on family meal practices among African-American mothers residing in health disparity zip codes.
Hall is the co-author of "Evidence-Based Practice: An Integrative Approach to Research, Administration, and Practice," which was published by Jones and Bartlett.
---