Freshman Class Tops in GPA, ACT
---
Posted on September 8, 2017
Bob Lowry
---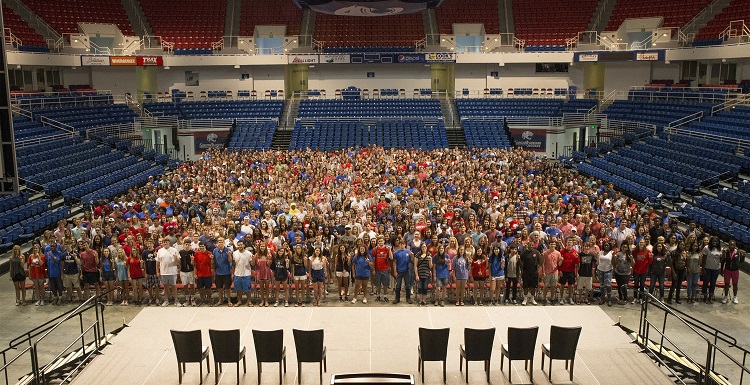 Members of the class of 2021 get their picture taken in the Mitchell Center before Convocation. South marked increases this year in the total number of freshmen from both Alabama and out of state.
---
A dramatic increase in the grade point average of incoming freshmen, and a record number of freshmen with ACT scores of 30 or above, highlight the 2017 fall semester enrollment at the University of South Alabama.
The entering freshman class has an average GPA of 3.6, which is the highest in the University's history. In addition, the 164 new freshmen who earned ACT scores of 30 or above represent a 24 percent increase over last fall. Total Fall 2017 enrollment at USA is 15,569, a 5.3 percent decrease from the previous year.
"I'm extremely gratified that our decisions to enhance admission standards and grow our recruiting and advising capabilities have led to the most academically accomplished freshman class in our history," said Dr. Tony Waldrop, University of South Alabama president. "We continue our commitment to student access and success, and to providing a challenging and comprehensive curriculum to our students."
USA also marked increases in the total number of freshmen from both Alabama and out of state, as well as a 78 percent retention rate of last year's freshmen, up five points over the previous year's freshman class, and up 13 percentage points in just six years.
"We look forward to having this outstanding class of freshmen contribute to the academic environment of USA," said Dr. David Johnson, provost and senior vice president for academic affairs. "Our data demonstrate that GPA is the best predictor of success for our students, so we expect this class to be very successful in our classrooms and labs."
This year's decrease in enrollment, which comes after more than five years of record-setting enrollments at USA, is due in large part to a decline in international students, a nationwide trend this year that is affecting many universities. According to Johnson, the University's new Global USA initiative is currently in the process of expanding recruiting efforts to a wider range of countries.
"We anticipate that the number of new international students will increase steadily over the next several years," Johnson said, pointing to recruiting visits in South America as one example of South's broader outreach.
The University's commitment to graduating more students in four years also led to an interesting consequence. Graduation rates have increased at South as more students are taking less time to earn their degrees; therefore, fewer students are returning for a fifth or sixth year of study.
In addition, the Pathway USA program — launched last year in cooperation with area community colleges — has been very successful. "We anticipated 50-100 students to enroll in Pathway USA, but more than 500 students are currently enrolled in the program," said Christopher Lynch, associate vice president for enrollment services. Many of these students, who in previous years would have enrolled at South as freshmen, will likely transfer to South once they complete their associate's degree requirements.
---