Freshman Enjoys USA Homecoming
---
Posted on September 8, 2020
Thomas Becnel
---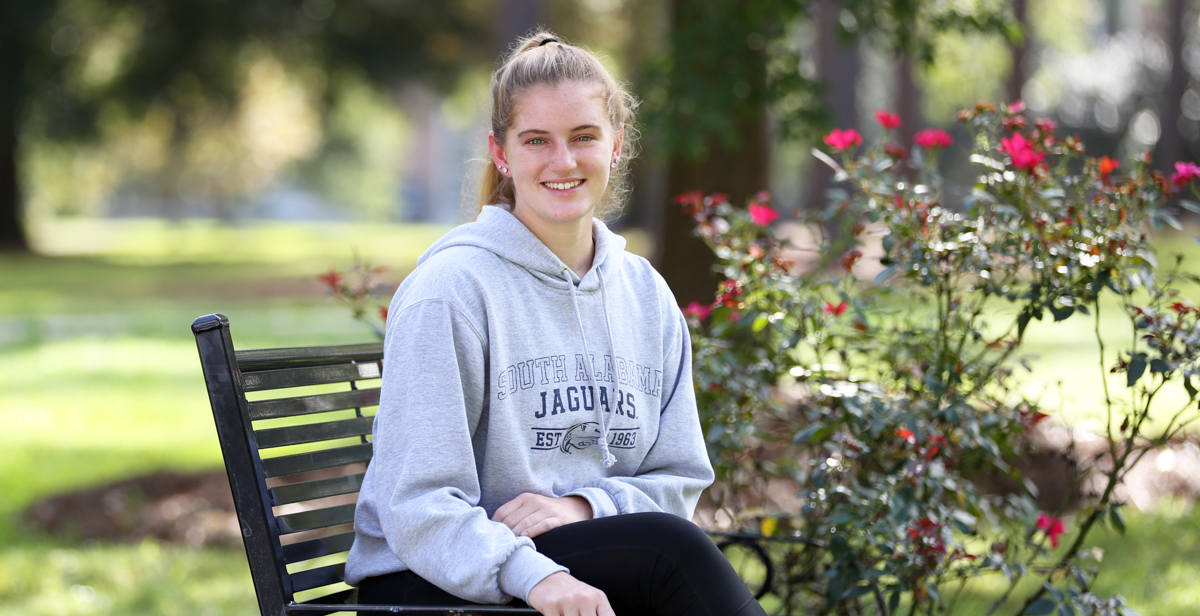 Kaitlyn Reynolds, a freshman from Orlando, Fla., is considering a career as a physical therapist. "Growing up, playing sports, I was always in and out of physical therapy, so it's something I'm comfortable with," she said.
---
#FreshmanFocus is a series focused on incoming freshmen at the University of South Alabama.
For Kaitlyn Reynolds, a freshman from Orlando, Fla., going to college means coming home.
She grew up in Robertsdale in Baldwin County before her family moved to Florida. Years ago, her parents attended the University of South Alabama. They like the idea of her following in their footsteps.
"I never really toured campus, but my parents and I drove through a few times," she said. "They were in shock to see how much it's changed. They couldn't believe all the new buildings and the football stadium."
At Freedom High School, Reynolds played soccer and kicked field goals for the football team. Her game-winning kick in overtime made the TV news and earned her a feature in the Orlando Sentinel.
"It showed me that I can do anything I want," she said. "Even if there are gender boundaries, you always have a chance to do something greater. I've had little girls come up and tell me, 'I want to be like you.' I never saw myself doing anything like that, and that's helped changed me as a person."
Now Reynolds, 18, is living with an aunt and uncle who have Jaguar season tickets. She works part-time in a restaurant overlooking Mobile Bay. She plans to become a physical therapist; her first-semester classes include pre-calculus and political science.
Her grandfather, who retired to Gulf Shores, has been taking classes at the University, too. During her senior year of high school, when she did dual-enrollment courses, they shared English assignments.
"Last year, we were in the same class, which was funny," Reynolds said. "I would help him read through his essays, and he would look at mine."
Eight Questions with Kaitlyn Reynolds
What are your first impressions of South?
"College is a lot more like high school than our teachers warned us. After I missed a class, my teacher e-mailed me to make sure I was OK, and to ask why I wasn't there. They understand that it's a crazy time right now. It's a lot less stressful than I thought it would be.
"The campus is really pretty and quiet. If it wasn't so hot, I could sit outside and do some work. During the pandemic, they've taken the extra step to make sure we're all safe. They're enforcing the mask wearing and social distancing."
How does Mobile compare with Orlando?
"I prefer the atmosphere here. It's a lot more relaxing. Orlando was so big and crowded. It took forever to get anywhere."
What led you to South in the first place?
"I wanted to be back in Alabama. I spent the last seven years in Florida, so I missed a lot of birthdays and holidays. I got the Freshman Admissions Scholarship, which was $2,000, and my dad's work paid for books and in-state tuition, so that was the financial side."
How many boxes did you pack for your move to college?
"I'm living with my aunt and uncle, so I didn't bring very much. I filled up one big suitcase, one small suitcase, and a book bag. That's it."
How did you choose your field of study?
"Growing up, playing sports, I was always in and out of physical therapy, so it's something I'm comfortable with. I'm really interested in anatomy, physiology, things like that. And you get to help people get better. We had a big family, and I was always around kids, so I'm looking at pediatric physical therapy. I think that fits my personality.
"At the same time, if something else came up that I'm interested in, I'd be willing to try that, too. More like a go-with-the-flow situation."
What do you do outside of class?
"After COVID is done, I'd be interested in intramural sports like soccer, and finding programs related to physical therapy. Right now, I'm working at a restaurant. I like it, it's something to do, and I get paid. My dad always said that everyone should be a waiter or server, to see what it's like to do that job, and work with different kinds of people.
"One summer, I worked in Gulf Shores at a deli, and the owner encouraged us to be outgoing. I'm usually very shy, but I got better at talking to people. I'd volunteer to work 12 hours a day because it was just fun to be there."
Where do you see yourself five years after graduation?
"I'd want to be a physical therapist, working with athletes or children. I'd prefer to be in a private practice, rather than a hospital, because there's less going on and it's easier to get into.
"I'd want to stay in Alabama or one of the southern states. I'd want to live outside a big city, but close enough if I needed anything."
What's it like being a student during a pandemic?
"I think it's taught me to adapt to new situations. In high school, I took a college preparation class on staying organized, so that's what I do. I go through the syllabus and write down important due dates. I try to lighten my load by doing homework early and staying ahead of schedule."
---