Satsuma Grad Awarded Trustees Scholarship
---
Posted on September 9, 2021
Thomas Becnel
---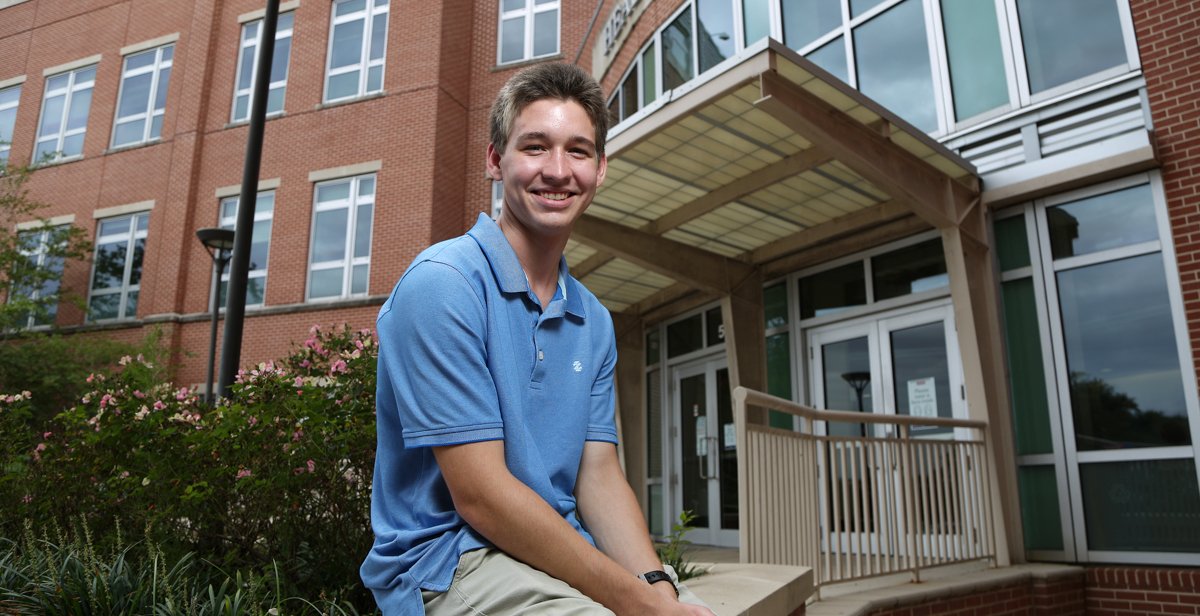 Connor Holm, a freshman biomedical sciences major in the Pat Capps Covey College of Allied Health Professions, was recently awarded the University of South Alabama Board of Trustees Scholarship.
---
For an academic all-star at Satsuma High School – valedictorian, National Merit Scholar and president of his class, as well as the National Honor Society – Connor Holm chose a surprising topic for his college essay.
Failure.
Holm, 18, described playing a Bach sonata for a middle school recital in the Laidlaw Performing Arts Center at the University of South Alabama.
"I showed up to play my sonata piece, stage fright took hold of me, and I, essentially – well, it did not go well," he said, laughing. "In my family, they are all pianists, but I am not."
That was the moment when Holm realized that his future lay outside of music. He began to focus on the math and science classes that would lead to Advanced Placement courses, a perfect grade-point average and an ACT score of 35. He chose to study biomedical sciences at South with plans to become a physician.
Just before the fall semester began, Holm got a call from the University president's office – he had been chosen for the 2021 Board of Trustees Scholarship. The $3,000 award is given annually to the most academically talented student in each incoming freshman class. On top of his other academic scholarships, it will help him pay bills, save for medical school, and allow him to volunteer rather than work during the summer.
"It wasn't something I was expecting at all," he said. "I'm very grateful."
Holm has looked at his income and expenses, done the math, and decided he might have to pay for just one year of his education. He likes the idea of graduating without much debt. He's in the Early Acceptance Program that conditionally guarantees admission into the USA College of Medicine.
As an undergraduate, Holm has joined the Honors College. Group activities so far include star-gazing from the intramural fields. His peers do not lack ambition.
"I've met a bunch of bio-med majors," he said. "People moving in the same direction I'm moving."
Still, Holm tends to stand out in a crowd. He's 6-foot-3, for one thing. And his short brown hair is brightened by a thick patch of silver-gray at his right temple.
"When you're a kid, everyone asks, and you have to explain how you were born with it and everything," he said. "Now I like it. It's a good conversation starter."
Keeping Pace
His father, Dr. Robert Holm, is a professor of music at South. He grew up hanging around Laidlaw Hall: "Sometimes I'd be lying under the piano, playing with my toys, when he was giving a lesson."
His mother also plays the piano. So do his two older sisters, who are also students at South. On Sundays, members of the family play music at three different churches.
He and his sisters live in a house near campus with a few of their cousins. Everyone has chores. He does his share.
"I put out the trash and do the dishes," he said. "Everybody has to pick up."
In school, Holm has always been a straight-A student. He showed his knowledge with different teams in the Alabama Scholars Bowl and Hi-Q competitions.
At Satsuma High School, he was captain of the soccer and cross-country teams. His dad would ride a bike around the neighborhood to pace him on training runs. In races, he did the 5,000 meters in 17 minutes and 30 seconds.
"That got me into a lot of state meets," he said. "I've got a lot of state T-shirts."
During high school, Holm started his own tutoring business, charging $10 an hour. During the summer, he worked stacking boxes and making pallets at an iced tea company. He saved the money he earned.
After years of driving an old Honda with 300,000 miles on it, Holm bought himself a new car to start college. It's a Honda Civic 6-speed hatchback.
"We had to go all the way to North Carolina to find this car," he said. "It's a standard – I love driving a standard."
At a small high school, Holm got to participate in lots of activities and lead many student organizations. At a much bigger university, he's waiting to fit in before joining clubs or getting involved in student government.
Next summer, he hopes to work at a medical office. He's already been a hospital volunteer. Last summer, he worked at a cardiology practice.
For his first semester at South, Holm is taking courses in music and public speaking, along with Psychology 120 and Chemistry 131. He thinks he'll be busy during the next four years
"There's a lot to learn," he said, "and I need time to learn it."
Holm enjoys listening to jazz trumpeters such as Chet Baker and classic singers such as Frank Sinatra. He relaxes with Nintendo video games, which have been his thing since he was a child.
"I have every Nintendo console except for the 64," he said. "My favorite game is Super Mario Sunshine."
Holm still runs for fun early in the morning. He likes to stay active. He might play intramural soccer or try different sports.
"I do enjoy the rock wall at the Student Recreation Center," he said. "That's something new."
---