National Merit Scholar Awarded Trustees Honor
---
Posted on September 9, 2016
Bob Lowry
---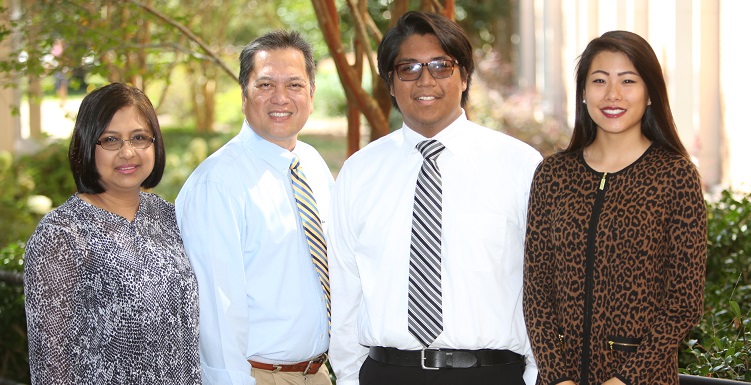 Christian Manganti, second from right, who scored a perfect 36 on his ACT college assessment test, is the 2016-17 USA Board of Trustees Scholar. Manganti's parents, far left, Amelito and Divina Manganti, and Shirley Zhang, last year's winner, attended Friday's Board of Trustees meeting.
---
University of South Alabama freshman Christian Manganti, who scored a perfect 36 on his ACT college assessment test, has been named the USA Board of Trustees Scholar for the 2016-2017 academic year. The announcement was made at the University's board of trustees meeting on Sept. 9.
A graduate of West Harrison High School in Gulfport, Miss., Manganti is among less than one percent of all high school students nationwide to have a perfect ACT score. He plans to major in biomedical sciences on a pre-medicine track, with the hope of pursuing a career in medicine.
"I chose to come to South Alabama because everyone here — from the staff, faculty, administration, and the students themselves — is committed to student success and building a supportive community," Manganti said. "The Board of Trustees scholarship only affirms my belief that USA cares for its students more than any other large university I've visited. The old cliché is true here: I just felt 'at home' here at South."
The USA Board of Trustees Scholarship program recognizes the most academically talented student in each incoming freshman class, based on ACT/SAT score and, if needed, GPA on a 4.0 scale followed by rigor of high school coursework.
Manganti was a National Merit finalist in high school, as well as class valedictorian and a percussionist in the school band. At USA, he is a Whiddon Honors Scholar, a Freshman Leadership Scholar and a College of Medicine Early Acceptance Program student.
The Board of Trustees Scholarship Program was created after the trustees gave the University more than $125,000, which was matched by the Mitchell-Moulton Scholarship Initiative, to create the USA Board of Trustees Scholarship. Each recipient is awarded a financial scholarship as a supplement to other scholarships or awards. If total scholarships exceed the cost of tuition, the Board of Trustees Scholarship may be used for study abroad, research or other programs that enhance a student's education.
---