North Alabama Student Named Trustees Scholar
---
Posted on September 11, 2020
Thomas Becnel
---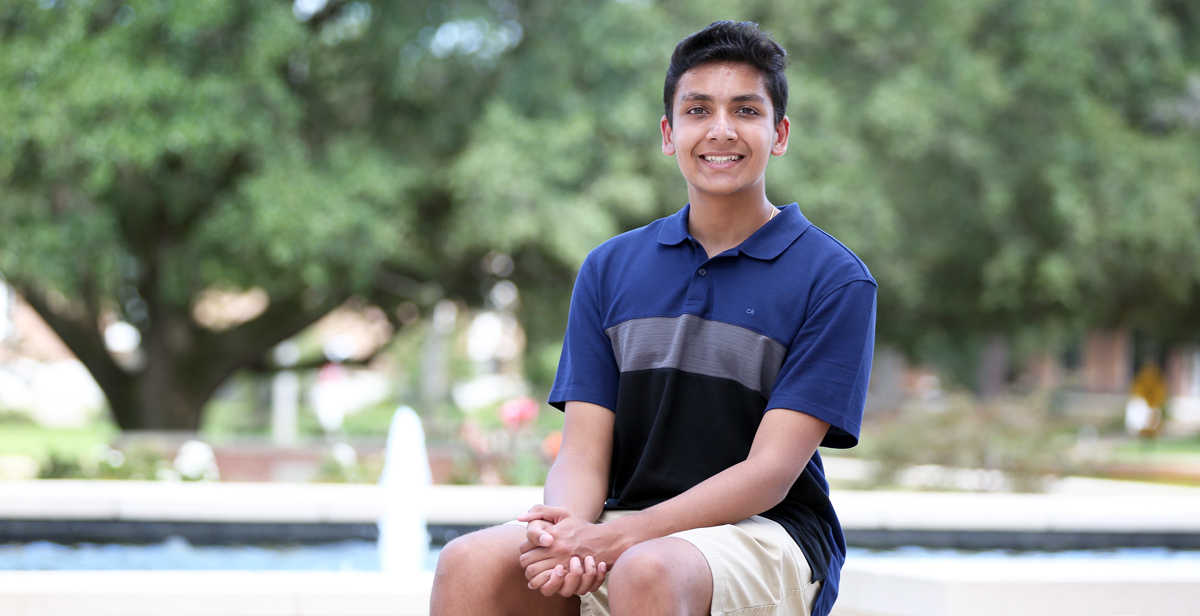 Neil Chaudhary, named the 2020-21 University of South Alabama Board of Trustees Scholar, is a biomedical sciences student and plans to pursue a career in medicine."I wasn't anticipating extra financial aid or anything, but I was definitely very happy and grateful," he said
---
The University of South Alabama Board of Trustees Scholar for 2020-21 is a north Alabama freshman who made straight-A's in high school, scored 35 on his ACT, and thought of his grandmother when choosing his major.
Neil Chaudhary, 18, is a biomedical sciences student who plans to become a doctor. Watching his grandmother struggle to walk, or get around in a wheelchair, helped inspire his career choice.
"As a kid, I always wondered how much better her experience would be if she didn't have to go through that," he said. "That was one of the early sparks that led me into medicine."
The Board of Trustees Scholarship is one of the most prestigious at South. It was created in 2014 after the trustees gave the University more than $125,000, which was matched by the Mitchell-Moulton Scholarship Initiative, to create the program. Each recipient is awarded a financial scholarship as a supplement to other scholarships or awards. If total scholarships exceed the cost of tuition, the Board of Trustees award may be used for research, study abroad or other programs that enhance a student's education.
Chaudhary, who had already received a Whiddon Honors Scholarship, chose South because of the Honors College and early-acceptance medical program. After just a few weeks of classes, he's still finding his way around the University, but he and his roommate have been taking early-morning runs on the paths and trails that wind through campus.
He was coming out of breakfast in the South dining hall one morning when he got a phone call. President Tony Waldrop told him he'd won the Board of Trustees award. The news took him by surprise.
"It was kind of unexpected, because the semester had already started," he said. "I wasn't anticipating extra financial aid or anything, but I was definitely very happy and grateful."
Chaudhary's parents are from India. His mother is a chemist and his father is a software engineer. He was born in California but moved to Alabama when he was 7 years old.
At James Clemens High School in Madison, Ala., near Huntsville, he earned a 5.2 weighted grade-point average and had a 35 composite score on the ACT. He served as president of the Red Cross Club and belonged to several service groups and national honor societies. He volunteered at a local hospital and worked as a math tutor.
At the same time, Chaudhary tried to find a balance between study and leisure. He enjoys boba tea and triple chocolate brownie ice cream. He likes hanging out with his classmates.
"You can't put yourself through a schedule where you work all the time and never give yourself a break for interests or hobbies," he said. "That just makes you a boring person who's serious all the time and never has fun. With me, I can sit down and study for a long period of time, but then I'll see if my friends want to go out for a bite to eat, something like that."
Chaudhary is interested in the Student Government Association and the First Year Council. He'd like to do some undergraduate research. He wants to make the most of his time at South.
The coronavirus pandemic has limited some social events on campus. He's looking forward to his first Jaguar football game. He's already made one trip across Mobile Bay to Fairhope.
Next summer, Chaudhary hopes to join an Honors College program in London.
A few years ago, on a family trip to Dauphin Island, he visited the University of South Alabama. He was impressed. Now he's adjusting to late-summer humidity on the Gulf Coast.
"I can deal with the heat," Chaudhary said, "if I can be on a campus like this."
---