South Helping Students to 'Be Jag Healthy'
---
Posted on September 12, 2017
Joy Washington
---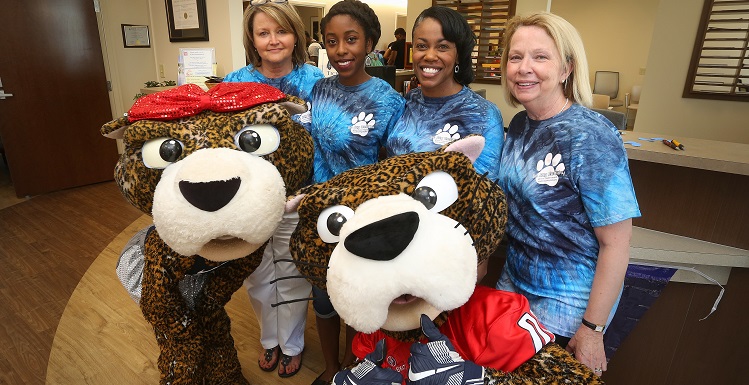 The South Alabama Student Health Center is ready for students to join them for the 2017 'Be Jag Healthy' Health and Wellness Day. From left are Valerie Heidel, supervisor clinical operations, Alexis Banks, president of the Jag Health Team, Feaunte' Preyear, coordinator of health education and quality improvement, and Beverly Kellen, practice director, with SouthPaw and Miss Pawla.
---
To encourage students to live a healthy lifestyle, the Student Health Center at the University of South Alabama will host the fourth annual "Be Jag Healthy" Jag Health and Wellness Day from 10 a.m.-6 p.m., Wednesday, Sept. 13, at the Student Health Center at 5870 Alumni Drive. All students are invited.
The Student Health Center is collaborating with Housing & Dining Services, Lab Corp, Walmart Pharmacy, Aramark, Franklin Primary Health and other campus and community partners. Students will receive free food, T-shirts, giveaways, flu shots, STD and other health screenings as well as learn about health insurance and immunizations. They are welcome to tour the Health Center along with meeting the experienced Student Health staff. Student nurses and medical residents will assist the professional medical staff during the health and wellness event.
"We are extremely excited to sponsor this event again for our students," said Beverly Kellen, practice director for the Student Health Center. "To have a well-rounded college experience, we want our students to maintain a healthy mind and body, and we are providing a day of fun and education for all students on health and wellness. We are also grateful to our sponsors and partners for supporting this important information and awareness event."
Additional sponsors for this event include Mobile County Health Department, College of Nursing, Pat Capps Covey College of Allied Health Professions, Internal Medicine, Physician Assistant Studies, Speech and Hearing, Family Medicine, Student Affairs, Counseling and Testing Services, Student Government Association, Faculty Senate, Active Minds, USA Bookstore, USA Athletics, Student Disability Services, Lyons Club, VITAL Program and Abeneefoo Kuo Honor Society. The above USA departments and colleges along with community vendors will set up exhibit tables to share information with participating students.
For more information, call (251) 460-7151, or visit www.southalabama.edu/studenthealth.
---