Evacuation Primer as Season Peaks
---
Posted on September 13, 2016
Bob Lowry
---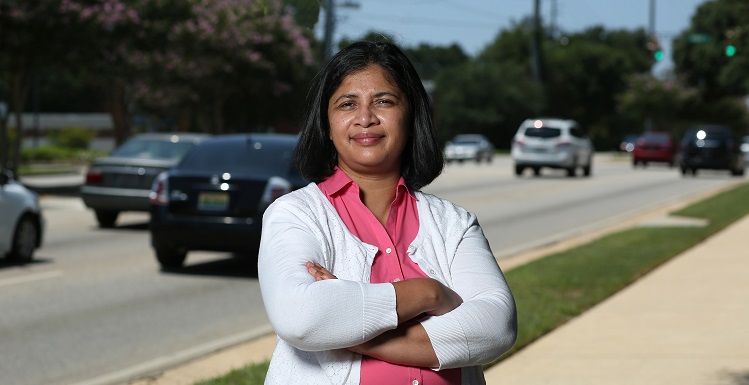 Dr. Samantha Islam, associate professor of civil engineering/transportation engineering, said the rural road system presents one of the greatest obstacles in an evacuation.
---
Dr. Samantha Islam is associate professor of civil engineering/transportation engineering at the University of South Alabama. Her research interests include hurricane evacuations. Islam sat down recently with South's Office of Marketing and Communications to discuss the state of hurricane evacuations along our part of the Gulf Coast, of particular concern during the peak of hurricane season and given the increased population of our region since the last hurricane impacted us more than 10 years ago.
Q. When a mandatory evacuation is announced for portions of our region, is it realistic to expect that everyone can be evacuated, given the current transportation network?
A. It is not realistic to expect that everyone can be evacuated from our region within the available time in case a mandatory evacuation is announced. Published research also reinstates that fact. Most of the time, complete evacuation under those conditions is not possible.
Q. How much advance notice would you recommend be given for mandatory evacuations of our region? One might assume that the closer one lives to the coast, the earlier one should be allowed to evacuate.
A. Typically, state or local authorities order an evacuation based on forecasts issued by the National Hurricane Center, with a window of a specific number of hours before the onset of tropical storm winds. This specific number of hours is unique for each community and predetermined based on the characteristics of the population in the community.
The evacuation should provide sufficient time for the contraflow (all I-65 lanes go north) operation during daylight hours. However, it would not be wise to issue an order for mandatory evacuation too far ahead of time, as a hurricane can change its course over time and thus change the needs for evacuation.
A useful approach might be to conduct the evacuation in stages, a technique that has received significant attention in recent times. The idea is to execute the operation in a sequence by zones to minimize evacuation time.
Q. What are the greatest transportation obstacles to overcome in an evacuation?
A. One of the most overlooked aspects of evacuation operations is the rural road system along with the support facilities along the system. Support facilities include fuel, medical help, repair, restroom facilities, etc. Based on published studies, rural roads were observed to carry two to three times their normal traffic volumes. At some locations, the traffic volumes were ten times their regular volumes! Under such circumstances, traffic in the rural road system faces severe consequences in case vehicles run out of fuel or if repair service is needed.
Q. Do we have enough highways to meet the evacuation need? If not, what are some recommendations you (or others) would make?
A. We do not have enough highways to meet evacuation needs. However, studies suggest the following techniques to better manage the demand on the highways:
Minimizing shadow evacuation and background traffic ("shadow evacuation" is traffic that is not part of the mandatory evacuation and "background traffic" is movement due to work and family responsibilities).
Transporting people to safe shelters nearby instead of evacuating to distant places.
Using phased or sequenced evacuation.
Q. Evacuation routes all lead north, yet, if a hurricane is forecast to make landfall at, say, Pensacola, would it be prudent to also evacuate to the west?
A. Hurricanes can shift direction, even at the last minute. In case the hurricane moved further west, evacuating toward the north is a safer alternative.
Q. Making all lanes of I-65 northbound during an evacuation allows for a much greater volume of traffic. Are there other ideas that are under consideration to better allow people to evacuate in a timely manner?
A. Many researchers and agencies have identified strategies such as eliminating certain turning and crossing maneuvers at intersections, using shoulders for an additional travel lane and using mass transit systems to evacuate people with limited mobility.
Q. If money was not a consideration, how would you improve the evacuation transportation system in our region?
A. I would increase evacuation route capacity where feasible; deploy ITS (Intelligent Transportation Systems) to provide real-time information on evacuation traffic to travelers and emergency officials along the evacuation routes, especially rural road systems, and use that system to also share information on vital services such as rest areas, gas and food; and take initiatives to ensure better planning and coordination for cross-state evacuations.
Q. Did the mass evacuation of New Orleans during Katrina provide any lessons/insights on Gulf Coast evacuation routes? For example, Baton Rouge had to deal with the evacuation of people from New Orleans, so it's not just a coastal infrastructure problem.
A. During the evacuation, we need to mobilize evacuating traffic throughout the network between the point of departure and various destinations. Potential bottlenecks along the routes need to be identified and strategies determined to reduce the complexity of the evacuation traffic.
Historically, hurricane evacuation planning and execution were primarily the responsibility of emergency management and law enforcement agencies. Evacuation operations from past events have made it clear, however, that an increased level of involvement from the transportation professional community is essential to handle the traffic situation that arises during the evacuation operations.
Moreover, better results can be achieved in overcoming the challenges with interdisciplinary work with social scientists and engineers. Social scientists can address the behavioral aspect and risk perceptions of the evacuees, and engineers can develop mathematical and simulation models to determine travel demand and evacuation time.
---
Dr. Islam has collaborated with researchers at Alabama, UAB and LSU to develop best practices for communicating with vulnerable populations during transportation emergency situations. She currently serves on the national Transportation Research Board Committee on Emergency Evacuation, researching issues and providing resources related to emergency evacuations.
---