South Professor Focused on Healing 'Moral Injuries'
---
Posted on September 16, 2016
Joy Washington
---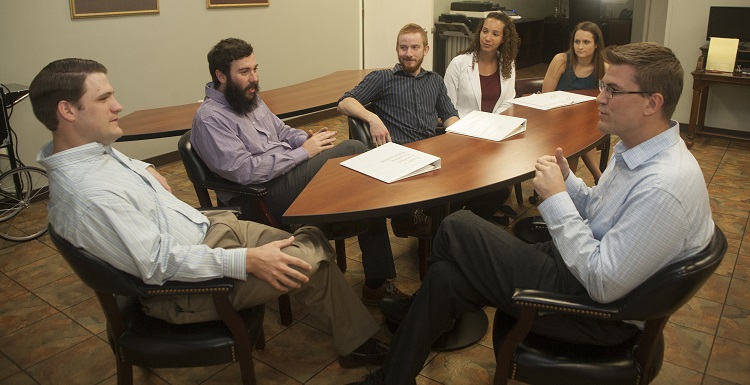 Dr. Joseph Currier, far right, assistant professor of psychology, is developing a tool to identify moral injuries in veterans. "Our veterans deserve a better quality of life after sacrificing their lives for our country," he said.
---
Many American veterans have returned home from war with experiences that have shaken their core values and beliefs, leaving them struggling with what many experts call "moral injury." Promoting the health and well-being of the courageous men and women who have served the country is one of the highest priorities of Dr. Joseph Currier, assistant professor of psychology and director of clinical training of the clinical and counseling psychology program at the University of South Alabama.
Moral injury, which is not a new identification or official condition, is related but distinct from posttraumatic stress disorder, PTSD, which is a fear-based trauma. Moral injury is considered a guilt- and shame-based trauma. Currier said a survey of U.S. soldiers and marines conducted toward the start of the Iraq war showed 28 percent reported being responsible for the death of a civilian. About 60 percent saw ill or wounded women and children who they were unable to help, and 86 percent knew someone who was seriously injured or killed.
"Overall, moral injury can stem from direct participation in acts of combat, which may include the killing or harming of a child who's seen as a potential threat in the war-zone," Currier explained. "It can also occur when a veteran witnesses the death or injury of civilians or another soldier in combat. Because they couldn't save their fellow comrade in arms, they blame themselves, and therefore suffer from trauma."
Several years ago Currier worked with colleagues to develop a tool for assessing experiences that might lead to a moral injury. Currier recently has joined several researchers nationwide to create an instrument for assessing symptoms or warning signs of a moral injury, with the hope that psychologists and counselors will have a tool to better identify moral injury in traumatized veterans. He said clinicians and/or researchers currently lack such a tool for screening morally injured veterans.
"Our veterans who are suffering from moral injury following their combat experiences in war are left with a residue of shame and pervasive guilt," Currier said. "We must customize our treatments based on the unique traumas."
Currier said the evaluation tool will provide a comprehensive stand-alone instrument that identifies and gauges moral injury. Their research is 50 percent complete, and they hope to have this tool finalized and ready for use within one year.
"I am passionate about working with veterans, and I assume a holistic perspective in my work," Currier said. "This project will serve to more rapidly support recovery of veterans who are struggling with moral injuries, thereby reducing their suffering and the toll on their families and communities. Our veterans deserve a better quality of life after sacrificing their lives for our country."
Currier said not all veterans suffer with moral injury. But, for those that do, he wants to make sure this tool is available to help tailor treatment for the veterans in need.
Currier, who earned his Ph.D. in psychology from the University of Memphis, is known internationally for his research focusing on psychological, spiritual/existential, and physical health consequences of military trauma, bereavement and community violence. He strongly feels that veterans should not have "cookie cutter" care, but instead have an individualized treatment plan if they are suffering from PTSD, moral injury or any other form of mental stress.
As a doctoral student, he did research and served veterans at the Memphis Veterans Administration Medical Center. He was involved in individual and group therapy. This opportunity changed his career plans somewhat. But now he's making a difference in higher education, while working in numerous research efforts to help veterans dealing with trauma.
Currier's research projects include:
Testing and validating the construct of moral injury in military veterans.
Looking at how religion and/or spirituality can help and/or hinder military veterans as they attempt to recover from trauma following war.
Encouraging many veterans, despite a stigma associated with going to mental health professionals, to seek help.
Participating as a co-investigator on the Southwest Alabama Veterans Needs Assessment, a collaborative project to gauge the needs of veterans and their families in an eight-county region
"During our research, we have also found that many veterans entered the military with heavy exposure to trauma already," Currier explained. "We now better understand veterans who have pre-military traumas carry a high rate of suicide. I am interested in helping veterans who are in the most pain. I love their honesty and humility."
Currier and several of his doctoral students in psychology are conducting research at Eagle's Landing, which provides resources and transitional housing for homeless veterans in Mobile. This venue provides a real-life laboratory for Currier and his doctoral students.
Wesley McCormick, a former Methodist minister, is a third-year doctoral student in clinical and counseling psychology at South. He plans to graduate in 2019 and is interested in providing care to ministers and spiritual leaders who counsel veterans. A native of New Brockton, Ala., McCormick earned his master's degree from Asbury Theological Seminary.
"I have a deep appreciation for the research that I am doing with Dr. Currier," McCormick said. "I have this opportunity to work in an important field of study. My focus as a ministry leader is to take care of others in the ministry as well as the veterans in need. We must nurture the wounded and honor the fallen."
Timothy Carroll is a second-year clinical/counseling doctoral student who's planning to graduate from USA in 2020. A native of Covington, Ga., he earned his master's degree from the University of West Georgia. Carroll wants to be a clinical psychologist, and he is benefiting from his research experience with Currier at Eagle's Landing.
"By working with veterans in need, we get to understand the impact that trauma has on service individuals," Carroll noted. "We are a synergistic group of folks working with veterans who are dealing with grief, loss and trauma. This has been a transforming life experience. And, I have been able to work with some committed and brilliant faculty."
Brook Sims, a native of Waukegan, Ill., is a second-year doctoral student at South. She also plans to graduate in 2020. Sims is well-traveled in that, while studying for her undergraduate in psychology at Alabama A&M University, she spent her summers conducting research at LSU and at the University of California at Berkeley. Following graduation, she also volunteered in a Florida veteran's treatment center.
"I have found Dr. Currier to be an intellectual with a big heart," she said. "He's been a great resource for all the students. I have the opportunity to give presentations regionally and nationally, in addition to conducting research. I want to be a psychologist and work at the Department of Veterans Administration when I complete my doctorate."
---
If you are a veteran or family member of a veteran, you can participate in the Southwest Alabama Veterans Needs Assessment study at communityfoundationsa.org/.
---