Fulfilling a Lifelong Dream in Marine Biology
---
Posted on September 17, 2018
Alice Jackson
---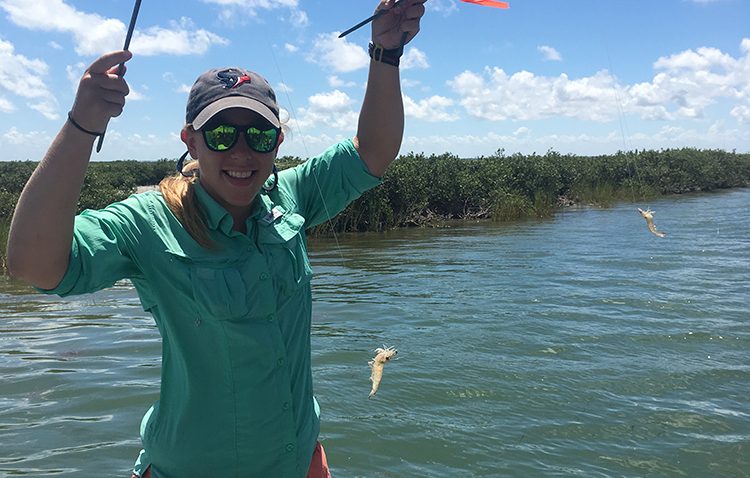 Meredith Diskin, a doctoral student in USA's marine sciences program, tethers shrimp to fishing line and puts them out in the mangroves for her research on the interactions of predators and their prey and how they differ in ecosystems such as salt marshes and mangroves.
---
Seven-year-old Meredith Diskin declared her life's work during a summer vacation to Mexico with her family.
"One of the things we did on that trip was to swim with sting rays, and I told my parents I wanted to study marine biology, and I haven't looked back since," she said.
Today, the 28-year-old Diskin is a doctoral student in marine biology at the University of South Alabama. Recently, she received a Link Foundation fellowship that permitted her to conduct research for 12 weeks at the Smithsonian Marine Station in Fort Pierce, Fla., over the summer.
The station is part of the Smithsonian Institution in Washington, D.C., and serves as a field station for scientists, students and collaborating institutions around the world to investigate plants, animals and physical processes in the ocean and the nearby Indian River Lagoon. It is the source of much research published in scientific journals and forms the basis for effective public policies, conservation efforts and resource management.
"The facilities there were really, really great, and the people just bent over backward to help me. I was able to hammer out a lot of questions I had about my research and to work some kinks out of my experiments," Diskin said.
Her research focuses on the interactions of predators and their prey and how they differ in ecosystems such as salt marshes and mangroves. It involves looking at how black mangroves – trees or shrubs that live mostly in Texas and Louisiana -- are pushing salt marshes to the limits of where they can go. She points out that the most dominant mangroves native to south Florida are red mangroves.
"It's pretty recent that the black and red mangroves began expanding further north," she said.
"I found major changes occur when mangroves move into an area. For instance, crabs and fish increase," she explained. "I'm looking at how fish, crab and shrimp feed in different environments." She suspects when the mangroves move into an area the changes in crab and fish populations may be the result of predators foraging differently.
Using fishing line, Diskin tethers dried squid and shrimp to stakes, "making kind of a makeshift fishing pole," then places them in shallow water.
"The fishing line is long enough that the shrimp can move about. I put them out for a couple of hours, and I put out Go Pros to try to figure out what's eating them, or what's the predator. If the shrimp aren't eaten, they're turned loose," she explained.
Her research will be the basis of her doctoral dissertation, and she hopes to receive her Ph.D. degree in May 2020. Afterward, she is planning for a research career either with a government agency or, hopefully, with the Smithsonian.
Diskin will submit a report with data on her research to the Smithsonian by the end of the year.
"The biggest thing I learned at Fort Pierce was to be more independent on a project," she said. "It was a wonderful environment to help build confidence, doing more stuff on my own."
---