Gadsden Runner Awarded 2023 Board of Trustees Scholarship
---
Posted on September 19, 2023
Thomas Becnel
---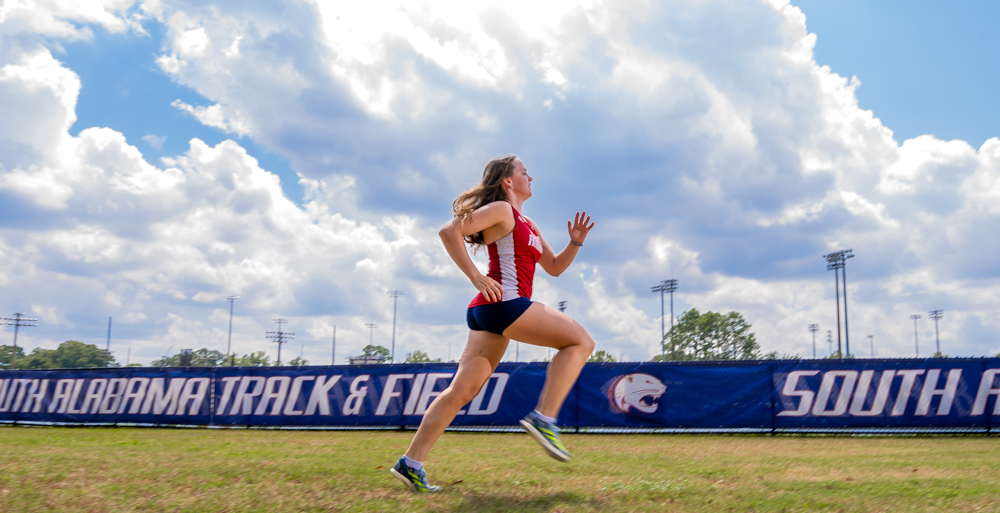 Katie Giles, the 2023-24 University of South Alabama Board of Trustees Scholar, does 6:30 a.m. training runs, six days a week, with the women's cross country team.
---
For a morning interview about earning the USA Board of Trustees Scholarship, a top academic award for first-year students, Katie Giles arrives with damp hair and a fresh set of running clothes.
Six days a week, she does 6:30 a.m. training runs as a walk-on with the women's cross country team. Then she grabs a quick shower and starts her classes at the University of South Alabama.
"I only ran five miles today," she said. "Some of the older runners did more than that. They're very fast. On my high school team, I was always the fastest runner, but I knew that wouldn't be the case here. I think that will push me, though, and help me grow as a runner. So I'm excited about it."
At Glencoe High School near Gadsden, Alabama, Giles won a cross country state championship as a sophomore. She earned the Board of Trustees Scholarship with an academic record that includes a 36 score on the ACT and a perfect 4.0 grade point average. She's made an A in every class she's ever taken.
Now she's starting over at South.
"It's going to be more difficult here," she said. "High school was more memorization and this will be more application. I'll have to study more and take better notes in class, which I'm trying to do."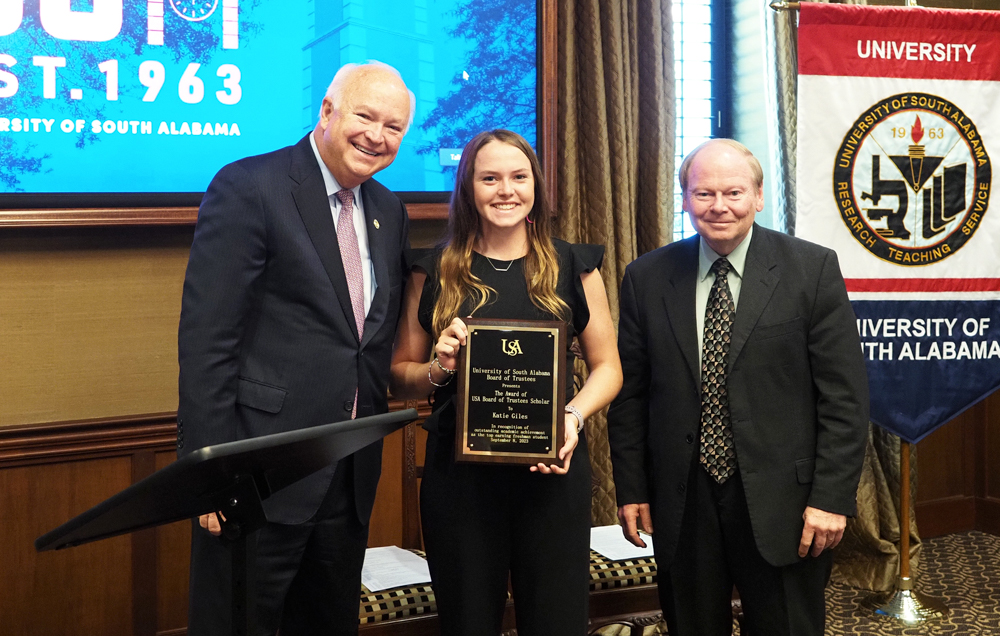 Katie Giles, center, was recognized at the September Board of Trustees quarterly meeting as the 2023-24 Board of Trustees Scholar. President Jo Bonner, left, and Trustee Dr. Steve Furr, who led the creation of the scholarship in 2014, presented her with a plaque.
Giles joined the Honors College and hopes to do undergraduate research. She's a biomedical sciences major who plans to attend medical school.
"I've always felt drawn to it," she said. "Sports medicine is something I'm really passionate about. As an athlete, I've been injured, and I've been able to work with doctors who were really understanding and worked to expedite my recovery."
South is much bigger than Glencoe High School – there were just 79 students in her graduating class – but Giles has met a lot of classmates in Mobile. She's already been to the beach twice, once with Honors College friends, and once with her cross country teammates. She's gotten involved with Campus Outreach, the student ministry group.
"I see a lot of people I know in passing on campus," she said. "That's pretty cool."
Giles grew up in Gadsden, northeast of Birmingham, where her mother is a schoolteacher and her father is a principal. She played soccer growing up and worked part-time as a youth league referee.
At South, Giles is looking forward to doing research and preparing for medical school. She says she might save her scholarship money to pay for a Study Abroad program.
She's learning about the difference between high school and college. Grades aren't everything.
"My English professor said he wasn't going to give anyone an A on our first paper," she said. "He said he had high standards and if he gave anyone an A, they wouldn't have anything to work for on the next paper. I wasn't too happy about that – nobody in the class was. I got a B."
But she is looking forward to that next paper. Giles has a strong work ethic in her classes and extracurricular activities. She plans to continue training with the Jaguar cross country team.
"It's definitely a big commitment, on top of class, but I really like it so far," she said. "It's not too crazy where it takes up your entire day."
To rise for 6:30 a.m. training runs, Giles sets her alarm for 5:45 a.m. She tries to be quiet when she gets going before dawn.
"Sometimes the wake-up is a little rough," Giles said. "I feel bad for my roommate. I apologize to her every day."
---