'Heathers: The Musical' Opens Theatre USA Season
---
Posted on September 21, 2016
Alice Jackson
---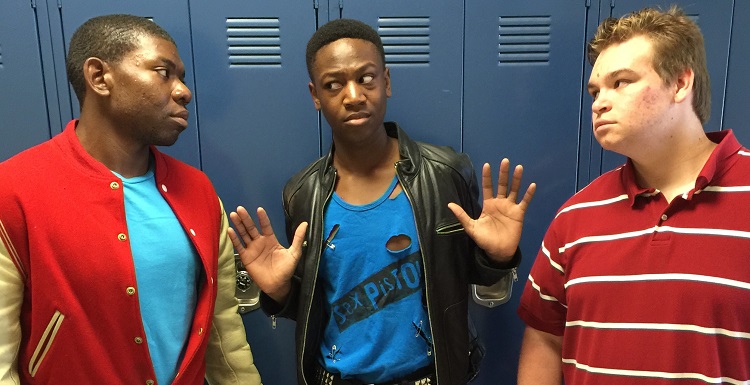 High school jocks Kurt (Desmond Bozeman) and Ram (Trenton Davis) harass the new kid, J.D. (Jeremiah Sims), in Theatre USA's production of 'Heathers: The Musical.'
---
"Heathers: The Musical" will open the 2016-2017 season of Theatre USA, the producing body for the University of South Alabama department of theatre and dance, on Friday, Sept. 23.
Based on the 1988 Winona Ryder movie, "Heathers: The Musical" is a very dark comedy set in a high school and follows the adventures of Veronica Sawyer as she attempts to join the school's coolest clique, the Heathers. Also included is a budding love affair with a new bad boy, Jason "J.D." Dean, completing the recipe for a wild, musical ride.
Communications major Emily Ericson will play Veronica, criminal justice major Jeremiah Sims will portray J.D. and theatre and dance major Cassidy Dangler will be Heather Chandler. Additional cast members include Josh Alter, Will Ballard, Desmond Bozeman, John-David Burkart, Tiffany Byrd, Aryn Carr, Pierce Cleveland, Trenton Davis, Payton-Brooke Fulford, Shanna Hornsby, Samantha Jefferies, Brady King, Jessica Moore, Abigail St. John, Blake Waters and Lily Webb.
Dr. Lars Tatom, chair and associate professor of theatre, will be director with musical direction by Dr. Thomas Rowell, professor of music; and choreography directed by Katie Felis, adjunct instructor, theatre and dance.
Tatom said the show contains adult language and situations, and some violence, and is not appropriate for children under the age of 16.
The production will run Sept. 23-24, Sept. 29-30 and Oct. 1 with a curtain time of 7:30 p.m. The only matinee performance will be Sunday, Sept. 25, at 2 p.m.
All performances will be on the main stage of the Laidlaw Performing Arts Center on the University's main campus.
For more information on the production, or for ticket sales, contact the Theatre and Dance Box Office at (251) 460-6305, or visit the Box Office, located in the lobby of the Laidlaw Performing Arts Center. The box office is open Monday through Friday, 9 a.m.-4:30 p.m., and one hour before each performance.
---