Bonner Inaugurated as Fourth President
---
Posted on September 24, 2022
Thomas Becnel
---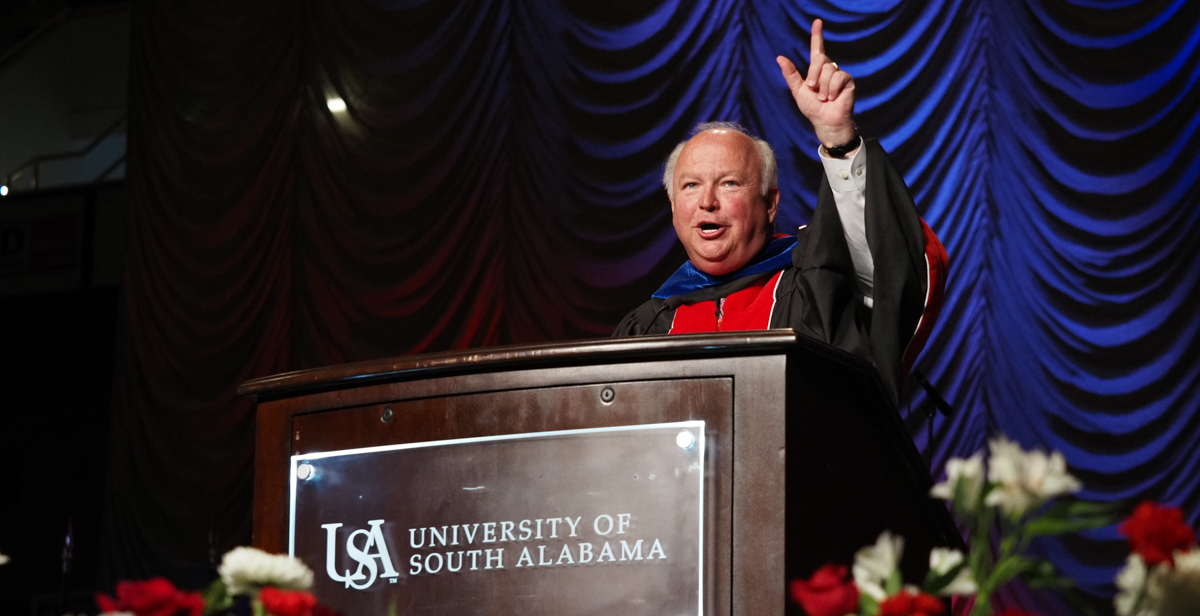 President Jo Bonner gives his inaugural address at the Mitchell Center on Friday. "The University of South Alabama is poised and ready to become the Flagship of the Gulf Coast," he announced.
---
Jo Bonner, the fourth president of the University of South Alabama, celebrated his inauguration on Friday afternoon with good news and renewed confidence for the Flagship of the Gulf Coast.
The Frederick P. Whiddon College of Medicine, Bonner announced, will be housed in a new state-of-the-art building, rather than the renovation and addition that had been planned. He also said that an anonymous donation will begin a campaign for a new performing arts hall on campus.
"This is not just a celebration of having a new president," he said at the Mitchell Center event. "Instead, it is a celebration of all things USA, of those who came before us and of the significant contributions and lasting impact this University has had – and will have – on our region, state and nation for years and decades to come."
Bonner emphasized student recruitment and retention when he talked about a new feeling of energy and excitement on campus.
He pledged that South will be aggressive in pursuing students along the Gulf Coast, and will be committed to their success after they arrive. It has expanded the Start South and Pathways USA programs that help high school and community college students become Jaguars. It has added scholarships and launched a Second Year Program to help students continue on a path toward graduation.
This fall, the University began to utilize new athletics buses to pick up high school students and bring them to campus for VIP tours.
"Let me be clear," Bonner said. "We are committed to growing our enrollment, and students must be given the support they need and every possible chance at success. If not, we will have failed them, and failure is not an option."
Bonner served as an Alabama congressman for a decade and later became chief of staff for Gov. Kay Ivey, who was in attendance Friday at the Mitchell Center. She told the assembly that she and Bonner grew up together in Camden, Alabama, where she rode horses with his older brother.
"When I rode my quarter-horse, Jo was coming along on his Shetland pony," she said, as the audience laughed. "Back then it was, 'Come along, Little Jo,' and he couldn't quite catch up with us.
"Now, flash forward to today, and I know Jo is a proven, effective administrator and leader. While we certainly miss him in the governor's office, I could not be more proud to witness my former chief of staff, my good friend, taking the helm at the University of South Alabama.
"Jo is a bridgebuilder and he believes in the power of a team. I am absolutely confident that Jo will establish the University of South Alabama as the flagship for higher education on the Gulf Coast."
As president of South, Bonner received a Presidential Medallion commissioned in 1998. He succeeds Dr. Tony Waldrop, 2014-2021, Gordon Moulton, 1998-2013, and Dr. Frederick Whiddon, 1963-1998.
"Nearly 60 years ago," Bonner said, "Dr. Frederick P. Whiddon stood in front of the only building that existed on this campus, the one that now bears his name, and dedicated the University of South Alabama. ... It was the culmination of years of hard work and determination by Mobile's leaders. Leaders who wanted more. Who were certain they could do more. Who were ready to take that next, big step to guarantee more.
"The plan was ambitious. It was bold. It took commitment. And – look around – it worked."
The week of Bonner's inauguration featured a student showcase, food drives and a beautification project on campus, along with guest speaker Mike Abrashoff, who wrote about Navy leadership in "It's Your Ship" for the Silver Endowed Presidential Lectureship.
On Wednesday afternoon, hundreds of University employees gathered on the lawn outside the Mitchell Center for an employee and retiree picnic.
Faculty and staff ate burgers and barbecue at tables under tents. There were cornhole games and a dunking booth. Bonner served potato salad in a buffet line wearing a red apron over his blue slacks and white shirt. He also met with USA Health employees at Java with Jo events earlier in the week.
At the Inauguration Ceremony on Friday, speakers included Dr. Jack Hawkins Jr., chancellor of Troy University. He congratulated Bonner and welcomed him to the academy, but offered a jovial warning in the words of Clark Kerr, a former president of the University of California:
"The university is but a series of individual entrepreneurs held together by a common grievance over parking."
Hawkins went on to predict great success for Bonner at the University of South Alabama.
"I've had the pleasure of knowing you for many years," he said. "You are the embodiment of servant leader. You characterize servant leadership better than anyone I know."
At an Inaugural Gala on Thursday night, speakers included Lenus Perkins, a Birmingham engineering executive and secretary of the USA Board of Trustees.
Years ago, he began hearing about the trend toward colleges and universities seeking "nontraditional enterprise leaders." As someone from the business community, he thought that was intriguing. Then it all came home for South.
"Last year, when the University of South Alabama began its search for a new president, I thought back to that idea of a 'nontraditional enterprise leader,'" Perkins said. "Someone with chief executive experience. Someone who didn't need an introduction. Someone like Jo Bonner."
On Friday afternoon, speaking from the dais, Bonner encouraged the crowd to chant "Go Jags." He raised his left hand to form the letter J, for Jaguars. He joked about school spirit after introducing several members of his family.
"In case anyone is trying to keep count," Bonner said, "that's Jo, Janee, Jennifer Lee, Josiah Robins, III, Jim, two Judy's, plus my mother, Jean, and father, Jo Sr. Even my mother-in-law, Janet, and father-in-law, Jim. We've been getting our J's up in our family for a long time!"
Bonner said the University's nearly 60 years have been filled with success and progress. The goal, he said, is to continue in that tradition as the region's leading academic institution and healthcare provider.
"In hundreds of conversations with our students, faculty, staff and alumni, it is clear – just as it was among early supporters of this great University – that we want more, we are certain we can do more and we are ready to take that next big step.
"The University of South Alabama is poised and ready to become the Flagship of the Gulf Coast.
"I realize this sounds ambitious. Our plans will, once again, require us to be bold. They will take commitment. But being bold and determined is in our DNA."
---
For photos of the Inauguration Ceremony, visit the University's Facebook and Instagram pages. A video of President Jo Bonner's inaugural address is on YouTube.
---