Team Cleanup
---
Posted on September 25, 2020
Lance Crawford
---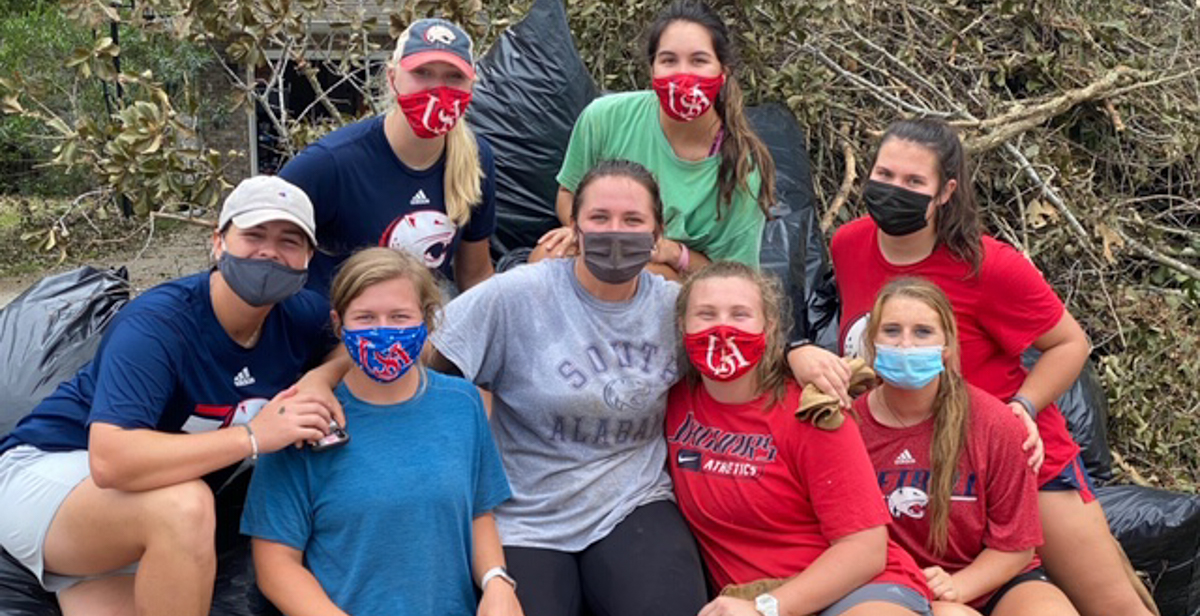 Members of the Jaguar softball team take a break from cleaning up debris following Hurricane Sally.
---
Hurricane Sally roared ashore in Alabama as a Category 2 storm September 16th, leaving in its wake billions of dollars in damage, especially in Baldwin County where Sally made landfall and Escambia County, Florida which saw heavy flooding.
The University of South Alabama took a glancing blow and was spared significant structural damage to buildings, but a large number of trees were toppled and branches broken. Debris was scattered across campus needing to be cleaned up, so the University's student-athlete advisory committee jumped into action.
"At South Alabama, our student-athletes have responsibilities to more than just themselves and their sport, but also their community," said Jinni Frisbey, USA associate athletic director.
The student-athlete advisory committee is an NCAA sponsored organization. There are 38 members on South's committee, nominated by their coaching staffs. One of its goals is organizing community service efforts.
"We have a number of events we try and do every year, but obviously Hurricane Sally was an unexpected disaster and we wanted to do a very small part in getting our campus back looking great again," said Mikel Kosich, director of men's basketball operations.
Kosich added, the Jags had the third most community service hours in the nation among division-I men's basketball teams last year.
While the basketball team cleaned up around the Mitchell Center, the Jaguar softball team spread out from campus all the way to hard hit Gulf Shores.
"As a team, we were in a position where we could get into the community and try to help but to be honest, we were a few among many, said Becky Clark, head softball coach. "It was awesome to see all the neighbors helping neighbors and, in some instances, people helping others they had never even met before. I am proud of our team and all of the other student-athletes who got out and helped because I think it is our responsibility to jump in when needed."
The storm forced the volleyball team to cancel matches. Once that happened, they immediately turned their focus toward lending a helping hand.
"There is so much going on in the world right now that the best we can do for ourselves and others is to be good people and that's what I saw this past weekend," said Alexis Meeks-Rydell, head volleyball coach. "Seeing my kids become great people makes me prouder than seeing them become great volleyball players."
For some like Carly Doros, a freshman from Michigan, Hurricane Sally was not only an eye opener, but satisfying to know she and her teammates made a difference .
"When we got to the first house, the amount of debris was insane. I didn't expect that many branches, and I definitely didn't expect how big some of them ended up being," she said. "I think knowing that people in our community needed help, and we were able to lend a hand was motivation enough."
---