Married in Medical School, Two South Doctors Train the Next Generation of Physicians
---
Posted on September 26, 2016
Marketing and Communications
---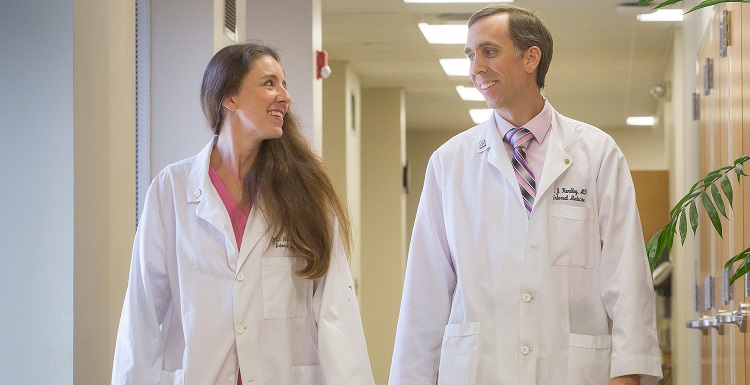 Drs. O. Grace Hundley and T.J. Hundley both applied as high school seniors to the College of Medicine's Early Acceptance Program. They met at South, married at South and work at South.
---
They were both so sure they wanted to be doctors that they applied as high school seniors to the Early Acceptance Program of the University of South Alabama's College of Medicine. They met as undergraduates. They married as third-year medical students.
Today, Drs. T.J. Hundley and O. Grace Hundley pursue teaching careers as members of the medical school faculty. Both say they were drawn to medical education while in training, and both prefer teaching at a smaller school.
"At USA, we really pride ourselves on our students being able to get very hands-on and being on the front lines," said T.J. "By the end of four years, our medical students leave this program very capable of moving to the next stage of training and are prepared, in my opinion, to go anywhere in the United States to continue their residency training."
T.J. serves as assistant dean for medical education and student affairs as well as associate program director for internal medicine residency. Grace has a second specialty in pediatrics and serves as internal medicine/pediatrics residency program director.
Grace spends much of her time supervising residents and is also a hospitalist for pediatrics at USA Children's & Women's Hospital. T.J. is the course director for the internal medicine clerkship, a major course for third-year medical students.
Both from Alabama, she grew up in Mobile; he grew up in Dothan. "I knew I wanted to go into medicine and become a doctor," Grace said. She liked the idea of smaller classes and wanted to be around her family. (Those family members now help the busy couple with raising their two children.)
T.J. said he wanted to attend a smaller school, but not too small. "The university itself is what I felt was the right size," he said.
The Early Acceptance Program, designed to attract academically gifted students to both undergraduate programs and the College of Medicine, offers conditional admission to medical school to high school seniors. They go through the undergraduate health pre-profession program and complete all requirements for admission to medical school.
Both physicians found they liked teaching when they began working with medical students.
"During my residency, I really enjoyed having the medical students from South working with me, teaching them and having that extra responsibility from an educational standpoint," T.J. said. "For me, it was pretty easy at that point saying, 'OK, this is my calling.'"
Grace took a one-year position after her residency that involved teaching, administrative work and mentoring of residents and medical students at USA. She was attracted by the opportunity to "give back" to South's training program.
Both doctors said South students benefit because the school is small enough to offer them one-on-one time with faculty members. "Our medical students get individualized instruction and individualized feedback that really helps them grow in a variety of areas," said Grace.
---