Technology That's All About the Customer
---
Posted on September 26, 2016
Bob Lowry
---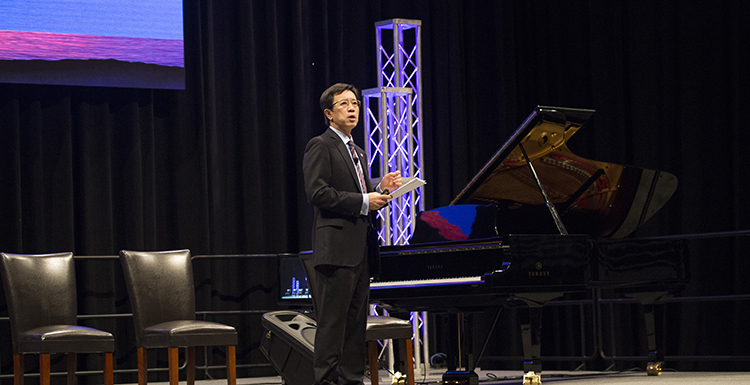 Raymond Cheng, president and chief executive officer of SoZo Solutions, discussing challenges and opportunities that abound in the ever-changing landscape of technology. Cheng was one of several presenters highlighting USA's Global Technology Forum at the Mitchell Center.
---
Imagine sitting in a college football stadium watching a game, and the quarterback throws a fantastic pass for a touchdown. You'd like to see that again, so you pull out your smartphone and watch the replay, from several angles. Just like that.
And that game is making you thirsty. So you pull out your smartphone again, use it to order a cold drink, and your refreshment is delivered right to you in a matter of minutes.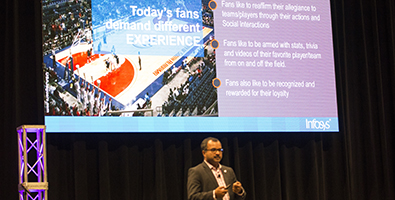 With the Mitchell Center basketball layout in the background, Ameer Saithu with Infosys, one of the world's largest software development companies, discusses the expectations of today's sports spectators during his presentation at USA's Global Technology Forum..
---
This level of technology is here now, and University of South Alabama students got a taste of it today in the Mitchell Center at a Global Technology Forum titled "Disruptive Technology for Total Customer Engagement." As the title implies, this cutting-edge technology is all about the customer.
"In an increasingly competitive marketplace, the most successful organizations are attracting and keeping customers through a winning combination of personal care and amazing technology," said Lynne Chronister, vice president for USA's Office of Research and Economic Development. "Research is advancing technologies that are rapidly changing the way we experience our physical spaces, like the Mitchell Center."
At the Global Technology Forum, executives from Huawei, Infosys, Sky Sapience, SoZo Solutions and Videxio discussed and demonstrated how to deliver hyperconnective, immersive service through next-generation technology. "These visiting companies, while perhaps not familiar names here on the Gulf Coast, are international giants in their fields," Chronister said.
Huawei, based in China, is the world's largest telecommunications equipment company, with a reported $60 billion in sales last year and $81 billion forecast for 2016. They currently lead the world in international patent filings.
Infosys, headquartered in India, is one of the world's largest software development companies. Their clients include four of the five largest banks in the United States as well as eight of the world's ten largest pharmaceutical companies. The company also maintains a $500 million innovation fund for startups.
Sky Sapience, a world leader in drone development, is based in Israel. Their drones are unique in that they address the needs of military, homeland security and commercial markets.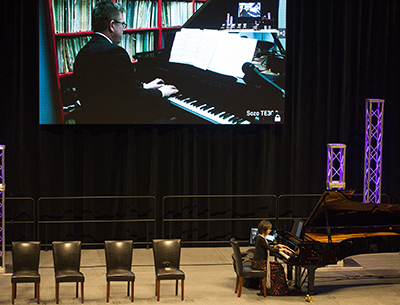 USA music professors Dr. Robert Holm, top, and Dr. Jasmin Arakawa, simultaneously performing a "distance duet" on stage and from a remote location to demonstrate the quality of the technology presented at the Global Technology Forum.
---
SoZo Solutions, a worldwide consulting firm with ties to Asia, is located here in Mobile, and Videxio, a Norwegian firm that specializes in videoconferencing, is recognized as one of the world's leading cloud video service providers.
"I think it's really awesome to see all these technologies coming in the near and distant future and how they relate to students here at the University of South Alabama," said junior Josh Crownover, a business finance major.
"It was really cool to see how they're going to tie-in technology with sporting events as well as distance learning," added Jacob Harris, a hospitality and tourism management major.
Earlier in the day, executives from several of the visiting companies were guest lecturers in classes held in the College of Engineering and the Mitchell College of Business. With "global engagement" identified as one of the University of South Alabama's top priorities, it's a natural fit for the University to bring international businesses together to explore issues and pursue opportunities that can impact our community and the world.
"We are strengthening the connections and collaborations between USA and the rest of the world," said Dr. Tony Waldrop, University president. "These events help us achieve our goals by broadening student perspectives, expanding faculty communications with their peers worldwide, and developing new opportunities for our community to engage the global society."
While today's Global Technology Forum was geared toward University students, future symposiums will also attract faculty, government officials, and industry leaders and professionals with a commitment to innovation and customer service.
---