Stallworth Lecture to Focus on "Thomas Jefferson and the Dilemma of Slavery"
---
Posted on September 27, 2016
Joy Washington
---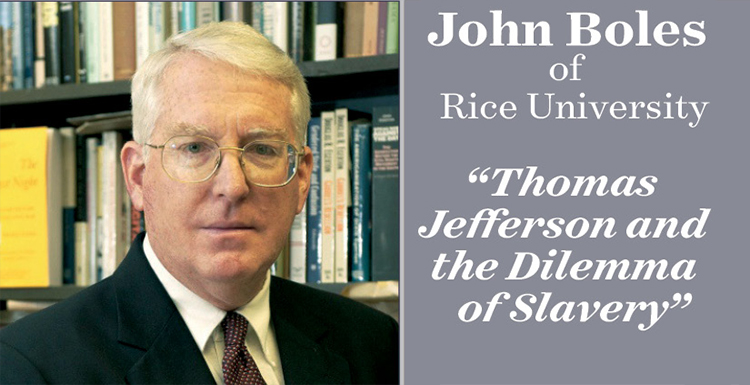 The 2016 Stallworth Lecture features the moral contradictions and accomplishments of Thomas Jefferson's life. Dr. John Boles, the William Pettus Hobby Professor of History at Rice University will serve as the speaker.
---
A recognized authority on Thomas Jefferson will speak about "Thomas Jefferson and the Dilemma of Slavery" at the N. Jack Stallworth Lecture in Southern History on Thursday, Sept. 29 at 7 p.m. in the Laidlaw Performing Arts Center. The lecture is free and open to the public.
Dr. John Boles, the William Pettus Hobby Professor of History at Rice University, will discuss the moral contradictions and concerns of President Jefferson regarding slavery in America. He will also talk about Jefferson's many accomplishments and how the current book he's writing will highlight this historical information. Boles said with the topic of race being daily in the news, this is an important time to talk about Jefferson's paradoxical attitudes toward slavery.
According to Boles, he feels Jefferson has taken a beating in pop culture and is seldom remembered for his many achievements. Boles said he was interested in Jefferson for his contributions to literature, science, politics and architecture. He also noted that Jefferson, more than any of the founding fathers, spoke out against slavery and acted to end it. He was authentically antislavery, but to little effect.
"Most people don't know this antislavery side of Jefferson," Boles explained. "But, for very complicated reasons, he believed himself unable to free his own slaves. I will talk about the paradox or conundrum regarding Jefferson's decisions."
Boles said he became fascinated with Jefferson when he was in high school, but it would take about 50 years before he would begin researching the life of Jefferson. Boles earned his bachelor's degree from Rice and his Ph.D. from the University of Virginia, where he was a Thomas Jefferson Foundation Fellow and a Woodrow Wilson Dissertation Fellow. He also held a National Endowment for the Humanities postdoctoral fellowship in anthropology at Johns Hopkins University and he has been a Fulbright professor in Germany.
Boles is the recently retired editor of the "Journal of Southern History." He is the author of 11 books, including the forthcoming "Jefferson: Architect of American Liberty," which is scheduled to be published in 2017. Boles is the co-author, editor and co-editor of numerous books. He has also received several awards for teaching, meritorious service and mentoring.
The lecture series, now in its 10th year, is named in honor of the late N. Jack Stallworth, who contributed much to the south Alabama region. Stallworth was known for the various businesses he owned as well as being a founder of the Distinguished Young Women Program, the Mobile Chapter of the English Speaking Union, and the Camellia Ball. A leader of the Mobile Carnival Association, he was best known as "Mr. Mardi Gras."
In addition, Stallworth provided the USA Foundation with his family's assets to be used to enhance the teaching of Southern history and to support programs at USA. He also established two scholarships for history majors, in memory of his parents, Montgomery Carlton Stallworth Sr. and Minnie Lee Wilkins Stallworth. His love for Mobile's history led him to establish the N. Jack Stallworth Lecture, which allows passionate scholars to lecture in depth on different aspects of America's history.
---