Student Health Center Opens in Heart of Campus
---
Posted on September 28, 2016
Joy Washington
---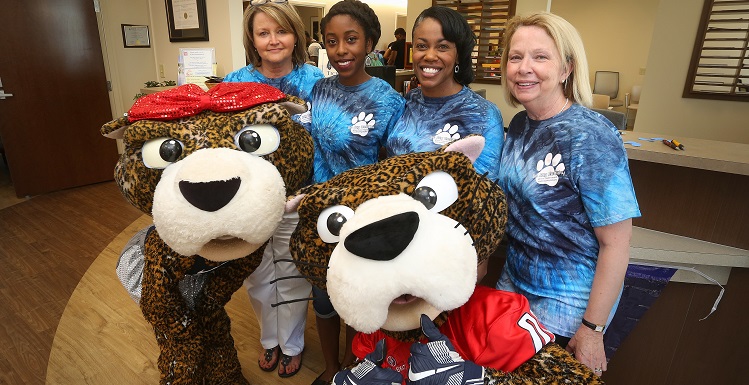 Greeting students in the reception area of the new Student Health Center location during Be Jag Healthy are Miss Pawla and SouthPaw. Second row from left are Valerie Heidel, supervisor of clinical operations; Alexus Banks, president of the student Jag Health Team; FeAunte' Preyear, health education and quality improvement coordinator; and Beverly Kellen, practice director for the Student Health Center.
---
University of South Alabama students held the third annual Be Jag Healthy event at the newly renovated Student Health Center, in the heart of campus near the Student Center off USA South Drive. The open house event was open to all USA students.
"All of us at the USA Student Health Center are pleased that the USA board of trustees, President Waldrop and the USA administrative leaders supported our efforts to relocate into the heart of campus so that we are much more accessible to our student population," said Beverly Kellen, practice director for the Student Health Center. "We are a fully accredited student health center by the AAAHC (Accreditation Association for Ambulatory Health Care) and we have the best team of excellent health care providers."
Kellen said Be Jag Healthy is just one of the major ways she and her medical team reach out to South students. She said they will continue to provide them with excellent, affordable and accessible health care, and now in a better location. Student Health and the Office of Special Events are planning a dedication event to be held Wednesday, Oct. 19, at the new location. More information will be shared soon. This event will be open to the entire South community.
Free physicals and counseling were among the many services available for students at Wednesday's annual event. What's great about the newly renovated location? There are more examination rooms and an expanded waiting room with an open reception area.
Students received free food, T-shirts, prizes, physicals, STD screenings and other health screenings. In addition, students received a tour of the clinic, where they could make appointments, learn about health insurance and immunizations, and met the experienced Student Health staff. Student nurses and medical residents assisted the professional medical staff during the health and wellness event.
Alexus Banks, a junior secondary education major who is also serving as president of the Jag Health Team, volunteered at Be Jag Healthy.
"Having the Student Health Center relocated near the Student Center was a great decision," Banks noted. "This will make it easier for students to see a doctor on campus."
FeAunte' Preyear, health education and quality improvement coordinator, said the new facility is beautiful and was created just for the students.
"It is very warm, inviting and fully functional," she said. "The layout of the clinic provides a better flow for the services that we offer, which improves the overall experience for students."
The Student Health Center collaborated with Aramark, LabCorp and Franklin Primary Health Center. Additional South and community sponsors for this event were the College of Nursing, Pat Capps Covey College of Allied Health Professions, Family Medicine, Student Affairs, Counseling and Testing Services, Housing and Dining, Student Government Association, Campus Recreation, Faculty Senate, Physician Assistant Studies, Active Minds, Bookstore, Athletics and Mobile County Health Department.
The above USA departments and colleges along with community vendors had exhibit tables to share information with participating students.
For more information, call (251) 460-7151 or visit the Student Health Center website.
---