Before the Buzzer, a Company is Born
---
Posted on September 30, 2016
Joy Washington
---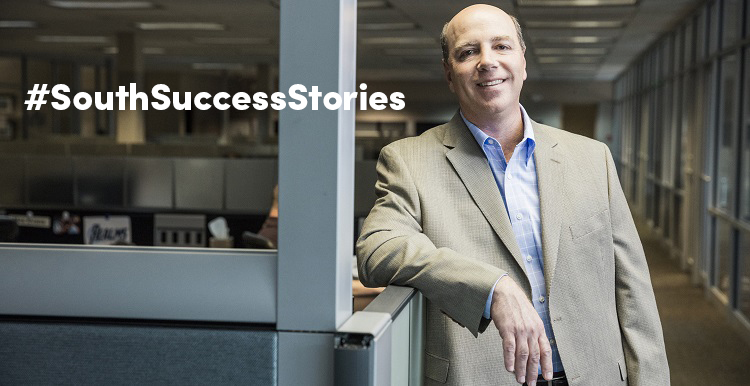 Larry Lilley, chief executive officer at Computer Technology Solutions, created a corporate culture that prioritizes employee retention. "We are focused on creating a premiere workplace in the Southeast for those who love technology and solving problems," he said.
---
#SouthSuccessStories is an ongoing series featuring University of South Alabama alumni who are life-savers, innovators, game-changers, music-makers and creative-thinkers, successful in their careers and supportive of their communities.
The idea was born at a USA Jaguars basketball game. The execution wasn't as easy as they first thought it would be. Once they had a great mission and plan in place, however, with the right connections, USA alumni Larry Lilley and Bill Fenton, who had been friends since high school, were able to create one of the most successful midsized companies in the Southeast.
The company, Computer Technology Solutions, or CTS, is an information technology consulting firm with a mission to deliver great solutions to clients, amazing career opportunities and outstanding community service. Created by Lilley, who graduated in 1992 with a bachelor of science degree in computer systems design, and Fenton, who graduated in 1992 with a bachelor of science degree in computer science, the company was recently named, for the sixth time, one of the best business to work for in Alabama by Business Alabama magazine.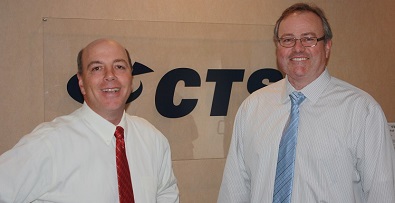 Larry Lilley, chief executive officer at Computer Technology Solutions, and Bill Fenton, vice president of engineering, are both USA graduates. Their company is headquartered in Birmingham with offices in Mobile, Atlanta, Nashville, Charlotte and Chattanooga.
---
Lilley and Fenton grew up in Ocean Springs, Miss., and graduated from St. Martin High School. Lilley was born in Mobile, but loves the entire Gulf Coast. After the two graduated from South and worked in the technology industry for a year, they met and made a decision that would put them on a different career path.
"Bill Fenton, my best friend since high school, and I went to a Jaguar basketball game in 1992 to support a friend who was on the team," Lilley explained. "The decision to create CTS actually happened during the game. We discussed whether we would have a product, develop software we could sell, and/or provide professional consulting services."
Lilley said, ultimately, they decided to provide consulting services in business intelligence, quality assurance, application support and software development. CTS was started in 1993 at an apartment in Mobile, and the founders' vision was to become the most trusted IT consulting firm in the Southeast.
"After we graduated from South Alabama and worked for a while, we were excluded from the decision-making table where we were working at that time. We both felt we could do the business better," Fenton said. "We were constrained and decided to give it a go."
They learned a lot, but were not initially able to expand the business as planned. Over time, CTS relocated to Birmingham, which currently serves as the company's headquarters. Today, there are six offices in the Southeast to include Birmingham, Mobile, Atlanta, Charlotte, Chattanooga and Nashville.
"There was no doubt we could do great work," Fenton noted. "But, we had to convince our future clients that we could do the work they expected."
In 1996, CTS joined and collaborated with a company led by Sanjay Singh, a business veteran with 20 years of education and consulting experience. Lilley met him while working on his MBA, and the USA alumni knew right away that Singh had the strong background in sales and marketing that would be instrumental in the development and growth of CTS.
After the company went through a shift from employees traveling all over the country to setting up regional offices, business has been booming, and the firm now has more than 330 employees.
At the same time, Lilley and Fenton have created a corporate culture that has garnered them a low employee turnover rate and high praise as one of the best places to work in Alabama. According to Lilley, CTS has built a culture of top performance where employees know what is expected of them.
"We are focused on creating a premiere workplace in the Southeast for those who love technology and solving problems," Lilley said. "Our turnover is less than 1/3 of the industry average. I am proud we have created a great place for people to build a career."
CTS has also set up a reward system along with great benefits that make it a great place to work.
"We don't create jobs," Lilley noted. "We are a company focused on creating careers. We have very senior level employees who started as interns while attending South and other colleges, and they are still with CTS."
Notably, CTS gives each employee an additional week of vacation so they can volunteer at their favorite nonprofit organization. The company focuses on supporting STEM — science, technology, engineering and math — programs in the community, along with non-profits like Habitat for Humanity and homeless initiatives.
"I am really proud of the volunteer work we do in each of the communities where we have offices," Fenton explained. "We have volunteers for many organizations including 100 Girls of Code, 100 Days of Code, and some who volunteer like I do at the robotics competitions. CTS also has an interactive exhibit for school-age children at the McWane Science Center in Birmingham."
Lilley and Fenton know that it's been about providing honest, face-to-face solutions for their clients, along with staying connected to their employees by letting them have the flexibility to work, spend time with family, take care of personal needs and support the community.
"I prefer to lead versus manage," Lilley said. "We hire very smart people, set clear objectives and let them do their jobs. And, we provide a flexible work environment that hopefully gives them a better quality work life."
---
Want to own your own business?
For South students who want to pursue an entrepreneur's path, Lilley and Fenton each offered seven tips for success.
Lilley says ...
Be humble
Work harder than anyone you know
Say please and thank you
Never take a relationship for granted
Always do the right thing
Don't ask people to do what you wouldn't do yourself
Be honest
Fenton says ...
Understand what you want to do
Do the research
Be persistent
Make the right decisions
Be knowledgeable
Be forward-thinking
Find the reward
---