Physics Major's First Project Leads to Summer Research Experience on Atoms
---
Posted on October 2, 2017
Joy Washington
---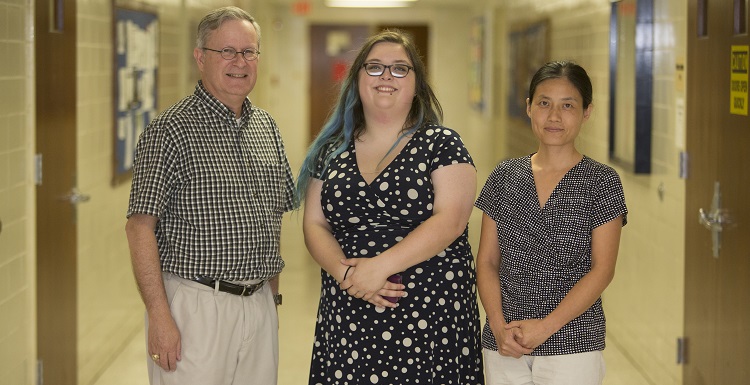 Lindsay Hutcherson, center, participated in a summer research experience at Kansas State University, the alma mater of Dr. Justin Sanders, left, chair and associate professor of physics in the College of Arts and Sciences. "She is very good at working collaboratively with others," said Dr. Jianing Han, right, assistant professor of physics.
---
For Lindsay Hutcherson, her entry into physics began with a beam of light.
"I have had some great opportunities as a student physics lab assistant at the University of South Alabama," said Hutcherson, a senior physics major from D'Iberville, Miss. "A door opened for me in 2014, when I was asked to build a laser with the support of my professor. I was just taking my first physics class, and I had never built a laser before."
Dr. Jianing Han, assistant professor of physics, asked her to build a specific laser, and Hutcherson took on the challenge.
"When Lindsay started assisting me in my lab, she independently built an external cavity laser from scratch," Han explained. "She has been making good observations, giving her own ideas about what might be done next. In addition, she is very good at working collaboratively with others."
Han also said Hutcherson is a fast learner and an excellent student who enjoys physics.
"I like theory," Hutcherson said. "But, I love the machinery side as well. I was excited when I learned how to create circuit boxes. I went to the surplus area and found the electronics needed. I feel confident that studying at South has given me so many opportunities that I would not have had at another institution."
With the support of Dr. Justin Sanders, chair and associate professor of physics in the College of Arts and Sciences, Hutcherson participated in a summer research experience at Sanders' alma mater, Kansas State University. Recently, she presented her research findings during a Physics Student Colloquium at South.
Sanders said the physics faculty always tells students about summer research opportunities both at South Alabama and at other institutions. However, having one student tell another about his or her personal summer research experience is the best advertisement.
"It was great to return to South, and share what I learned as an assistant to faculty and graduate students with their research," she said. "My research is geared toward understanding how atoms interact. We built everything in the lab from scratch. My most profound moment was when I completed the research experience feeling more confident about my future career in physics. It was a rewarding experience."
Hutcherson, a graduate of Alma Bryant High School in south Mobile County, was a member of one of 12 research groups during the 10-week summer research experience. She couldn't share too many details about her part of the research since it's currently under a patent at Kansas State. Her research is titled "Design and Construction of an Efficient Atomization Tool for Strong Field Science at the Nanoscale."
During the research experience, Hutcherson started her days with safety seminars and she learned a lot about structure and organization. Hutcherson has also learned how to take down her data and organize her lab book, which will help her improve her research process.
"The faculty involved in my summer research experience helped me and other students and expressed how important it was for us to work as a team," she noted. "I had already learned the importance of that while working in the lab at South. So, it was easy for me to work collaboratively with other students."
Following graduation in May of 2018, Hutcherson plans to attend graduate school and study atomic molecular and optical physics. She is currently the president of South's Society of Physics Students. She was responsible for managing the telescope outside the physics department during the solar eclipse in August. In addition, Hutcherson is writing manuals for the equipment she has built for future use.
"From day one, Lindsay's enthusiasm and willingness to work have made our department a more pleasant place for students to learn and for professors to teach," Sanders said. "It's common for students to complain about things, but Lindsay does the less common thing of working to solve the problems she sees. She has a great interest in laboratory work, and it is gratifying."
"I appreciate Dr. Han, Dr. Sanders and other faculty who have allowed me to stretch myself and dive into research," Hutcherson said. "I didn't expect to be encouraged to participate in research as an undergraduate student. But, I have learned so much and my confidence level is at an all-time high."
---