Balancing Act: Shoring Up Gulf Coast Shorelines
---
Posted on October 3, 2018
Marketing and Communications
---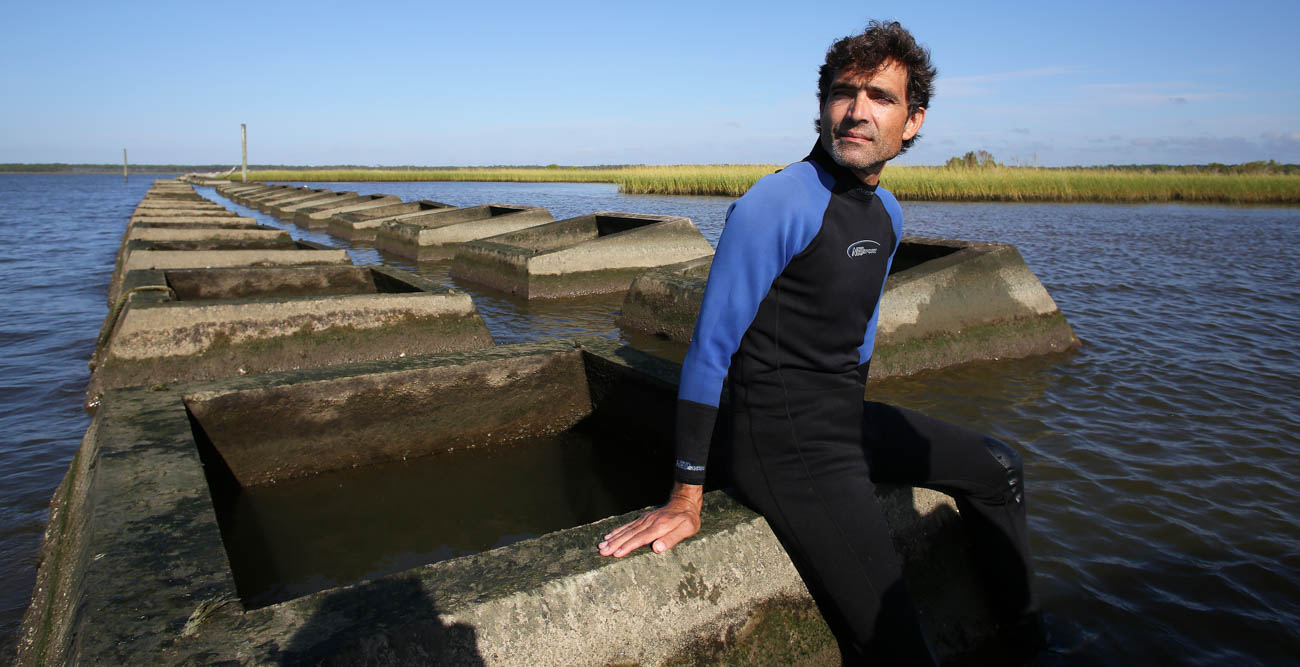 Dr. Just Cebrian, a marine science professor at the University of South Alabama, sits atop a mile-long row of concrete blocks placed between Portersville Bay and Little Bay to defend against erosion. The project was initiated after a berm was destroyed by Hurricane Katrina in 2006. The result: Marsh grass that was planted has flourished, offering protection against hurricanes and for seafood and wildlife habitats.
---
You're a marine scientist who studies coastal ecology, and you want to fix shoreline problems caused by human activities or natural forces such as storms. What do you do?
Any solution will involve intricately connected natural systems, unpredictable results of human tinkering with those systems, political and regulatory considerations, expertise from many different disciplines, lots of failed experiments and, of course, unintended consequences.
Still, University of South Alabama coastal ecologist Dr. Just Cebrian remains optimistic. "This is not a battle that we cannot win," he said. "We need to work together and really think about the specific problems we have in these specific situations."
Cebrian is a professor at South and a senior marine scientist at the Dauphin Island Sea Lab, a marine education and research center operated by the Alabama Marine Environmental Sciences Consortium of colleges and universities. Much of his research focuses on "living shoreline" projects, which work in harmony with natural processes to approximate the kinds of shorelines that existed before humans arrived.
The nationally broadcast "PBS NewsHour" featured him in a July 2018 segment about living shorelines, showing how the placement in 2010 of double rows of trapezoidal concrete blocks just offshore near Bayou La Batre has restored much of a nearly mile-long Gulf of Mexico peninsula damaged by Hurricane Katrina.
Cebrian's lab received $20,000 in state-distributed National Oceanic and Atmospheric Administration funding to monitor the success of the $8 million project.
At the same time this summer, a new living shoreline project spearheaded by South graduate student Jamie Amato, one of Cebrian's students, received media attention in coastal Mississippi. The experiment involves bolting fabric-lined metal cages filled with sand and marine plants to bulkheads at Bennett Bayou in Moss Point, Miss. The yearlong project will test whether those miniature artificial marshes can restore fish habitat, filter the water and protect the bulkheads from storm damage.
So what are living shorelines, and why do they present such a difficult puzzle for researchers? Well, let's say you want to stop your waterfront land from eroding, and you also want to provide habitat for some delicious seafood — for example, blue crabs.
You could put a row of structures in the water parallel to the shore to knock down waves. That prevents them from eating away the land and also restores eroded land by causing the waves to drop the sand and other sediment they're carrying.
Any such structures — and there are many designs, each with advantages and drawbacks — have to be close to the shoreline, because that's where you want the sediment to fall. And the structures have to stick out above the water much of the time, depending on the tide. "But if you do that, you know that blue crabs won't come," Cebrian said.
Blue crabs live in the water, not above it. Their habitat needs to be submerged, out in deeper water. "That could be 50 yards seaward, that could be 100 yards, that could be 150 yards," Cebrian said, "depending upon the topography of the bottom." And that's too far out and too far underwater to have much effect on waves.
It seems, then, that you have two choices: build close to shore for erosion control but not blue crab habitat, or build offshore for crab habitat but not erosion control.
"Ideally, what we, a bunch of researchers, are trying to do now is to find a design that does it all," Cebrian said. "And there is some evidence to suggest that it is possible. Difficult but possible. For example, you can have subtidal reefs that are long enough, tall enough and wide enough to truly reduce wave energy even though they are somewhat away from the shoreline."
"Ideally, what we, a bunch of researchers, are trying to do now is to find a design that does it all. And there is some evidence to suggest that it is possible."
"Subtidal" means underwater even at low tide, which pleases the crabs. But there's a catch: "To do that, you really need to know how the sediment and the water move in the area," Cebrian said. So there's no off-the-shelf solution. Instead, you have to research each individual stretch of shoreline and custom design a solution based on that data.
That's where Dr. Bret Webb comes in. He's a professor of coastal engineering at South. He uses two University facilities, a wave basin (20 feet wide by 30 feet long) and a wave-current flume (5 feet wide by 85 feet long), to test Cebrian's ideas, using scale models of the structures they want to try.
"One of the reasons why Dr. Cebrian and I get along so well together," Webb said, "is because I respect what he does as an ecologist and he respects what I do as an engineer. And neither one of us pretends to know what the other one does. So for the past seven or eight years, Cebrian and I have been trying to stress the importance of integrating engineering and ecology to have a better chance of success in these projects."
Shorelines are complex ecosystems. They vary from rock cliffs to marshes, from mangrove forests thicketed with tangles of arching roots to wide sand beaches blanketed with gaggles of sunbathing tourists. Waves may pound or merely lap. The sea bottom may slope steeply or gently. Crosscurrents may carry sediment, or not. Damming of rivers may reduce sediment flows to the sea. Boat wakes may exacerbate erosion. The land may be sinking.
And, everywhere, the sea level is rising. According to a 2014 comprehensive U.S. government report, the global sea level will rise, depending on the model you favor, by anywhere from 8 inches to 6.6 feet by the end of this century.
Trying to account for all those factors and complexities has to be incredibly frustrating, right?
"No," said Webb. "It's not frustrating for me because as a coastal engineer, I'm used to dealing with large amounts of uncertainty. That's inherent in the practice of engineering." So you try something. If it works, great. If not, also great — because at least you learn things that will increase the chance of success on the next try.
Counterintuitively, Webb said, large projects are easier than small ones. "The lessons that we've learned in the coastal engineering community for the large-scale projects don't always translate to the small-scale projects that are being done now on a homeowner-by-homeowner basis," he said. "Nature likes longer, bigger things to deal with. If you have a very short project, Mother Nature is going to try and immediately smooth that out to be consistent with what's going on around it."
Sometimes even successes look like failures, at least at first. "If you are doing a constructed tidal marsh as a part of your living shoreline, when you first put that out, it looks disgusting," Webb said. "Tiny little plants. Mud everywhere. It's dirty. It's nasty. Doesn't look healthy at all. In the first wintertime, a lot of that vegetation dies back, and people think, oh, great, my living shoreline is dead. It was a waste of money."
Actually, diebacks are natural and good. Healthy marshes use dead organic material to increase their land mass, fortifying them against sea level rise. "We have to set a clear expectation of what the project is going to look like, how it's going to perform, what to expect long term and short term," Webb said. "These aren't maintenance-free commitments. It's not a one-size-fits-all process."
Still, researchers have found coastal property owners willing to make those commitments. "If you tell them the right thing, if you make them feel connected, then they have a stake and they realize it's in their best benefit and interest to keep shorelines healthy," Cebrian said.
---