Art Student from Mississippi Finds Home in Jaguar Marching Band
---
Posted on October 3, 2022
Thomas Becnel
---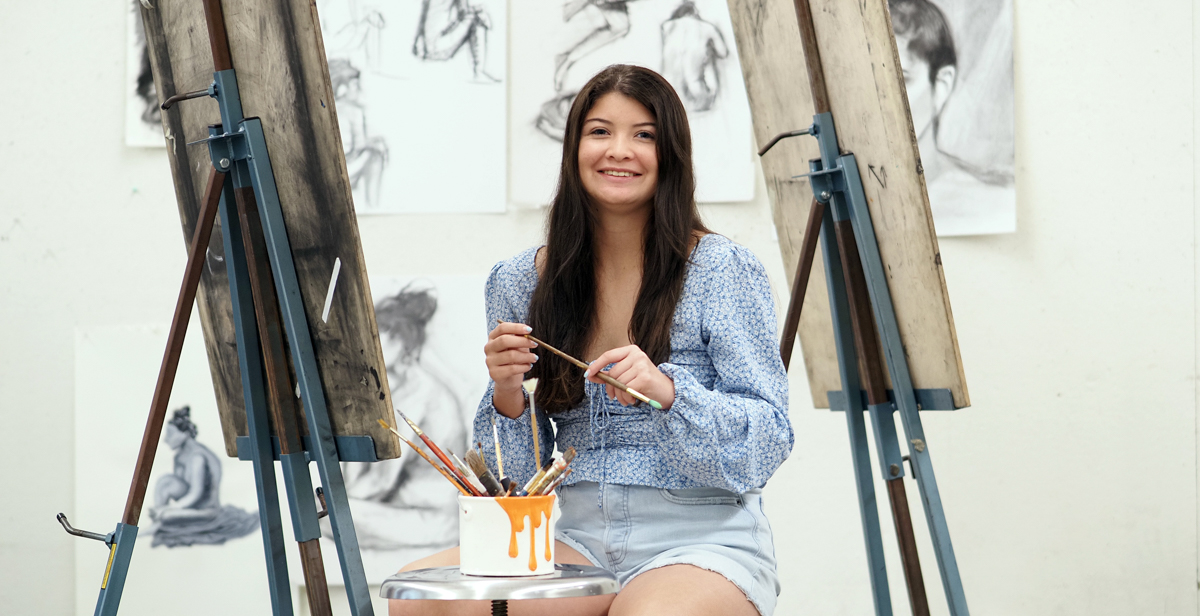 Trinity LaBorde, a freshman from Long Beach, Mississippi, considered studying music education but gravitated toward art. "Here, I wanted a new start, I wanted to meet new people, I wanted to be the person I couldn't be in high school."
---
#FreshmanFocus is a series of stories on incoming students at the University of South Alabama.
Trinity LaBorde, a freshman from Long Beach, Mississippi, followed family members and music teachers to the University of South Alabama.
"My aunt went to South and she came with me on my college tour, so she showed me all the places she knew on campus, her old dorm and sorority house, and the nature trails she used to walk on," she said. "My trombone teacher, he was in the Jaguar Marching Band and the Honors College, and he said I should join, because it's so much fun and you make new friends."
LaBorde, 19, plays several instruments – flute, piccolo and marimba – and thought about becoming a music educator. She volunteered with a youth band and realized that path was not for her.
Art was another option.
"In sixth grade, I was in the Newspaper Club, and I did comics for the paper," she said. "In high school, I drew the cover for the football program. They had a contest and I won. The cover showed the football team and the band and the cheerleaders. In the background, there was the stadium and a beautiful Long Beach sunset.
"I love making up my own characters and drawing them. I would draw this character, Rosie, that was based on me, but she did all the things I couldn't do growing up. She went on a bunch of trips. She would go on adventures with her cat named Nigel."
What's the biggest trip that you have taken?
"My grandma is from Guatemala and I went there during my sophomore year of high school. I'd never really seen mountains before. We went to Tikal, where there are a bunch of ancient ruins. I didn't expect them to be so tall. You could look out over all the trees.
"We saw monkeys in the trees. They told us look out for jaguars. Maybe that was a sign that I'd come to South."
How are your art classes?
"In two-dimensional drawing class, we have a new project. We have to listen to a song and draw what we hear, but in an abstract way. So I did a song called 'Somewhere Only We Know' by Keane, and my drawing kind of looks like 'Starry Night' and towers.
"South is a little different. In Long Beach, everybody knows everybody – at Long Beach High School, I was a third-generation student. Here, I wanted a new start, I wanted to meet new people, I wanted to be the person I couldn't be in high school."
What do you miss in Mississippi?
"I miss my family. I miss my dad. Before I left for college, we watched all of the 'Star Wars' movies in chronological order. I miss my cat. When I FaceTime my brother, I'll say, 'Show me Jasper,' but he'll be out chasing raccoons, and I'm like, 'Of course he is.'"
"I miss homemade tortillas and my grandma's chicken noodle soup. I miss my grandpa's fried shrimp and his crawfish etouffee."
What have you seen of South Alabama?
"We just went to downtown Mobile for the first time. It reminds me of a mini-New Orleans. We took pictures. For Labor Day weekend, my friends and I went to Dauphin Island. We thought it would be packed at Orange Beach and Gulf Shores, so we went to Dauphin Island. We just sat on the beach and hung around in the water.
"We live in the Epsilon I residence hall. My roommate is from Columbiana, Alabama. We have a really good friend who's always hanging out in our room. We call her our extra roommate."
Do you have any favorite spots on campus?
"My favorite thing is to go under Moulton Tower at night and look up at the murals. It's like my little happy place on campus."
What's the biggest difference between high school and college marching band?
"We do a lot more marching. We have a pregame and a halftime show. More people stay to watch the show. My dad came for our first game. He saw us make a hand, for a song called 'Waving Through a Window,' and he said it was so cool.
"In high school, I was like a band mom. I'd have Band-Aids, Pedialyte packets and peanut butter crackers. I wanted to set a good example, to do the little things to help the bigger things. I still carry Pedialyte and crackers. You never know."
What's the difference between a Mississippi accent and an Alabama one?
"I feel like an Alabama accent is a little deeper, with a longer drawl. A Mississippi accent is a little lighter. My brother says I sound different, and I've only been here two months."
---