Following Hurricanes, Gulf in Hot Water
---
Posted on October 5, 2020
Lance Crawford
---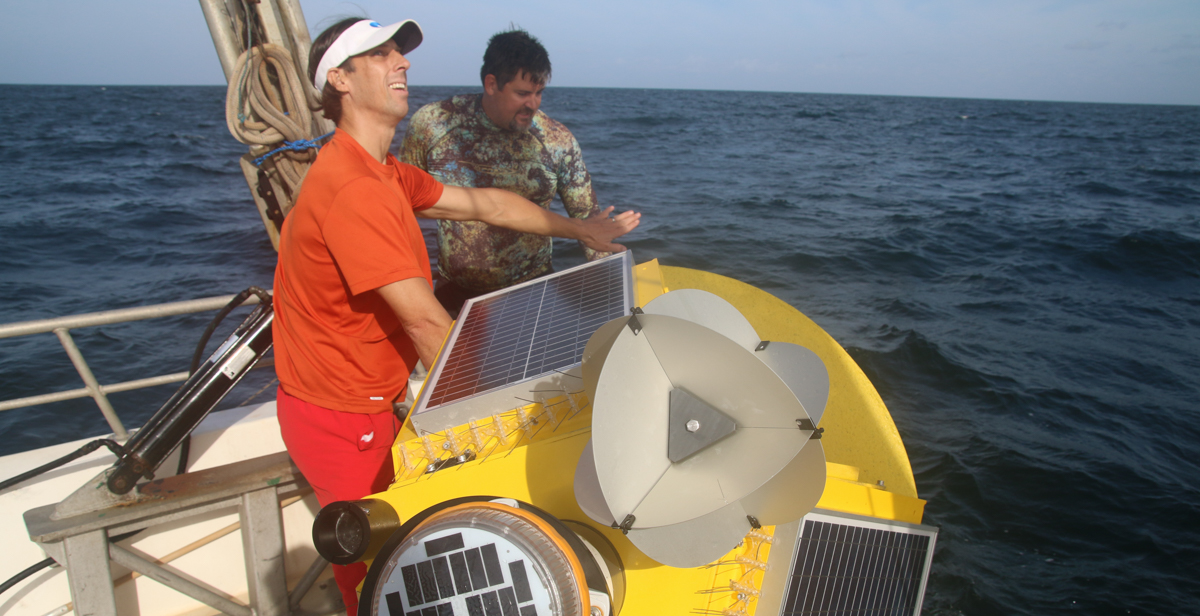 Dr. Brian Dzwonkowski, left, associate professor of marine sciences at the University of South Alabama, deploys a weather buoy in the Gulf of Mexico. The buoy collects data from subsurface sensors and sends it back to his lab at the Dauphin Island Sea Lab. Dzwonkowski's research suggests that severe weather can fuel marine heatwaves that can intensify subsequent storms.
---
Hurricanes are a part of life on the Gulf Coast, and stronger and more frequent hurricanes may become the new normal. This year, the northern Gulf of Mexico has already experienced two large storms within a three-week period:
Hurricane Laura, a Category 4 storm came ashore in Louisiana Aug. 27, followed by Sally, a Category 2 hurricane that made landfall in Gulf Shores, Ala. Sept. 16. Both storms took similar paths through the Gulf before exploding in intensity just before making landfall, killing at least 50 people and causing billions of dollars in damage.
It is widely known that warm Gulf waters provide energy for storms to form and strengthen. But researchers at the Dauphin Island Sea Lab say, there might be more to it.
"Surprisingly, both Hurricane Laura and Hurricane Sally appeared to have similar setups with both storm events being preceded by smaller storms (i.e. Hurricane Hanna and Marco, respectively)," said Dr. Brian Dzwonkowski, a physical oceanographer with the Dauphin Island Sea Lab and associate professor in USA's marine sciences department. "This pre-storm setup of the oceanic environment likely contributed to the intensification prior to landfall."
In their publication, "Compounding Impact of Severe Weather Events Fuels Marine Heatwave in the Coastal Ocean," which is featured on the website NatGeo.org, Dzwonkowski and his team show how a multiple severe weather events can fuel marine heatwaves, impacting the intensity of subsequent storms.
A marine heatwave is defined as a large area of extreme warm sea surface temperature and like a terrestrial heatwave, can last for days, weeks or even months. They form when a severe weather event causes warm sea surface water downward forcing cold water upward. A period of rewarming causes a marine heatwave which likely contributes to the intensification of a storm close to shore.
"This work shows that understanding the preceding weather conditions in a region where a storm is going to make landfall can improve interpretation of hurricane model forecasts and what the storm is likely to do prior to landfall," Dzwonkowski said.
According to Dzwonkowski, extreme weather events and marine heatwaves could very well become more frequent because of climate change.
"There is abundant evidence that terrestrial heatwaves will increase in frequency, duration, and intensity," Dzwonkowski explained. "As a result, mixing events are likely to impact wider swaths of continental shelf areas and the subsequent reheating is likely to be more intense."
Dzwonkowski and his team's findings are published in the September issue of "Nature Communications."
---