Her MoMA Moment: Susan Fitzsimmons Returns to New York for Museum of Modern Art Exhibit
---
Posted on October 7, 2022
Thomas Becnel
---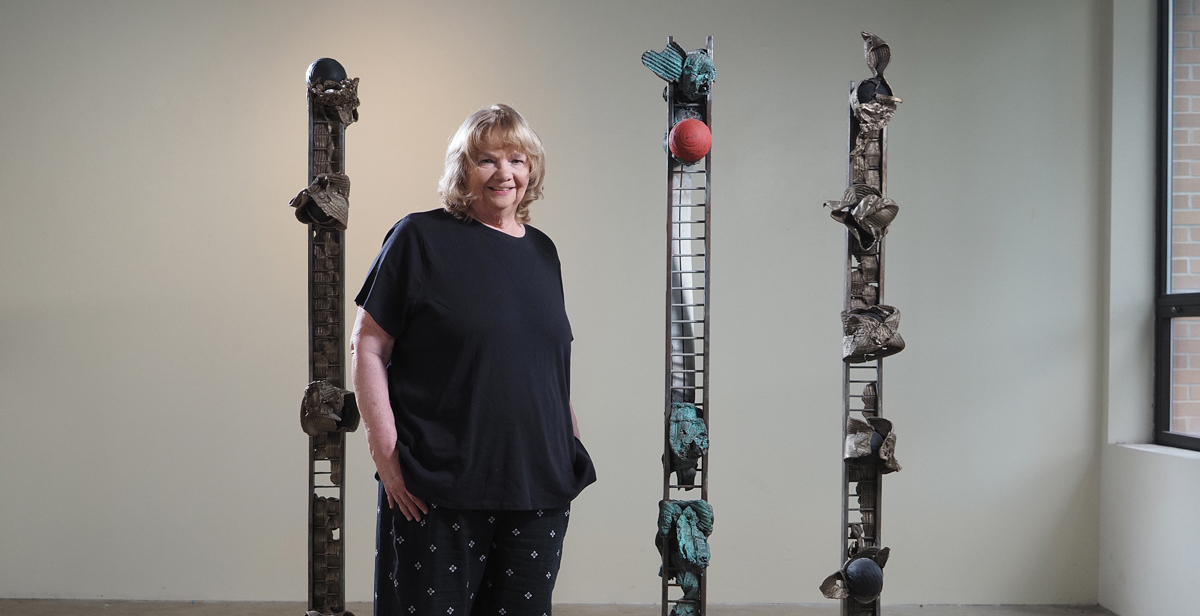 In a University of South Alabama gallery, Susan Fitzsimmons stands with a series of sculptures, "Sentinels and Guardians," which were inspired by the border wall with Mexico when she was teaching in McAllen, Texas. Two other sculptures by the chair of South's Department of Art and Art History will be featured in a Museum of Modern exhibit that opens this month.
---
In 1977, a young artist named Susan Fitzsimmons dragged a heavy bag of Lucite sculptures to art galleries across Manhattan.
She took day jobs to pay the rent on ragged apartments, but found little interest in her acrylic art. Every day, she tried to find a place for her work, and every day she met rejection. Then she stopped by a West 57th Street gallery called Just Above Midtown.
The founder of the gallery, Linda Goode Bryant, liked the Lucite sculptures and stunned the artist with an offer.
"She said, 'I want to give you a show in three months – can you be ready?'" said Fitzsimmons, who is now chair of the Department of Art and Art History at the University of South Alabama. "When I walked out of there, it was like I was floating above the ground."
Just Above Midtown jolted the art world in New York City by promoting black artists, along with female ones, and offering live events featuring performance art and video screenings.
This year, nearly half a century since the founding of the gallery, the Museum of Modern Art is doing an exhibit called "Just Above Midtown: 1974 to the Present." Two of Fitzsimmons' sculptures will be featured in the show, which will run Oct. 9 to Feb. 18.
"This has been one of my goals for most of my life," she said. "MoMA, that's the top of the line in contemporary art, being considered part of the canon, so to speak."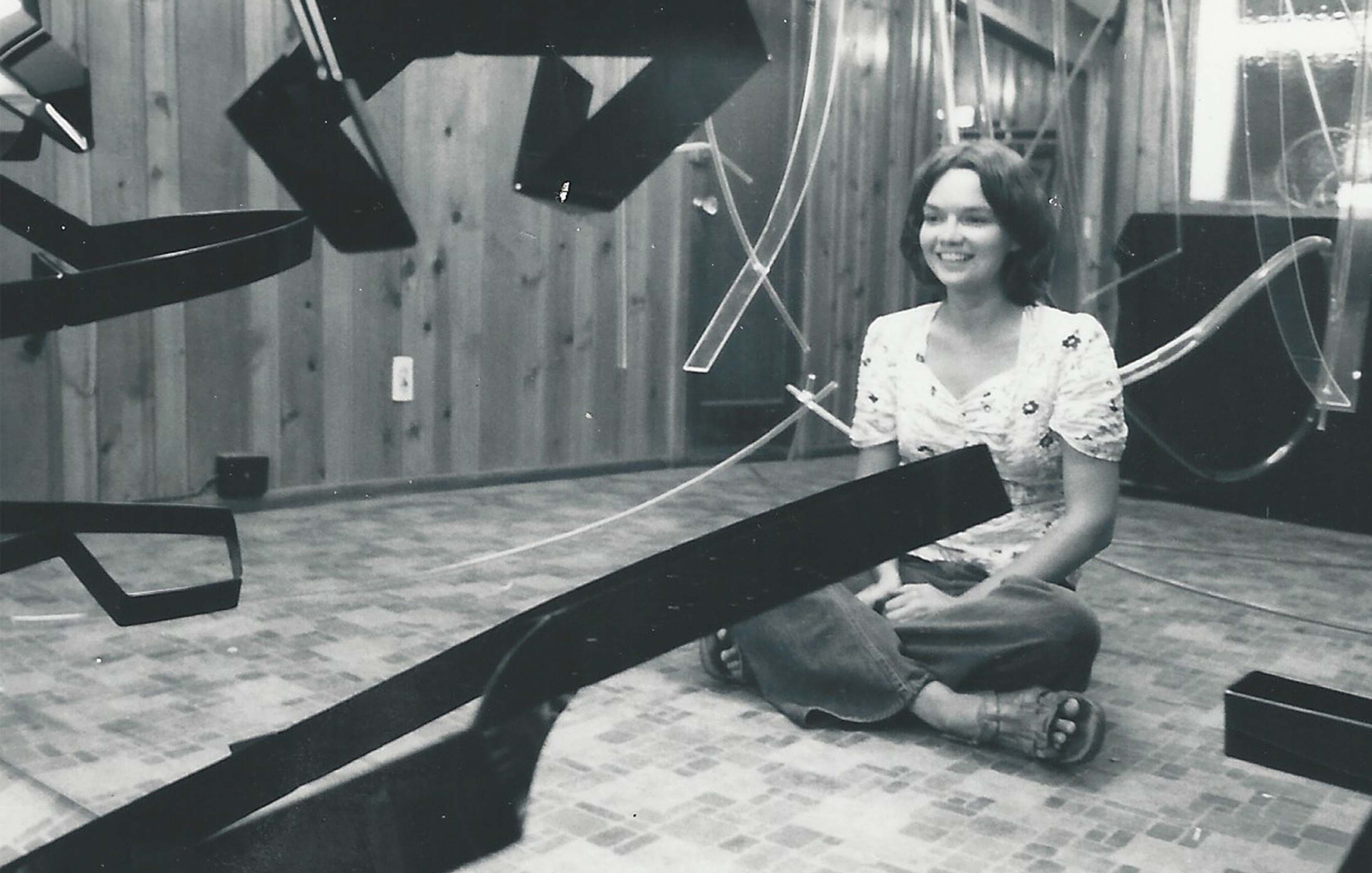 During the 1970s, Susan Fitzsimmons showed different kinds of metal and Lucite sculptures at the Just Above Midtown gallery in Manhattan.
In New York, Fitzsimmons was part of a group of artists known as Contexturalists. One of her pieces for the MoMA exhibit is called "Hang Ups: Hair." It features thick locks of long brown hair – her own – suspended in Lucite, then draped from a clothes hanger.
"I did a whole series of pieces with objects relevant to my history," she said. "It's very personal. The hair piece represents a change of identity from when I was younger until my time in New York. Also, there are lots of implications for women and hair, long hair in particular."
When Thomas J. Lax, curator of media and performance at MoMA, made a formal loan request to Fitzsimmons, he described JAM as one of the most vibrant alternative art spaces. It organized path-making exhibitions that explored art and society and critiqued the commercialization of art.
Her sculptures were part of that scene.
"The works represent the technical experimentation in Lucite that Goode-Bryant and Marcy Phillips admired and cited in "Contextures" (1978), where they describe your practice as one that 'allowed for control and happenstance, where random and arbitrary choice integrate to form a final object,'" Lax wrote. "In showing them, we hope to mark your presence within the JAM community of artists, pushing the boundaries of experimentation from the 1970s to the present."
Fitzsimmons says she wouldn't miss this show for the world.
For her visit to New York, she'll be staying at a Manhattan hotel. It's a far cry from the cheap flats she rented years ago, which included a converted pigeon coop on the roof of a building.
"Despite the hardships, I think it was one of the most exciting periods of my life," Fitzsimmons said. "New York was smaller then, and I had the opportunity to meet fantastic artists and writers, especially on the Lower East Side. It was a time when I really felt free."
College Teaching Career
That time didn't last long. In 1981, Fitzsimmons left Manhattan for upstate New York. She got married, had two sons, and began a career in academia.
She later became an administrator. Teaching art remains the most rewarding part of her career.
"I love being with the students," she said. "That's the fun part."
Fitzsimmons grew up in St. Louis, where her father was a lawyer. She was always an artist. In Catholic school, the nuns had her illustrate posters for school events.
She attended Webster College in St. Louis and earned a Master's of Fine arts degree at Southern Illinois University. In Chicago, Nancy Spero, a visual artist and female activist, encouraged her to go to New York City.
After leaving Manhattan, Fitzsimmons became associate dean of graduate studies at Empire State College. After a year at the Rensselaer Polytechnic Institute, she returned to the Midwest and did a series of performances at several galleries in downtown St. Louis and the University of Missouri – St. Louis.
In 2005, she became chair of the art department at the University of Southern Mississippi and later became chair of the art department at the University of Texas – Pan American. While at UTPA, the University underwent a merger to become University of Texas Rio Grande Valley. She was chosen to be director of the new School of Art for campuses in Brownsville and Edinburg.
In 2017, she moved to Mobile, where one of her sons lives, to became chair of the art department at South.
Her most prominent students include Alejandro Macias, from Brownsville, Texas, who teaches at the University of Arizona and has had solo shows around the country. In Alabama, she recruited Bruce Larsen, an accomplished sculptor from Fairhope, to join the graduate program at South.
"He's someone who can inspire the other students," she said. "He's in the second year of the MFA program right now."
Art and the Avant-Garde
At Just Above Midtown, Fitzsimmons had two solo exhibitions. In 1977, there was "Transparent Relationships." In 1979, it was "Moving from the Transparent to the Invisible."
She remembers being disappointed with that second show – a blizzard filled the streets with snow and only a handful of people made it to the gallery opening.
Fitzsimmons did participate in popular art performances at JAM.
"We all did crazy stuff," she said. "For one show, I had written a long children's story, and I hired this actress to read it. The story started to go on and on, and the place was packed, with people sitting on the floor, people were uncomfortable and so impatient, they started throwing things at her.
"I'll never forget that. It couldn't have been better planned, but I think it ruined poor Kathy from acting again."
Fitzsimmons describes herself as shy, but says she enjoys inciting people.
Years later, in St. Louis, she was part of an art demonstration called "Drawing As You Like It." Part of the show was encouraging male members of the audience to get up and pose nude for the artists.
When Fitzsimmons was teaching in McAllen, Texas, she created a more serious series of sculptures called "Sentinels and Guardians," inspired by the border wall with Mexico.
At South in Mobile, managing the art department keeps her busy. She teaches graduate courses and works with students on their thesis projects. In her spare time, she reads and spends time with her grandchildren.
Just this year, Fitzsimmons was awarded a $5,000 grant from the Alabama State Council on the Arts. The project period for her sculpture fellowship will be October of 2022 through September of 2023.
She just completed a solo exhibition at the Midland Art Center in Michigan. In January, the Georgine Clarke Alabama Artists Gallery in Montgomery will feature works by the faculty at South. The same gallery will follow that exhibit with a program on art by women in Alabama.
In recent years, Fitzsimmons has done abstract works in bronze and aluminum. A portfolio of her work may be seen at susanfitzsimmons.com. She isn't sure what she'll create for the Montgomery exhibits next year.
"I usually need a show coming up," she said, "to get inspired."
---