South Student is Part of "Generation Teach"
---
Posted on October 12, 2017
Joy Washington
---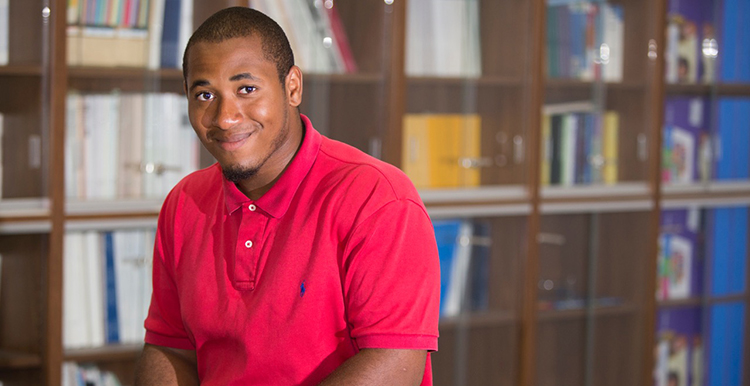 Logan Arnold, a physical education major at South, was selected to teach middle school kids in Massachusetts for several months this summer.
---
"One of my goals is to be an outstanding teacher and coach," said Logan Arnold, a native of Los Angeles whose family now lives in Birmingham. "I want to help students be the best academically, and I want to be prepared by learning the different aspects of teaching."
Arnold, a junior physical education major in the College of Education and Professional Studies at the University of South Alabama, spent most of his summer teaching middle school students in Massachusetts through the Generation Teach fellowship program. Generation Teach is designed to develop greater diversity in the teaching profession by recruiting students who reflect the diversity of their communities.
Selected through a competitive process, Arnold was one of 180 college and high school students nationally to be a teaching fellow for seven weeks during the summer. He paid his flight to Boston and received a $1,500 stipend and $750 housing allowance.
"I am always looking for opportunities to help me be a great teacher," he said. "I can't believe I was able to spend 40-60 hours teaching math with the support of a teaching coach, who I met with daily to help me prepare for my class and give me constructive feedback. Ultimately, I want to be a physical education teacher and coach either wrestling or football."
Generation Teach, created by a national team of educators, promotes five core values:
Belonging
Investment
Initiative
Growth
Excellence
"We started with two weeks of intensive training followed by five weeks of mostly teaching middle school students," Arnold noted. "I was able to develop lifelong strategies that my future students will benefit from. I was actually the teacher and my teacher coaches were my mentors. "
According to Generation Teach, 42 percent of high school graduates express interest in teaching, but less than 10 percent of college graduates become teachers. The summer teaching fellowship allows students such as Arnold an opportunity to deepen their experience as a teacher in an organized and structured program.
During the first two weeks of the fellowship, Arnold and the other teacher fellows received training on identity, relationships, instructional practices and content before teaching for five weeks.
"My day would begin with a meeting, then welcoming the students and eating breakfast with them," he said. "I would also meet with my teaching coach and practice my lesson for the day. We would have recess and lunch. I was motivated and supported to help these amazing students."
During this educational process, Arnold was also taught to embrace challenges, and remember that it's all about the student's learning process in an inclusive learning community.
"I have made some lasting friendships," Logan said. "When I saw my students' faces light up when they wanted to share an answer during classroom instruction, it warmed my heart. This has been a rewarding experience. I have already decided to apply to be a teaching fellow for next summer."
---