USA National Alumni Association Breaks Ground on Julian and Kim MacQueen Alumni Center
---
Posted on October 12, 2018
Julie Jackson
---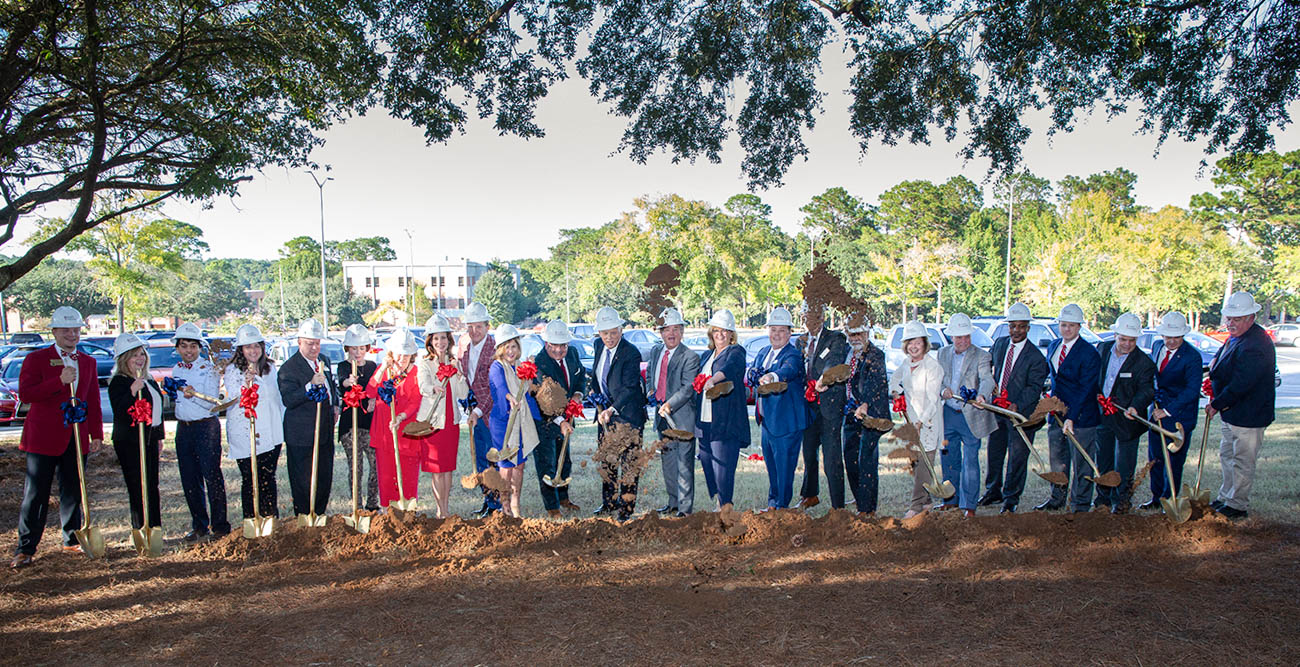 South alumni and supporters break ground Friday on the Julian and Kim MacQueen Alumni Center, which will serve as the permanent home for South's more than 80,000 alumni. The center is projected to be completed by Spring 2020.
---
The University of South Alabama National Alumni Association held a groundbreaking ceremony and reception for the new Julian and Kim MacQueen Alumni Center today on the University's campus.
The MacQueen Alumni Center will serve as the permanent home for South's more than 80,000 alumni. Located in the center of campus, the 15,000-square foot, state-of-the-art facility will house the Chief Calvin W. McGhee Grand Ballroom, the McKinney Family Greek Plaza in honor of Sigma Chi Fraternity, a spacious lobby, a 30-seat boardroom, meeting rooms and administrative offices.
Plans for a new alumni center began in 2015 and became a reality when Julian ('73) and Kim MacQueen came forward with a $2 million gift. Julian MacQueen, founder of Innisfree Hotels headquartered in Pensacola, realized the importance of building a permanent alumni home on campus.
"We take care of each other and create a family of support at Innisfree Hotels," said MacQueen. "It's very important for us to create unity in everything we do. We've realized that can't happen unless there is a gathering place, and we hope the MacQueen Alumni Center is going to be exactly that."
Patrick Dungan, National Alumni Association president, emphasized the importance of this groundbreaking event but also the fact that support from alumni and the community for the project is still needed.
"We're very excited to provide the University, its alumni and its student ambassadors a top-class facility that will reconnect thousands of alumni to South for decades to come," said Dungan. "The support for this project has been tremendous, but we still have work to do to complete funding. Joining the 1974 Society is an easy, budget-friendly way for all South alumni to be a part of the new MacQueen Alumni Center."
The 1974 Society is one of the major sources of funding to help fund the MacQueen Alumni Center. Gifts of $1,974 directly benefit the Alumni Center campaign and can be paid over three years. The National Alumni Association has also launched a special campaign, called Welcome Home, to complete funding for the building. The NAA will match all gifts, up to $100,000, through December 31, 2018.
The Alumni Association selected M.W. Rogers Construction Company, LLC through a bidding process this summer to construct the facility. The MacQueen Alumni Center is projected to be completed by Spring 2020.
---