International Digital Art Exhibit Opens at South
---
Posted on October 16, 2018
Alice Jackson
---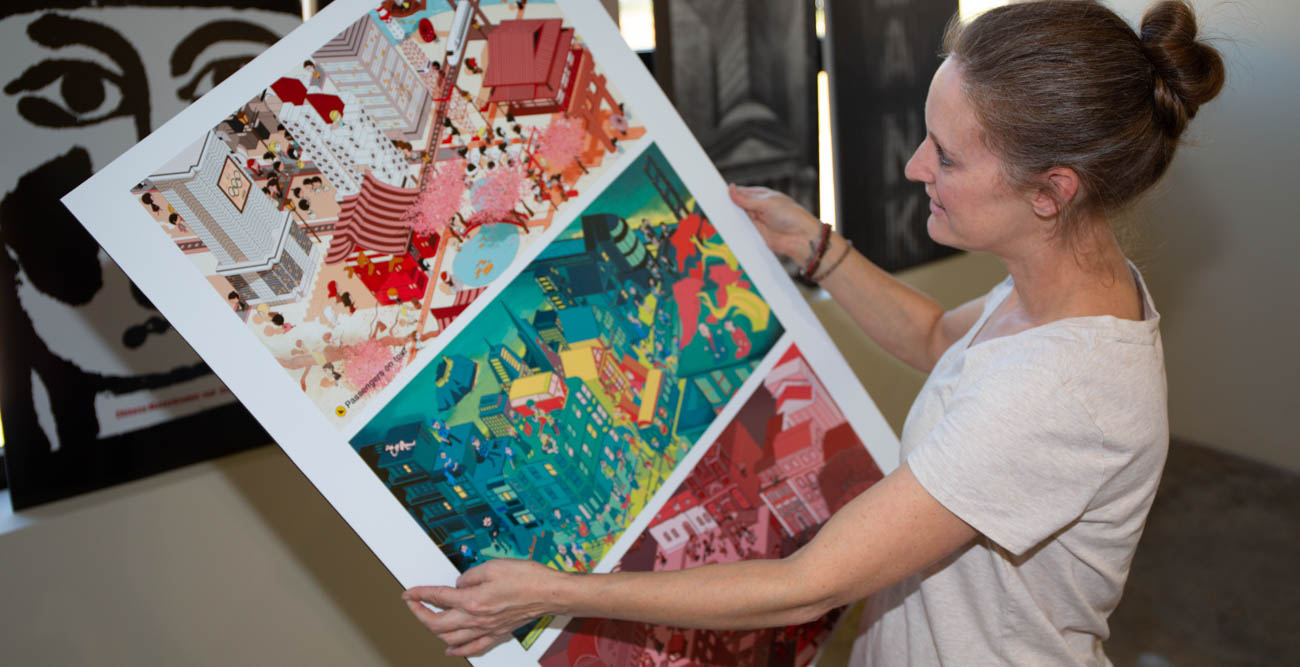 Graduate student Yvonne LeBrun prepares to hang the art for the Cross Connections 2018 International Exhibit of Design & Illustration. The exhibit runs through Oct. 31.
---
Cross Connections 2018 International Exhibit of Design & Illustration, featuring the works of students from 10 institutions of higher education around the world, will open at the University of South Alabama on Thursday, Oct. 18 and continue through Oct. 31.
The public is invited to the opening reception and viewing 4-6 p.m. in the art gallery of the department of visual arts.
Shows will open simultaneously at universities in the U.S., China, Belgium, Taiwan, Russia and Mexico featuring 96 juried art works, including 80 printed-based works and 16 screen-based works of animation and user-centered design from both international students and faculty members. The entries display a range of visual communication forms and conceptual contemporary design.
"Our students in graphic design and animation get to see what the top schools are doing, so I'm really proud to bring it here to South for the first time," said Susan Fitzsimmons, chair of visual arts. "I think it will be the perfect opportunity to show the world our graphic design and new animation program."
The show's curator is Ping Xu, assistant professor of art at the University of Texas Rio Grande Valley, where Fitzsimmons taught before coming to South in 2017. She and Xu were the catalysts for the show's beginning in the 1990s. Karl Jahnke, director of animation in visual arts, and graphic design student Rachel Green were juried into the exhibition from several hundred entries from around the world.
Other schools participating are Central Academy of Fine Arts, Beijing, China; Luxun Academy of Fine Arts, Dalian, China; LUCA School of Arts, Ghent, Belgium; Ming Chuan University, Taoyuan, Taiwan; National Design Institute, Moscow, Russia; School of the Art Institute of Chicago, Ill.; Shanghai University, China; Universidad Autonoma del Estado de Morelos, Mexico; and the University of Texas at Arlington.
For more information about the exhibit, call the Department of Visual Arts at (251) 461-1438.
---