USA Meteorology Students Receive Top Awards
---
Posted on October 17, 2018
Joy Washington
---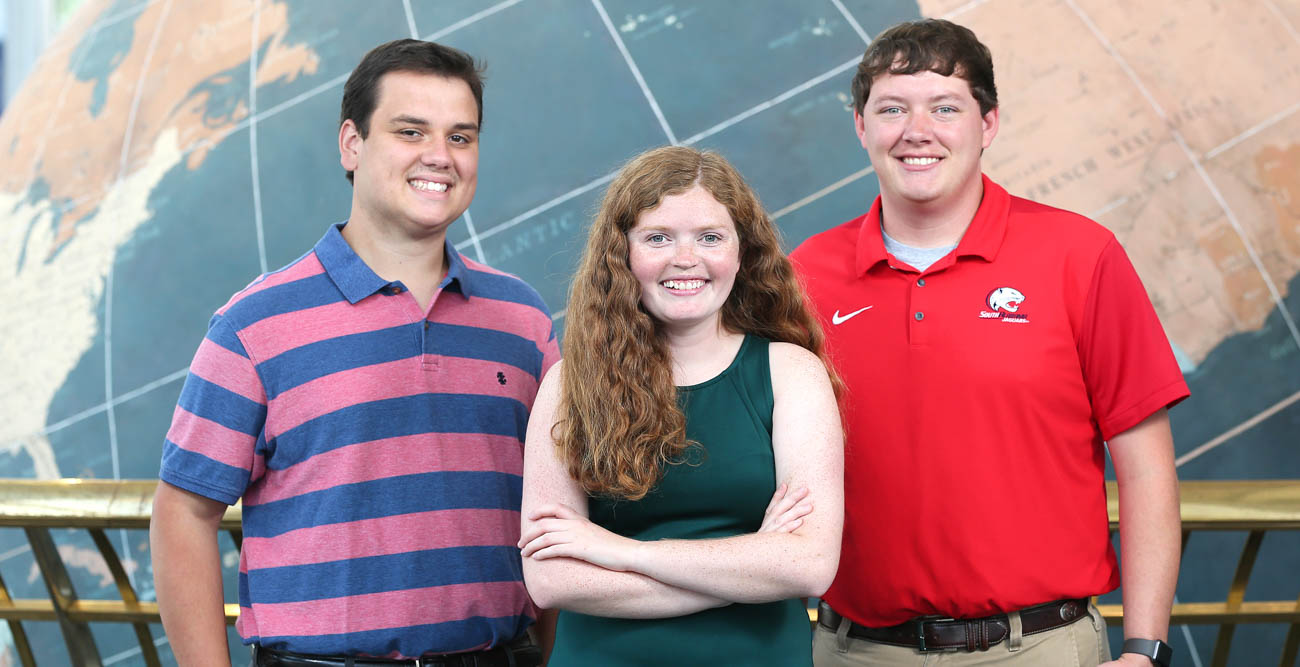 Sam Sangster, Peyton Barlow and Dillon Blount, senior meteorology majors at USA, were awarded American Meteorological Society scholarships.
---
The Gulf Coast region has benefited this hurricane season from numerous meteorologists and their expert forecasting skills. Fortunately, more meteorologists are on the way, as several meteorology students at the University of South Alabama recently earned top national recognition for their research.
Peyton Barlow of Mobile, Dillon Blount of Camilla, Ga., and Sam Sangster of Newnan, Ga., all senior meteorology majors at USA, were awarded American Meteorological Society scholarships. In addition, Barlow received a National Weather Association best undergraduate student poster award, Blount and Sangster earned the National Oceanic and Atmospheric Administration Hollings Scholarship and Sangster also won a National Weather Association scholarship.
"The students chose to attend conferences and pay their own expenses and presented research that they have been working on with USA and NWS (National Weather Service) mentors," said Dr. Sytske Kimball, chair of earth sciences and professor of meteorology. "Peyton has been working together with Sam on a hurricane research project under assistant professor Dr. Wesley Terwey's supervision. Dillon is a volunteer at the Mobile Weather Forecasting Office of the NWS. He has been working on project supervised by one of the staff members."
Barlow, who has earned a 3.84 grade-point-average, said the Bob Glahn Scholarship in Statistical Meteorology will help pay the remainder of her tuition at South Alabama.
"My research is on 'Thermodynamic and Kinematic Properties of Isolated Convective Cells in the Rainband Region of Atlantic Hurricanes,' and I have worked on this research for the past two-and-a-half years," Barlow said. "I have been conducting research on trying to find the best environment for discrete cells to form in the rainband region of tropical cyclones. These cells are responsible for producing tornadoes when on land.
"Sangster has been working on this research with me, along with our mentor Dr. Terwey. I could not have done this without them. It means the world to me that I have been awarded this scholarship."
Sangster, with a 3.97 grade-point-average, said the NOAA Hollings Scholarship totals upwards of $30,000 with additional financial assistance for conference attendance and travel.
"I will be forever grateful for all of the financial assistance and opportunities I have received with these scholarships, especially having the opportunity to intern at the National Hurricane Center during Summer 2018 as part of the NOAA Hollings Scholarship," Sangster said.
Blount, who has a 4.00 grade-point-average, said it is an honor to have received the AMS and NOAA scholarships. "It means I will be able to continue my education without the stress of financial burdens," said Blount. "I am grateful for the opportunities each of the scholarships brings to me. I have enjoyed my time as a NOAA scholar from the internship to the presentation of my research at the NOAA headquarters in Silver Spring, Md.," he said.
Barlow, Sangster and Blount plan to graduate in May 2019 and they will attend graduate school.
---